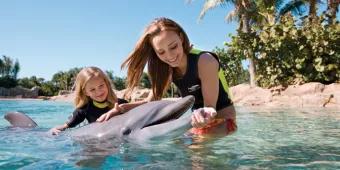 Best animal encounters in Orlando!
Get up close to Orlando's amazing animals, with our pick of the best animal encounters…
Orlando is not only for thrill-seekers or Disney fanatics. It is also a great place for animal-lovers, big and small, to get up close to some wonderful creatures. From elephants and orangutans to Florida's native alligators, there are so many opportunities to see hundreds of different species up-close and some excellent experiences are on offer to interact with your favourites. Here are ten of our top choices…
Cost: Free with park entry
The Experience:  Jump onboard a Jeep and break out the binoculars (actually, you won't need any) as you embark on an 18-minute expedition across the Harambe Wildlife Reserve. Over 34 different African species roam around you and no two rides are exactly the same. Except for the 'story' that is thrown in to make you feel like you're actually transported on a real African Adventure, that stays the same, but it's still good fun. 
Keep an eye out for Rhinos, Antelope, Elephants, Giraffes, Hippos and Lions, amongst many other beautiful beasts and make sure you've got your camera at the ready.
Cost: Free with park entry (with an optional additional spend)
The Experience: You can get your up-close animal kicks for free at Busch Gardens! Lory Landing is a great little walk-through area full of these friendly (if cheeky) beautiful little birds. If you pick up a pot of nectar for cheap on the way in, these little guys will be your best friend forever (or until they've eaten every last drop, at least). Also walking (and flying) around with you in this special little habitat are hornbills, pheasants and a whole colourful array of spectacular birds.
A special mention must also be made for Jambo Junction, also at Busch Gardens, where if you're lucky, you can meet many great animals including some incredibly cute sloths and lemurs.
8. Disney's Animal Kingdom Lodge 
The Experience: If you really are head over heels about animals, then it's hard to think of anywhere better to stay than in a savannah-view room at Disney's Animal Kingdom Lodge. Getting up early and catching these animals at breakfast is the best time to spot the grazing wildlife from the comfort of your balcony. Disney even put a Wildlife Field Guide in your room to help you with your animal-spotting. Guests also have the option to take part in special programs at the hotel, led by animal specialists. Mostly, it's nothing short of breathtaking to just relax and watch these amazing animals roam. 
Cost: Free with entry (with an optional additional spend)
The Experience: Always a popular stopping point on every visit to SeaWorld, people can spend an hour (or even more!) just stroking and playing with these friendly fishes. What's even better is buying a little pot of shrimp and hand-feeding them. They are greedy and keen, though, so be careful they don't suddenly splash up in your face as you lean over!
6. Boggy Creek Airboat Ride
Where: Two locations (East Lake and Southport)
Cost: $$-$$$
The Experience:
There's nothing like getting onto an
airboat
and zooming across the marshes in the heart of 'real' Florida and seeing wildlife in their natural habitats. You're bound to spot a 'gator or two, and perhaps even a nest of babies guarded by their 7-foot long mother nearby, watching you from the shallows. There are plenty of chances to spot other home-grown animals, too, from herons to hawks and roaming deer, each one spectacularly beautiful in their own way.  
Boggy Creek Airboat Rides operate from two locations and offer a number of different tours, including an incredible night-time ride, but each tour on offer is a real southern treat. 
The Experience: Get as close as you dare to some hungry gators in one of Orlando's oldest theme parks in a special behind-the-scenes tour. This gives you access to areas otherwise inaccessible to other park guests. The whole park is dedicated to these gnarly 'gators, as well as a few other species to enjoy and perhaps even hold for a photo opportunity. The Night Shine experience is also a great little nocturnal treat, as you come back after hours in the dark. All's well until you shine your torches over the water to see hundreds of hungry glowing red eyes headed your way!
4. Dolphin Up-Close Tour
The Experience: There is nothing quite like the privilege of interacting with such a beautiful and intelligent animal. Short of actually sharing water with dolphins (or seeing them swimming alongside your boat in the wild – again an amazing sight), this is the next best thing. You get to learn how SeaWorld cares for these amazing mammals and the effort they put in to making them happy and keeping them active. You also get to help train a dolphin to practice some behaviours and the best part is that the dolphins definitely enjoy the attention- and the fish you'll be giving them!
SeaWorld limit the visitors during feeding times at the dolphin pool in Dolphin Cove, as it's such an understandably popular feature of the park, it's prone to become very busy. So to ensure some quality time with the dolphins, this exclusive Up-Close Tour experience is definitely recommended.
3. Serengeti Safari 
The Experience: As well as some of the best rides in America, Busch Gardens has one of the best animal experiences too, Serengeti Safari. It's advisable to book this tour early as it gets full and it's easy to see why. You travel in safari vehicles across the 65-acre recreated Serengeti Plain, home to hundreds of African animals, with plenty of up-close encounters to experience, including the chance to feed some of them. There are plenty of photo opportunities on this one, so make sure to bring your camera.
2. Penguins Up-Close Tour 
The Experience:
You have the opportunity to hug a baby King Penguin. 
That's surely all we need to say about this experience, but if you insist on more, then here you go. This experience is a 45 minute walking tour, behind the scenes of Antarctica: Empire of the Penguin. Throughout, participants have the opportunity to learn from animal experts about these special birds and what it is like to care for all the penguins at SeaWorld. And then… YOU GET TO HUG A PENGUIN!!
1. Discovery Cove
Cost: $$$$ (BUT this includes entry to SeaWorld, Busch Gardens and Aquatica for 14 days – bargain!)
The Experience: It might seem a bit cheeky, choosing a whole theme park for the number one slot, but Discovery Cove itself is such a huge animal-loving experience that it's impossible to choose between all the amazing encounters and interactions they offer here. The obvious one to point out is the Dolphin Swim Experience. Whether or not you are a strong swimmer, everyone can enjoy this 'once-in-a-lifetime' opportunity to share the water and even hug or kiss a dolphin. It's certainly one to cross of your bucket list.
Another additional extra experience offered at Discovery Cove is SeaVenture ($$$). This is an amazing opportunity for anybody (old enough) to walk underwater across the bed, absolutely surrounded by hundreds of exotic fish and plant life. If you're gentle, you could get to hold something, too. Watch out for sharks! (You're safe; they are behind a petition, so you can share the water without fear).
All visitors to Discovery Cove get to enjoy the rest of the animal experiences on offer, including the walking amongst beautiful birds in the Explorer's Aviary, swimming with shoals of tropical fish in The Grand Reef and coming face-to-face with playful otters and marmosets in Freshwater Oasis. 
The price for Discovery Cove varies a little if you opt to swim with the dolphins or not (and why would you not?!) but the tickets also include up to three other theme parks so it's a no-brainer for that ultimate Florida animal paradise experience. 
Want to experience these amazing animal encounters yourself?
Click here
, to view our great value Orlando theme park tickets.
For more blog posts like this try...