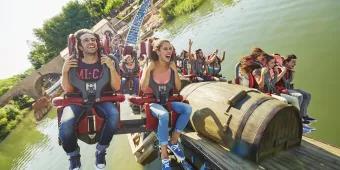 Planning a trip to PortAventua World?
Before you visit, read our top tips for making the most of your visit to these amazing theme and water parks...
PortAventura World is made up of 2 exciting theme parks, PortAventura Park and Ferrari Land, and a stunning water park, Caribe Aquatic Park. Every year more than 3.5 million people visit, making it the most visited theme park in Spain. There are more than 40 attractions in PortAventura Park alone, and that's before you've even begun exploring the other 2 parks!
Top Tips for Visiting PortAventura

Book in advance
Buying your PortAventura tickets in advance in the UK allows you to skip the ticket queues at the gates and get straight into the parks. When you buy your tickets in the UK you'll receive a printable e-ticket which you can scan at the turnstiles and get straight in to start enjoying the fun!
Booking in advance also allows you to benefit from cheaper prices and extra added value offers. Click here to see our latest PortAventura offers.
Visit all 3 parks
PortAventura World is more than just a theme park! There's also a water park and a whole extra park dedicated to the exhilarating world of Formula 1 racing to explore. We recommend spending a few days in Salou in order to make the most of the 3 parks. Another bonus is that longer duration tickets work our cheaper on a cost per day basis, so consider how many days you'll want to stay in advance and book accordingly.
Check out transport options in advance
Located just 15 minutes from Reus airport on the Costa Dorada, PortAventura is easily accessible from the airport but also from Barcelona as well. While it's easiest to reach the parks by car, PortAventura does have its own train station if you're relying on public transport!
You can also reach the parks by bus from Barcelona but we recommend making sure you check out the bus routes and times in advance to maximise your time spent in the parks. It's always good to arrive early, so hiring a car will give you the most flexibility. 
Check kids' heights
If you're travelling with little ones, it's a good idea to plan ahead so that you know which roller coasters and attractions they can enjoy in advance. In every park there is something for all ages to enjoy but it helps to do your research beforehand, especially if you have a little thrill seekers in your ranks! Make sure you check out the Sesame Street area which is perfect for very small children who can't ride the park's bigger coasters.
Arrive early
Try to arrive early at the parks so you can ride your top attractions before the majority of park guests arrive. It helps if you're staying at one of PortAventura's on-site hotels but, if you're travelling in, we still recommend making a full day of it by arriving early. Queues for attractions will be much lower in the first few hours after opening!
Visit mid-week if you can
Another great tip for avoiding the queues is to go mid-week or in shoulder seasons (just outside of school holidays) to make sure the attraction wait times are as low as possible. Head straight to the big rides like Furius Baco, Shambhala and Dragon Khan as these are the park's most popular attractions.
Don't forget the water park!
If you're travelling between June and September, be sure to pay a visit to the Caribe Aquatic Park, where you'll find some of the most thrilling water rides in Europe. King Khajuna is the stand-out thrill attraction in this park, with drop speeds of more than 6 metres per second! For little ones, there's La Laguna de Woody, which is the perfect splash zone for the kids to cool off in the sunshine.
Buy an Express Pass if you're short on time
If you want to pack a lot into your day, you may want to consider buying an Express Pass for your trip to PortAventura Park. There are a few different options ranging from 1 express pass per attraction all the way up to a premium option which allows you to skip more than once. You can buy the Express Pass at the gates so you can assess how busy the park is on the day you arrive.
Pack carefully
If you're visiting in summer, pack lots of sun cream and maybe a hat to keep the sun off your face - it gets very hot on the Spanish coast! As you'll be outside all day, it's important to keep hydrated so make sure you keep a bottle of water with you at all times. Pack sensible shoes (not flip-flops) that won't fall off on the rides and that you'll be happy to walk all day in.
Eat in the parks
Visitors to PortAventura Park are not allowed to bring their own food in, but luckily there are plenty of places to grab lunch in the parks and the prices are much more reasonable than you might expect. There's something for every budget, tastes and diary requirements at all of the parks. There's even á la carte dining and a sophisticated wine bar if you're looking for something other than burgers and chips!
Take time to cool off
If you're visiting in summer, make sure to take a proper lunch break in true Spanish style in order to beat the midday sun. You might even want to make a note of the splashiest water rides and make a beeline for those too so you can benefit from a cooling off if you start to feel the heat. We highly recommend Tutuki Splash for this - an epic log flume ride that will definitely leave you soaked!  
To book tickets for PortAventura World, click here.
Liked this post? You may also like...