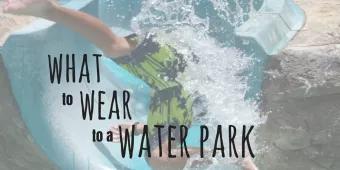 ATD's guide to water park fashion this summer!
A few hints and tips on what to wear to a water park to retain modesty and confidence.
Few places combine incredible fun with potential disaster like a water park. From the dreaded belly flopping nightmare they pose through to the swimwear choices, a water park is not a place you visit without forward thinking.
You probably cannot wait to visit Siam Park in Tenerife or get Orlando park tickets this summer to the likes of Aquatica, but to be certain that you are making the most of your trip you should plan what you are wearing very carefully. To avoid any mishaps or embarrassment we have created this extensive guide on what to wear to a water park so that you can enjoy your time in the water without worrying that your bottoms have turned see-through!
Dos
Here we list elements that you should bear in mind for your water park outfit from functionality to fashion, with some true experts weighing in with their experience and advice.
Choose a sports-style top
First off, unfortunately for the ladies, the water park poses a few more issues than it does for the gents. A bikini, while an often flattering and desirable choice of swimwear, comes with its difficulties when it comes to zooming around slides at a water park. So be sure to choose a more sporty design that is less likely to move or come undone.
Bikini Bird is an online resource for all things swim wear with the idea of bringing California coastal beach culture to those in need of a dose of sunshine, chic and style inspiration. Tiana Gamble and Ally Lopez launched an online swim shop, shopbikinibird.com, four years after the site's initial launch. It curates an elite collection of swimwear favourites, cover-ups, clothing, jewellery and accessories. They introduce new brands, host pop-up events, show customers how to create looks and collaborate with industry favourites on exclusive styles available only from Bikini Bird.
Here they exclusively provide their swimwear suggestions for the water park setting.
'Style Suggestions: We love bralette bikini tops and one pieces for more active days. Acacia, Cali Dreaming, Fella, Frankie's, Mikoh and Tori Praver offer a great combination of style and functionality. We'd recommend a basic bottom over tie-side and like to pair those with a fun halter or fixed triangle top. Choose bikinis you can rock with the confidence that they'll be there with you at the end of the water slide.
Must have accessories: Sunnies (we love Wonderland, Valley and Tom's Eyewear), a hat for lounging in the sun between rides (Bikini Bird Trucker Hat), Coola Sunscreen, rubber flip-flops.
- Bikini Care Tips: Hand wash your bikinis in warm water with delicate laundry detergent and hang dry to keep them at their best. We love The Laundress' Le Labo Rose 31.'
Try a rashvest
The other issue with traditional swimwear is that it can cause 'tan issues'. Bikini marks and 'permanent shorts' are the bane of the water park-goer's life, so how do you get around it?
Even if you were rigorous with your sun cream application, few brands are fully waterproof and it can result in embarrassing tan marks or, worse, painful and damaging sunburn. A UV protection rashvest can offer a solution. Once only worn by surfers, the humble rashvest is quickly becoming a fashionable swimwear option with brands such as MI OLA producing a range of styles and designs that set off your water park outfit perfectly.
Here they provide their exclusive top tips for the water park.
'When you go to a water park, you want to make sure you're covered.
Whether you're there with friends or with your kids, you don't want to show your bits at the bottom of the water slide, like Katy Perry has done in the past. 
So, when you're planning a trip to your favourite park, look for a one-piece, or a bikini that will stay put. MI OLA, my line, specializes in exactly this. Every style that we have tested in the waves of Costa Rica, surfing, wakeboarding, swimming... and we even make our testers jump into pools from tremendous heights to make sure our suits stay put. 
I recommend one pieces without major cut-outs. For bikinis, make sure you have secure straps! Stay away from Bandeaus... those will end up down by your knees. Tops with an X back or ones that slip over your head like a sports bra are most secure. For bottoms, get bottoms that fit you well (and might be a tiny bit tight when dry).
That way, you can forget all about your suit, and know that you look great (and are covered up!)'
Go streamlined
Another good idea when it comes to swimming around the water park is to choose a streamlined outfit. Drag in the water can be a real drag, reducing speed and increasing the effort needed by the swimmer. Drag is such an important issue in swimming that Speedo's LZR racer swimsuits, which have been designed to mimic shark skin, caused FINA (Fédération Internationale de Natation), the international governing body of swimming, to ban the suit from competitive swimming after it led to 23 of the 25 swimming world records being broken at the Beijing Olympics in 2008.
While you may not need to be super speedy at a water park, reducing drag can only help in your endeavour to try out as many rides as possible and get some good speeds on the slides.
One of the biggest culprits of drag is hair. The swim cap has been engineered to make the swimmer streamlined while competitive swimmers are known to shave their legs – even the men!
So what about the swimmers who want to keep hold of their facial hair whilst being in with a shot at the medal? Well Virgin Trains has come up with the answer for the 'bearded nation' with the beard cap. Whist the cap is not on sale at the moment, it was trialled at the Great North Swim in 2015. When you consider that more than one in ten men attributed their beard to their slower swim times, it is a product that could become more widespread in the near future.
Wear water shoes or flip flops
Wearing flip flops or water shoes is definitely recommended as it will help protect your feet when you are walking around.
Pavements and surfaces can get extremely hot if the sun has been beating down on them and they can feel rough on the bottoms of your feet. If you are at an eatery in the water park you don't have to worry about stepping on glass, food or any other rubbish either. 
Lifestyle brand Animal has a great selection of flip flops and sandals that are just perfect for a day at the waterpark. The Animal Women's Cosmos AOP Flip-flops, which cost just £14, boast a stylish slim-line flip-flop design and combine worn-well comfort with a striking print. Custom straps are available for this flip flop and they are custom moulded to fit the foot, making them perfect for the Poolside or on the beach.
For the men, Animal's Jekyl Rad flip-flops, costing £16, are great for sun-drenched poolside holidays with its graphic print branding in bright retro shades alongside its jet black foot bed and matching straps. The soft webbing toe post and spandex lining notch up the comfort stakes, making them ideal for fun filled waterpark days.
Take a Go Pro
When you get home and tell your family and friends about your experience at the waterpark you've just visited and some of the slides and attractions you went on, it can be difficult to describe just how thrilling the experience was.
By taking the new GoPro Hero 5 Session camera you can actually show your family and friends what it was like plummeting down a huge waterslide.
The Hero 5 Session is GoPro's tinniest action camera, meaning it is easy to hold or strap on whilst heading down a slide. It also captures 4k video and is most importantly waterproof.
An underwater watch 
The last thing you want to do is to take your expensive watch to the waterpark, forget you have it on and jump on a slide.
Fortunately, there are lots of underwater watches available from the likes of Watchshop. The G-shock by Casio is 200 metre water resistant and is a great product for the men. For the ladies the Michael Kors Parker watch is 100-metre water resistant and boasts a PVD rose plated stainless steel case.
Don'ts
There are many don'ts of the water park, from no diving at the shallow end of the pool to wearing the appropriate swimwear. When it comes to the latter there are a few key things to bear in mind that you might not have thought about.
Avoid white
First things first, it is always best to avoid white swimwear. It may look stylish, but the risk it poses of turning see-through is rarely worth the fashion points. Unless you opt for a high quality suit, it might be better to choose a different colour. It might have worked for Mr Darcy, but we're sure you would rather keep your modesty during your holiday!
Avoid side ties
Bikinis that tie up are another controversial issue. Unless you have triple knotted, it could pose the threat of becoming untied during the twists and turns of your favourite slide at PortAventura. Bikini bottoms with side ties aren't difficult to avoid in this day and age, with many swimwear companies producing appealing alternatives.
Just try to remember that size is important when it comes to swimwear intended for water slides. Too tight and it could ride up, too loose and it could fall down. So consider your options carefully; Seafolly has a great range of high-waisted swimwear options so you can look stylishly retro without having to worry about your side ties coming undone.
Avoid baggy bottoms
This next swimwear advice is aimed more at the gentlemen. Loose board shorts may be fashionable and work just fine when surfing or wandering down to the beach, but at the water park they are notorious for causing havoc. Not only do they pose the risk of getting caught on slides, but they also hold a lot of water and therefore weight. While this might be fine when you're in the sea, at a water park you are constantly getting in and out of the water and all that extra water weight can be heavier than you might think and cause the shorts to fall. So opt for a style that is slightly shorter; Simply Swim has plenty of options from Speedo's Aquashorts to Zogg's Penrith shorts.
Image credits: Ines Hegedus-Garcia (flickr.com), Animal, Bikini Bird, MI OLA, Virgin Trains, Simply Swim.
Now you've got all your water park gear, you can join these guys...