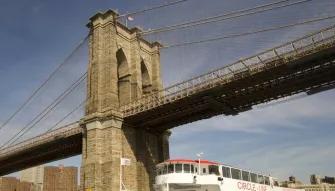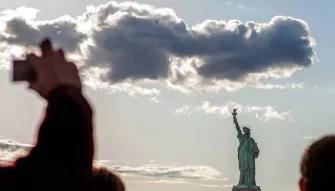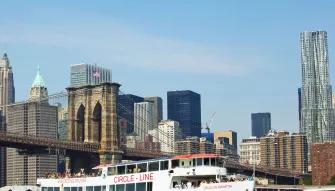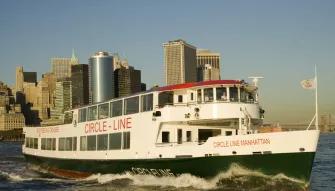 New York Landmarks Semi-Circle Cruise
Free cancellations*
46 reviews rated 5 stars
Mobile ticket
Not Available
This ticket is currently not available
This could be because:
We have sold out
New seasonal tickets are not yet available
In the meantime:
Call us on 0800 223 0324
Sign up to hear the latest news and offers:
Sign up for our newsletter
no ticket modal
Full details
Take a bite-sized chunk out of the Big Apple on this sightseeing cruise...
Experience the grandeur of the Big Apple on this 90-minute New York highlights sightseeing cruise where you will enjoy magnificent views of the world's premier skyline and a close-up view of Lady Liberty.
Our guide to New York Landmarks Semi-Circle Cruise
This New York harbour cruise totally respects your need to check off as many NYC bucket list items as possible with the perfect sightseeing route around the city's incredible harbour. 
Head down the mighty Hudson River, past Hudson Yards and Little Island, gliding by the towering One World Trade Center, past Ellis Island until you are just feet away from the Statue of Liberty. Experience breathtaking views of lower Manhattan before quietly slipping under the Brooklyn, Manhattan and Williamsburg bridges for a short journey up the East River before returning to Pier 83 in midtown Manhattan. See all of this in less time than it takes to see a matinee. 
You'll ride in comfort on one of our our modern, temperature-controlled, Bronx-class boats, each with a huge outdoor deck and multiple concessions areas to purchase food and drinks, including a full bar.
Our world-famous tour guides narrate the story of New York City as you sit back and relax in the comfort of our modern boats.
Our state-of-the-art boats come equipped with almost everything you need for a relaxing and comfortable cruise.
Unparallelled Views Pick a seat on the outdoor deck or enjoy the view from the huge panoramic windows in our temperature-controlled indoor cabins.
Did You Say ... Incredible Outdoor Deck  : The best way to see NYC and Lady Liberty is "al fresco" - outside in the fresh air, enjoying the cool breezes and the warm sunshine. It doesn't get better than this!
Temperature-Controlled Indoor Space : Whether it's hot or cold, rainy or sunny, we have a temperature-controlled indoor deck with plenty of seating for everyone
Onboard Café : Freshly prepared menu of sandwiches, salads and snacks available to purchase.
Refreshing Drinks : Enjoy a full bar serving hot and cold beverages including beer, wine and cocktails to purchase
Free WiFi :  No need to wait to upload your favourite photos and selfies!
Terms and conditions
Terms and conditions for New York Landmarks Semi-Circle Cruise
New York Landmarks Semi-Circle Cruises do not operate on Christmas Day and a special schedule will operate on Independence Day, Thanksgiving Day and New Year's Day.
The New York Landmarks Semi-Circle cruise schedule is subject to change without notice.
Cancellation Policy: Free cancellations for bookings cancelled with the operator up to 72 hours before your departure date. No refunds are given for cancellations made within 72 hours.
FAQs
Frequently Asked Questions for New York Landmarks Semi-Circle Cruise
General Information
What is the New York Landmarks Semi-Circle Cruise?

The New York Landmarks Semi-Circle Cruise is a scenic boat tour that takes you on a journey along the iconic semi-circle of Manhattan Island. You'll get to see some of New York City's most famous landmarks from the water.

Is there a guide or narration during the cruise?

Many cruises provide informative narration during the journey, offering interesting facts and stories about the landmarks you pass by. It enhances the experience and helps you learn more about the city.

Is there a best time of day to take the cruise?

The best time for the cruise can depend on your preferences. Many people enjoy the daytime cruises for clear views, while others opt for evening cruises to witness the city lights. It's a personal choice!
Rides & Attractions
What landmarks will I see on the cruise?

During the cruise, you'll have the opportunity to see landmarks like the Statue of Liberty, Ellis Island, One World Trade Center, the Brooklyn Bridge, and many more. It's a fantastic way to take in the city's skyline.
Duration of Visit
How long is the cruise?

The New York Landmarks Semi-Circle Cruise typically lasts around 1.5 to 2 hours, providing ample time to enjoy the breathtaking views and capture memorable photos.
Food & Drink
Are there refreshments available on board?

Yes, most cruise operators offer refreshments on board for purchase. You can usually find snacks, beverages, and even full meals depending on the cruise package you choose.
Accessibility
Is the cruise wheelchair accessible?

Many cruise operators strive to accommodate passengers with disabilities. It's best to check with the specific cruise company for their accessibility options and facilities.
Clothing & Accessories
What should I bring for the cruise?

We recommend bringing essentials like your ticket, a valid ID, and a camera to capture the stunning views. Depending on the weather, consider dressing in layers and bringing sunscreen, a hat, and sunglasses for comfort.
New York Landmarks Semi-Circle Cruise Reviews
Brilliant experience. Highly recommend.

Lee reviewed New York Landmarks Semi-Circle Cruise 22 Nov, 2022

The cruise was very well run. The tour guide was very knowledgeable and kept us interested throughout the cruise. We left knowing more about New York than when we started the trip.

Wayne Haslam reviewed New York Landmarks Semi-Circle Cruise 05 Jul, 2019

great way of seeing some of the sights

Richard Cherriman reviewed New York Landmarks Semi-Circle Cruise 02 Jan, 2019

Brilliant and easy and great for the money!

Diane Underwood reviewed New York Landmarks Semi-Circle Cruise 11 Nov, 2018

as per previous comment above

Arthur Jones reviewed New York Landmarks Semi-Circle Cruise 11 Jun, 2018
People who purchased New York Landmarks Semi-Circle Cruise also viewed...