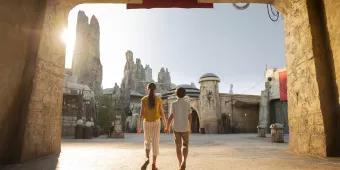 By ATD's Florida Experts, Susan and Simon Veness
Get ready to immerse yourself in all things Star Wars and head to the exciting land of Batuu!
Walt Disney World fans have been breathlessly waiting for this since it was first announced in 2015, and now Star Wars: Galaxy's Edge is officially open at the Disney's Hollywood Studios. Are you ready to visit a galaxy, far, far away? Let's go light speed to Orlando…!
So, you're here in Disney's Hollywood Studios, and you want to know what to expect of this brand new 'land' that takes guests deeper into the Star Wars story than they've ever been before.
Well, just to start with, it's not directly connected to the Star Tours attraction in the Echo Lake section of the park. You have to head past Star Tours - The Adventures Continue. and Jedi Training: Perils of the Temple and go through Grand Avenue to the new tunnel that transports visitors off for an intergalactic adventure.
Alternatively, you can head for Toy Story Land and the secondary entrance just past Alien Swirling Saucers. This puts you right in the middle of the Black Spire Outpost that is the heart of this astounding creation, but we prefer the 'tunnel' vision that brings you into the area more gradually, steadily surrounding you with the epic majesty of this 14-acre outpost.
As a quick side-note, it's worth mentioning that the Disneyland Resort version of Star Wars: Galaxy's Edge is in the Disneyland Park itself, which makes for a very different vibe as you progress through to the new land. The Walt Disney World version gives you more of that dramatic movie feel from the very beginning.
Once you've decided which way you want to experience your arrival on the planet of Batuu, you have to get your bearings and figure out what's here.
The second main attraction, Star Wars: Rise of the Resistance opens December 5. Until then, there is plenty to catch your attention and keep you fully immersed in this beautifully creative world of the First Order and the heroic Resistance.
Most people will flock straight to the most iconic attraction, which sits at the base of the Black Spire Outpost. Millennium Falcon: Smugglers Run is the chance to walk aboard the galaxy's most famous spaceship and take a ride into an all-new, all-action adventure in the company of space 'pirate' Hondo Ohnaka.
Here, you not only get to be surrounded by the sights and sounds of the Falcon – including a chance to sit at the 3-D holo-table where Chewbacca and C-3PO played Dejarik in Star Wars: A New Hope, which is sure to be THE big selfie/Instagram photo of the year – but you fly right into the thick of the action as one of two pilots, two gunners or two engineers in a six-seat cockpit that is a magnificent replica of the movie version.
Once you've got your breath back from that epic experience, you may need to calm down with a cool libation or two, and Oga's Cantina should definitely be on your list for another immersion in this true Star Wars realm. Here, in the midst of an intergalactic hangout with a seamy side, you might be rubbing shoulders with secret agents of the Resistance, spies for the First Order or just the general human detritus of deep space. Oh, and they have some superb drinks, too.
Disney's food and beverage honchos have really excelled themselves here, producing the kind of wonderfully evocative cocktails that you can fully imagine Han Solo and Chewbacca enjoying on an evening off from their other more illicit activities! This is an experience you'll also need to make a reservation for on the Disney App, so try to plan in advance.
Oga's Cantinaoffers one small snack to go with its libations, so if you need more to eat then Docking Bay 7 and Cargo will be the place to head for, another great set-piece of brilliant space-port design and scene-setting. This is a counter-service diner featuring food "from across the Galaxy," and, while it is all perfectly acceptable fare for us earth folk, it will definitely feel like you are immersed even further in the Star Wars environment.
We'll also have more (much more!) to say about all the food and beverage options in our next ATD blog, so stay tuned for that.
Next, you may feel the need to equip yourself in proper Jedi fashion, in which case make a beeline for Savi's Workshop, where you can design and build your own lightsaber. These immensely collectable and customised items are carefully constructed under expert supervision from one of The Gatherers, who instructs all-comers on the artistry of lightsabers in a wonderfully dramatic show for groups of a dozen at a time. This experience is for buyers only – and one of these high-tech gadgets will cost $199, plus tax.
Equally, you may want to create your own robot companion, and this can be done at Droid Depot, another exciting and evocative setting full of interactive elements and technological wizardry. Here, you select from a BB-Series or R-Series Astromech Droid Unit and go through the process of assembling your own scaled-down version of R2-D2 or BB-8 with a four-part process and instruction screens to follow. Like Savi's Workshop, this is a bookable experience (on the Disney App), and the cost is $99.99, plus tax.
There is a good deal more to discover as you wander around this vibrant Outpost. Ronto Roasters offers another place to grab a snack and marvel at the clever theming. This is the home of pod-racing fan Bakkar, who has set up a podracer engine as the 'oven' that powers his kitchen, while mechanised droid 8D-J8 turns a spit roast to keep everything cooking (don't you just love that level of detail?).
Likewise, Kat Saka's Kettle and the Milk Stand offer more tastes of Galaxy's Edge – including the iconic Blue Milk and Green Milk from the movies – and there is more unique merchandise on offer at Black Spire Outfitters, Toydarian Toymaker and the Creature Stall (which is the place to snap up a cuddly Porg), which are all part of the Marketplace area that simply demands your attention for the all-encompassing sense of other-worldly ambiance everywhere you look.
One other venue that should definitely be on your must-see list is Dok-Ondar's Den of Antiquities, where the mysterious Ithorian – a previous client of none other than Han Solo – has collected the most bizarre and eclectic range of curios, and even has some on sale. This is the place to have a really good look around to try to figure out what they might be, and how they fit into the Star Wars story.
Finally, you must – and we cannot stress this highly enough – download the Play Disney Parks appin advance and switch it on as soon as you enter Batuu. It turns your mobile device into a Datapad that unlocks a treasure trove of Star Wars story opportunities, from translating languages galaxy-wide to interacting with droids and even undertaking special missions for The Resistance!
In many ways, it is the key that transforms a theme park experience into a fully-fledged movie adventure and that, ultimately, is the great triumph of Galaxy's Edge. You arrive as a visitor, but you leave as a player in the Star Wars story. And, may The Force be with you…!
©Disney © & ™ Lucasfilm Ltd.
So, what do you think of all the Star Wars excitement, and are you eager for more? Come over and tell us on the fab ATD forumsand join in the friendly banter and chat.
Like this post? You may also like...
Why not sign up to our mailing list, to hear all about our special offers and latest attraction news? Click here to register your details now.