Disneyland Paris Hotels
Surely the only thing better than visiting Disneyland Paris is actually staying there! To live the full Disney experience it's a MUST to stay at the heart of the Disney magic in one of seven Disney Hotels. And there's a Disney hotel just right for you and your budget, each offering its own one-of-a-kind Disney story to tell.
Hotel + Ticket Package
Offers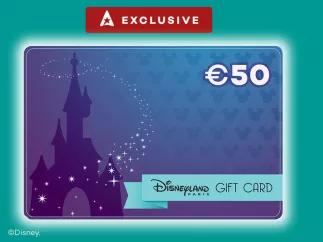 Offers
Simply book a Hotel & Park Ticket package in a Disney® Hotel or Les Villages Nature® today and we'll give you up to €50 spending money FOR FREE with every booking! Use your Disney Gift Card throughout Disneyland Paris for practically all things Disney, from food and drinks in the parks to Mickey Mouse merchandise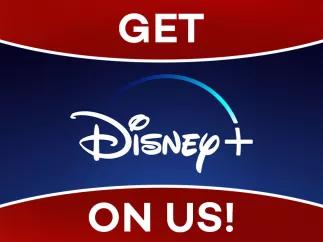 Offers
Book today and get 3 months of Disney+ with Disney Ticket Bookings or a whopping 12 months of Disney+ with Disney Hotel + Ticket Packages - that's up to a full year of streaming, on us!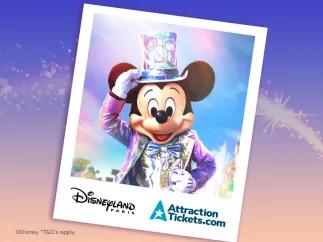 Offers
Immortalise your most cherished Disneyland Paris holiday memories with 10 FREE Souvenir Prints. Simply book Disneyland Paris Tickets or a Disneyland Paris Hotel & Ticket package with AttractionTickets.com today to qualify for this exclusive added value gift.
Why Book a Disney Hotel Stay with AttractionTickets.com
Just a €50 Deposit Secures Your Booking TODAY!

Secure your dream Disneyland Paris hotel + Ticket package and exclusive theme park benefits today with just a €50 deposit; customers adding return Eurostar journeys to their package can secure arrangements with a 30% deposit. Pay off your holiday balance gradually with the final balance due 8 weeks before your check-in date.

Exclusive Added Value & Widest Choice of Packages

Only AttractionTickets.com offer exclusive added value to Add Happiness® to your Disneyland Paris Holiday.

Book today and we'll give you up to €50 Disney Spending Money to use at Disneyland Paris as part of your Disneyland Paris hotel booking
Plus receive 10 FREE Souvenir Prints of your most cherished Disneyland Paris moments. 

Change or Cancel for FREE for Total Peace of Mind

There's never been a better time to book a Disneyland Hotel and Ticket Package and with our flexible amendment and cancellation policy, you can book with confidence! Disneyland Hotel + Ticket Packages can be amended or cancelled with a full refund anytime up to 7 days before your arrival date. Any price difference will be payable if applicable when amending bookings.

*Please note that when amending a Disneyland Paris Hotel + Ticket + Eurostar Bookings outside 7 days, there are no amendment or cancellation charges for the Hotel + Ticket element, but up to 100% of the total Eurostar fare amendment/cancellation charge may apply. 

Multi-Award Winning Disney Ticket Seller

AttractionTickets.com has been the UK's leading attraction ticket seller for 20 years and is the biggest seller of Disney tickets. We have won the British Travel Award for the Best Attraction Ticket Provider 10 times since 2009. Our Disneyland Paris Park awards include Most Tickets sold in 2019, Best Marketing Campaign in 2017 and Best Overall Ticket Provider in 2014. We are driven to provide our customers with the best products, the best service and the best experience. 

Over 20 Years Experience Selling Disney Theme Parks

We founded our business as Attraction Tickets Direct in 2002, before becoming AttractionTickets.com in 2019. Throughout this time our mission has always been to Add Happiness® to holidays and make it easier for you to buy tickets and hotels for the World's Best Theme Parks and Attractions. Since 2002, we have served over 4 million happy customers and the values and customer promises are the same today as they were when we started. These values have helped make us the UK's leading partner for Walt Disney World, SeaWorld Orlando, Universal Orlando and Disneyland Paris.

Fully Protected by ABTOT

When you book with AttractionTickets.com, you can travel with confidence knowing we are members of The Association of Bonded Travel Organisers Trust Limited (ABTOT). This means that we will always adhere to ABTA's Code of Conduct when handling your booking and you can rely on us to give you the highest possible standard of service.

PLUS your booking is financially secure and bonded by ABTOT. This means, that in the unlikely event we ceased trading, funds will be there so you can carry on with your holiday as planned, or receive a full refund instead. This applies whether you paid by credit card or by other means. So, when you book your hotel and ticket package with us, you know you're in safe hands.
Great reasons to stay onsite at a Disney Hotel
Each Disney Hotel immerses you in an iconic American theme with a magical Disney story. There's the fairytale splendour of a Victorian Palace and a swish New York hotel that's a MARVEL masterpiece. How about the great outdoors of America's Northwest? Or the New England coastline? There's Trapper country and the wild frontier. Even the golden desert of Santa Fe! What's more, they're the only places where you can see Disney Characters* every day.
Best Price Guarantee

Early bookers get the pick of our best prices and widest choice of Disney® Hotel rooms. Whenever you see our 'Best Price Guaranteed' icon be assured you'll never find a lower price.

Early Park Entry with Extra Magic Time

Enjoy extra magic each day of your stay! Gain exclusive access to parts of the Disney Parks long before anyone else and meet up with Mickey, Minnie and friends.  You can even enjoy select rides and attractions before the official opening times of Disneyland Park.

Exclusive Meal Plans

Disney Hotel guests can discover the best of Disney 'eatertainment' and plan Disneylicious moments ahead of time by choosing a Meal Plan when booking a Disney Hotel + Ticket Package.

• FLEXIBLE OPTIONS FOR EVERYONE - Choose one meal, two meals or three meals a day, add tasty extras and try a range of cuisines and restaurants throughout Disneyland Paris.

• MANAGE YOUR BUDGET - Meal Plans represent excellent value for money, plus with a Meal Plan paid in advance, you'll know what's included and how much you'll spend ahead of time.

• PEACE OF MIND - By purchasing a Meal Plan and making reservations on the Disneyland® Paris app before your holiday, you can focus on enjoying every moment of your stay at Disneyland rather than worry about securing a table and paying for your meals when you're here.

• WIDE CHOICE OF RESTAURANTS & CUISINE - You can enjoy a huge range of magically themed settings and delicious food.

Find the Disney Paris Meal Plan that's right for you with a choice of 1, 2 or all 3 meals each day, included per person per night.

Standard Meal Plan - Enjoy a range of restaurants and menus across the Resort, while keeping your budget happy. This includes meals in magically-themed restaurants in the Disney® Hotels, Disney® Parks and Disney Village®. With the Standard Full-Board option, you must eat one of your meals per day (lunch or dinner) in a quick-service restaurant.
Plus Meal Plan - The best value-for-money option, a Plus Meal Plan lets you eat any meal in almost any of our magically-themed restaurants across the Disney® Hotels, Disney® Parks and Disney Village®. Don't want to eat in the same place twice? That's great. The choice is all yours.
Meal Plan Extra Plus - Live the ultimate dining experience and relax in the knowledge that all your dining is covered, from breakfast, lunch and dinner at a wide range of restaurants to Disneylicious exclusives. These include an Extra Plus Snack and Drink every day in the Disney® Parks and Disney Village®, one Extra Plus Drink per day in Disneyland Paris bars and restaurants and the ultimate dining experience – a meal with Disney Characters. Bon appétit!

See our Disneyland Paris Meal Plan Guide for More Information

 

Closest Hotels to the Disney Parks

Stay at Disney Hotel and you're only a short walk from the fun of the Disney Parks. Stroll along tree-lined paths or the banks of Lake Disney to get to the Parks or if you don't fancy the short walk, take advantage of the free Disney shuttles* that will drop you right at the park entrance.

Immersive Disney Experience & Character Encounters

The magic doesn't stop when you leave the Parks! Enjoy unforgettable moments as you cross paths with beloved Disney, Pixar, Marvel or Star Wars Characters in the lobby of your Disney Hotel and add to your collection of Selfies!*

Everything is easier with a MagicPass

Your key to a magical stay, this all-in-one pass effortlessly unlocks almost every element of your booking. It's your room key, your Disney Park tickets, your Extra Magic Time, your access key to hotel swimming pools and fitness centres and your charge card for select Disney shops and restaurants.
*Except for Disney's Davy Crockett Ranch.
Featured Hotel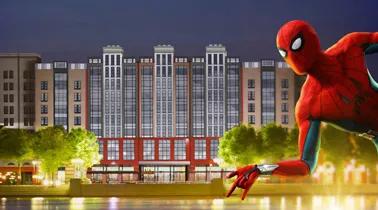 Our family pick
Welcome to the world's first Marvel-inspired hotel, a contemporary New York, super-powered masterpiece.
The newly reimagined Disney's Hotel New York harnesses the special history shared by New York City and MARVEL to create a wonderful mix of swish Manhattan style, sophistication and service combined with epic Super Hero theming. 
MARVEL fans of all ages can enjoy some truly epic experiences. Snap an action-packed photobooth shot and a selfie with Spider-Man, learn the super skills needed to draw your own MARVEL masterpiece at the Marvel Design Studio or swing over to Skyline Bar for Super Hero sighting and classy cocktails. And if you need a moment to chill, head to the Metro Pool and Health Club for its heated indoor and outdoor pools.
Take the guess work out of your Disneyland® Paris holiday with our holiday packages
Choose a Hotel & Ticket Package

Your Meal Plan

Magical Extras

Secure Checkout