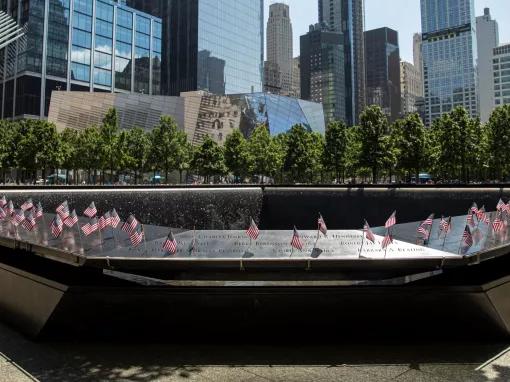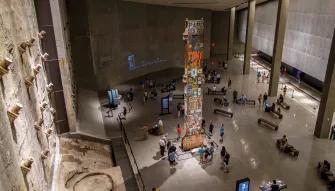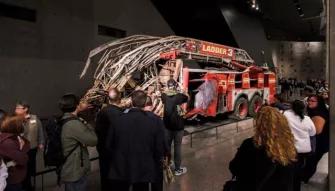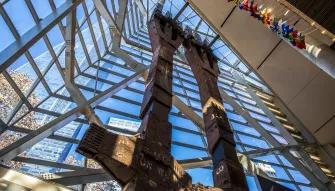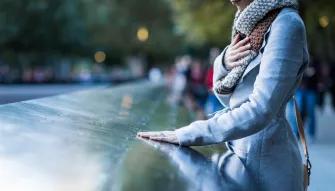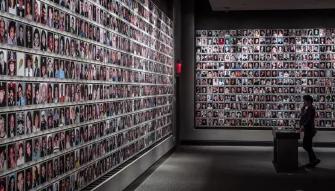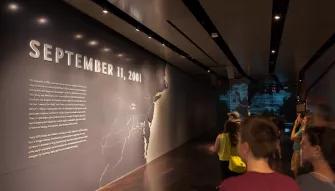 9/11 Memorial Museum Admission Ticket
Free cancellations*
37 reviews rated 5 stars
Mobile ticket
Not Available
This ticket is currently not available
This could be because:
We have sold out
New seasonal tickets are not yet available
In the meantime:
Call us on 1800 927 467
Sign up to hear the latest news and offers:
Sign up for our newsletter
Likely to Sell Out
no ticket modal
Full details
A tribute of remembrance and honour...
Skip the ticket line and enjoy guaranteed admission to the incredible 9/11 Memorial Museum with our 9/11 Memorial Museum Timed-Entry Ticket. This moving tribute of remembrance honours the nearly 3,000 people killed in the multiple terror attacks on 11 September 2001 and tells their story through first-person accounts and multi-media displays.
Our guide to 9/11 Memorial Museum Admission Ticket
The 9/11 Memorial Museum is a moving tribute of remembrance and honour to the nearly 3,000 people killed in the multiple terror attacks on 11 September 2001 as well as the six people killed in the World Trade Center bombing in February 1993. 
Architect Michael Arad and landscape architect Peter Walker created the Memorial design selected from a global design competition that included more than 5,200 entries from 63 nations. The Memorial's twin reflecting pools, each nearly an acre in size and featuring the largest manmade waterfalls in North America, are set within the footprints where the Twin Towers once stood. The names of every person who died in the 2001 and 1993 attacks are inscribed into bronze panels edging the Memorial pools, a powerful reminder of the largest loss of life resulting from a foreign attack on American soil and the greatest single loss of rescue personnel in American history.
The museum itself is located below the reflecting pools and features first-person accounts of what happened on that September morning in 2001 and multi-media displays examining the background of the attacks, the story of what happened on 9/11 and the aftermath and continuing implications of the attacks. Enter the dramatic Foundation Hall, containing the "slurry wall", a surviving retaining wall of the original World Trade Center, as well as the 36-foot-high "Last Column", covered with mementos, memorial inscriptions and missing posters and see the historic "Survivor's Stairs", a remnant of the staircase through which hundreds escaped with their lives.
The memorial exhibition called In Memoriam honours those that lost their lives that day in 2001 as well as the people who were killed during the World Trade Center 1993 bombing. Learn about some of the individual victims and their stories and see portraits of the nearly 3,000 men, women, and children who were killed in the attacks in the memorial exhibition.
Location:
180 Greenwich St, in Downtown Manhattan.
Terms and conditions
Terms and conditions for 9/11 Memorial Museum Admission Ticket
To help control capacity, all guests must currently pre-book a time slot before visiting the 9/11 Memorial Museum. Your 9/11 Memorial Museum Ticket guarantees entry for the selected date and time.
Cancellation Policy: 9/11 Memorial Museum Tickets can be cancelled for free up to 24 hours before your selected date/time.
FAQs
Frequently Asked Questions for 9/11 Memorial Museum Admission Ticket
Location
What is the 9/11 Memorial Museum, and where is it located?

The 9/11 Memorial Museum is a moving and educational institution dedicated to preserving the history and memory of the September 11, 2001 terrorist attacks in New York City. It is located at the World Trade Center site in Lower Manhattan.
Ticket Information
Can I book tickets in advance, or do I need to purchase them on the same day of my visit?

We highly recommend booking your tickets in advance to secure your preferred date and time. Tickets are available for purchase on the same day at the museum, but availability may be limited.

How can I purchase tickets for the 9/11 Memorial Museum?

You can easily purchase tickets for the 9/11 Memorial Museum on our website. Simply select the date and time you'd like to visit, choose the number of tickets you need, and proceed to checkout.
Opening Information
What are the museum's operating hours and days of operation?

The 9/11 Memorial Museum's hours of operation can vary by season. It is generally open seven days a week, but it's a good idea to check the official website or contact us at AttractionTickets.com for the current hours of operation.
Duration of Visit
Is there a recommended visit duration for the 9/11 Memorial Museum?

Visitors typically spend approximately two hours exploring the museum's exhibits, but you can take as much time as you need to fully experience the museum's powerful displays and stories.
Accessibility
Is the 9/11 Memorial Museum wheelchair accessible?

Yes, the museum is wheelchair accessible, and it provides accommodations for visitors with disabilities. Wheelchairs are available for loan on a first-come, first-served basis.
Restrictions
Are there any specific rules or security procedures I should be aware of before visiting?

Yes, security measures are in place to ensure the safety of all visitors. Backpacks and large bags are not permitted inside the museum, and all visitors are subject to security screenings. Please review the museum's website for a complete list of guidelines and restrictions before your visit.

 

If you have any more questions or need assistance with booking your 9/11 Memorial Museum tickets, feel free to reach out to us at AttractionTickets.com, and we'll be happy to help.