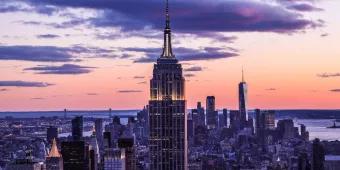 We understand it's difficult to choose, so let us help!
Find out which New York attraction pass is for you with our handy guide...
"Which New York attraction pass should I get" is a question we receive from our customers a lot and the simple answer is…well there is no simple answer! It all depends on your budget, the length of your stay and what you want to see, so the right pass for one trip might be the wrong one for another.
A great way to start deciding which New York sightseeing pass is for you is to decide which of the city's dozens of attractions are absolute must-dos for your trip. For example, if you're visiting for the first time, you'll probably want to visit The Empire State Building, see the view from the Top of the Rock and visit the Statue of Liberty and Ellis Island at the very least, so make sure the attraction pass you choose includes these three New York highlights. If you love museums, write down the ones you'd like to visit by order of importance and pick a pass which fulfils as many of your picks as possible. 
Now you have your list of must-dos, check out this helpful infographic below on each card's exclusions and inclusions. This is not a full list of everything the tickets offer, but an overview of the most popular attractions you are likely to want to see. If there is an attraction you want to see that isn't included on this list, be sure to check the 'attractions' tab of the tickets you choose first.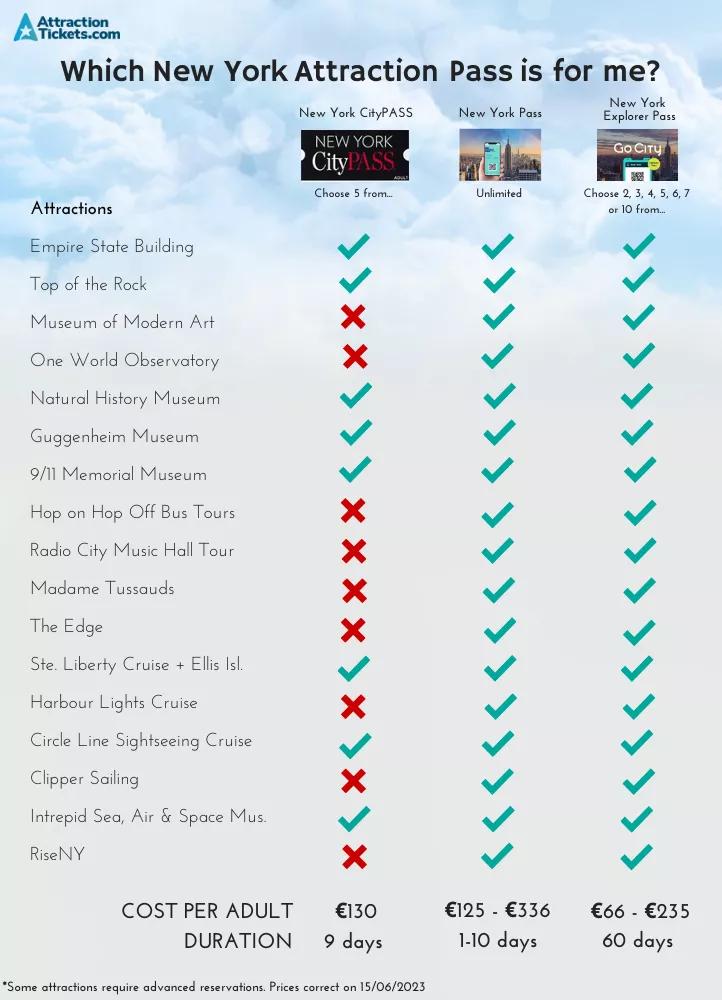 Next, you should decide if it's feasible to see all these attractions in the time you have in New York. Below is a rough guide of how long you may wish to spend at some of the attractions. 
How long do you need at each New York attraction?
Empire State Building - 1 hour - 1 hour 30 minutes
Top of the Rock - 1 hour
Museum of Modern Art - 1 - 4 hours
American Museum of Natural History - 1 hour - 2 hours 30 minutes
Guggenheim Museum - 1 - 2 hours
9/11 Memorial Museum - 2 hours
Radio City Music Hall Tour - 1 hour 30 minutes
Madame Tussauds - 1 hour 30 minutes - 2 hours
Statue of Liberty and Ellis Island Tour - 3 - 4 hours
As you don't want to feel rushed on your holiday, it's important to be realistic about how many attractions you can see. This should then have an effect on which New York attraction ticket you purchase - there's no point buying a ticket with more inclusions if you won't have time to get your money's worth!
So...which travel style does each New York attraction pass suit?
Short weekend break, enough time to see the highlights...
Go for the New York CityPASS, which includes 5 of the most visited attractions in New York and has more than enough options to keep you entertained over 2-3 days. This is one of the best value cards and allows you to see 5 attractions out of a choice of 8, all of which are New York classics. 
A set itinerary during a longer holiday…
Go for the Go City: New York Explorer Pass. If you know exactly which attractions you want to (or have time to) visit and the total comes to around 6 or 7, the Go City Explorer Pass will likely be best for you. This pass covers all the main NYC attractions, including the Empire State Building, Top of the Rock, MOMA, the 9/11 Memorial and Museum, and the Statue of Liberty, as well as plenty of other tours and experiences. Best of all, the pass lasts 60 days, making it perfect for anyone visiting NYC for a longer period but with limited time to sightsee.
The Go City: New York Explorer Pass is also available for instant download so you can purchase it while you're there.
The ultimate holiday with as many attractions as possible...
Go for the New York Pass. This is the Godfather of all the New York City passes because there are absolutely no limits on the number of attractions you can see on your card, just a time frame you must see them in (although you'd have to be superhuman to see them all in 2 days!). This is a great card to choose if you're staying centrally and you know you'll have plenty of time to check out all the amazing attractions New York has to offer. 
The most important thing is to be realistic about how many attractions you will want to see and have the time for. Once you have figured this out, it should be easy to pick from the passes and you're bound to find one that fits your travel style.
To browse all of these tickets and more, head to our New York destination pages for the best-value New York attraction tickets!