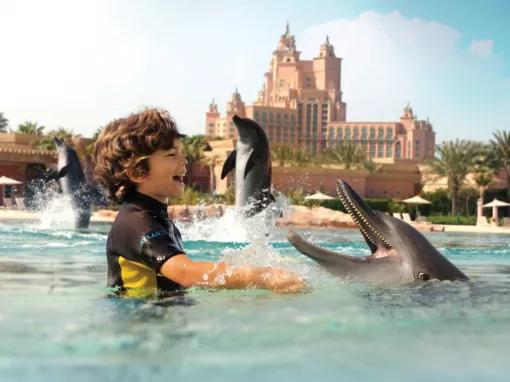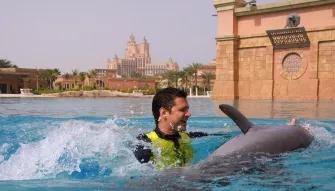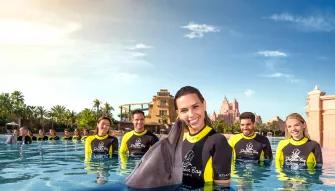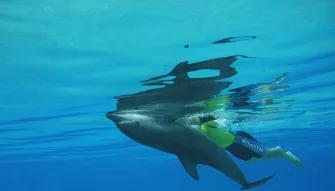 Dolphin Experiences at Aquaventure's Atlas Village
Full details
Meet and play with beautiful Indo-Pacific Bottlenose Dolphins...
Set within 11 acres of beautifully landscaped gardens with lagoons, pristine beaches and dramatic waterfalls, Aquaventure's Atlas Village is the natural setting for the fascinating Indo-Pacific Bottlenose Dolphins of Atlantis. Meet and play with these graceful mammals through a choice of two different interactions for an unforgettable once-in-a-lifetime experience.
Our guide to Dolphin Experiences at Aquaventure's Atlas Village
The incredible resort destination of Atlantis, The Palm, holds countless secrets for a visitor to discover but no corner of the resort holds quite the same fascination as the gentle residents at Aquaventure's Atlas Village.
Here there are three vast lagoons where you can meet and play with beautiful Indo-Pacific Bottlenose Dolphins or Sea Lions during shallow-water or deep-water interactions. Accompanied by a qualified marine mammal specialist, enjoy an up-close experience as you touch, hug and even kiss these charismatic and graceful creatures.
As a bonus, every interaction includes complimentary same-day access to the legendary Aquaventure waterpark and pristine beach with panoramic views of Dubai's stunning skyline.
Choose from the following experiences
Each option includes 30-minutes in the water with the animals:
Dolphin Encounter: Wade into waist-high water for a magical dolphin encounter which includes the chance to kiss, hug, touch, pet, dance and play with one of the beautiful dolphins and watch some high-energy behaviours. Groups are limited to just 10 guests per dolphin.
Dolphin Swim: Join the dolphins in the deeper waters of the beautiful lagoons for an intimate experience. The signature belly ride delivers you back to shore, guaranteeing you the most memorable ride of your life as your dolphin shows off his speed and agility. This programme is designed for confident swimmers who want to enjoy the thrill of swimming with these amazing animals. Groups are limited to just 6 persons per dolphin.
Sea Lion Dip & Play: Imagine a magical encounter with sea lions in a safe and indoor environment. At Atlas Village, that dream can become a reality. With a range of interactive experiences, you can get up close with these amazing marine mammals and show you how we take care of them while helping you to develop a greater appreciation and respect for marine life.
Additional Information:
Children under the age of 12 must be accompanied by an adult over the age of 18 who is also participating in the interaction.
The maximum permissible ratio of adults to children is one adult to three children under the age of 12 years of age.
There is a minimum age requirement of 8 years for the Dolphin Swim & Explore AND the Sea Lion Dip and Play programme.
Aquaventure's Atlas Village is part of the Kerzner Marine Foundation and also serves as the first marine resource and rehabilitation centre in Dubai. Their aim is to build a life-long appreciation for marine life and encourage our guests to act on behalf of nature after their visit to Aquaventure's Atlas Village.
Spectators are welcome, but they must purchase an Observer Pass must be purchased locally. The current cost is AED300. 
Reviews
Average 4.5 out of 5 (41 customer reviews)
★★★★★ ★★★★★
People who purchased Dolphin Experiences at Aquaventure's Atlas Village also viewed...