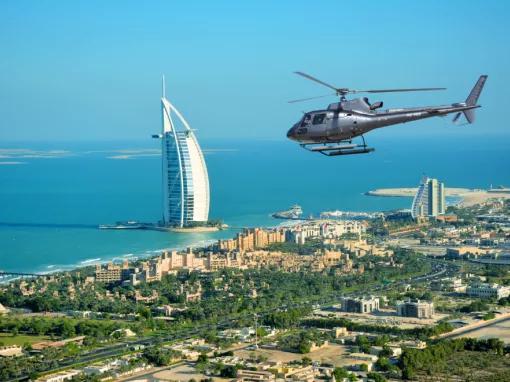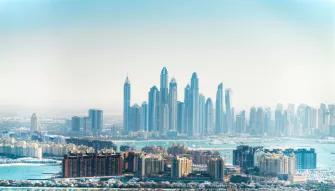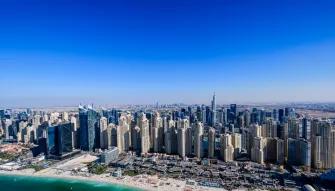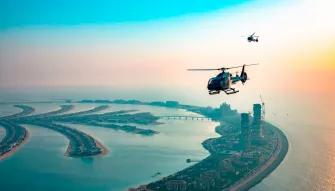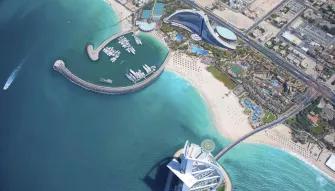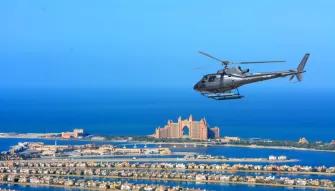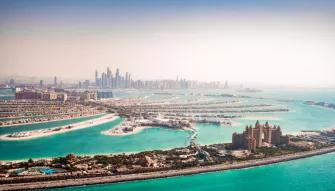 Dubai Helicopter Sightseeing Flight
Full details
This exhilarating helicopter adventure offers unparalleled bird's eye view of Dubai's magnificent skyline and its most iconic buildings including the famous Burj Al Arab, the incredible Palm Island and the world's tallest building, the Burj Khalifa.
Our guide to Dubai Helicopter Sightseeing Flight
The ultimate Dubai sightseeing trip, take to the skies on an exhilarating helicopter flight and enjoy the beautiful scenery of the coastline and the city's mindblowing skyline!
A different side of Dubai is revealed as you soar above world-famous landmarks such as the Burj Al Arab, Palm Island, historic Dubai Creek and of course the tallest building on earth, the Burj Khalifa.
Don't forget your camera for this stunning journey!
Dubai Helicopter Options:
There is a choice of three Dubai helicopter sightseeing flights.
Dubai Helicopter 12-Minute Flight: Taking off from the Dubai Police Academy, the flight heads to the Burj Khalifa and then circles back to the Palm Jumeirah taking in some of Dubai's most famous landmarks including the Burj Al Arab, Palm Jumeirah and the Dubai coastline.
Dubai Helicopter 15-Minute Flight: Taking off from the Palm Jumeirah, the flight takes you over the beach hotels giving you wonderful views of the coastline and its most famous landmark – the Burj Al Arab. Be in awe of the World and Palm Island's magnificence as the helicopter circles over these remarkable projects before heading inland where you will see Union Square, Sheikh Zayed Road, the Mall of the Emirates and the Burj Khalifa.
Dubai Helicopter 25-Minute Flight: Encompassing all of the 15-minute flight's sights, this extended 25-minute option will also take you over the Camel Race Track, Naad al Sheba Race Track, Mall of the Emirates, the Emirates Golf Club and the historic Dubai Creek.
Important Information:
Dubai Helicopter flights work on a shared-flight basis - this is not a private tour and there may be other guests onboard.
Tips & Tricks - Dubai Helicopter Sightseeing Flight
To truly experience the man-made wonder that is Dubai, a pre-booked helicopter ride over Dubai is a must.
People who purchased Dubai Helicopter Sightseeing Flight also viewed...