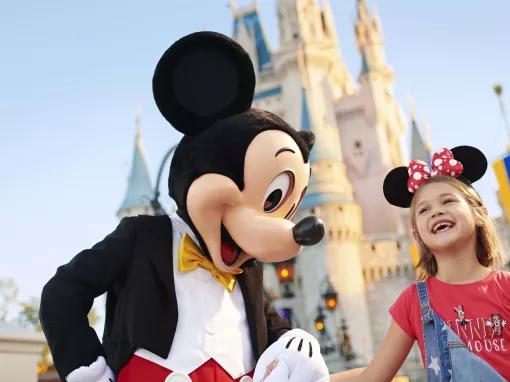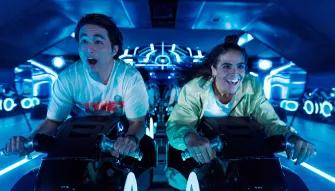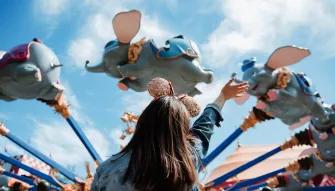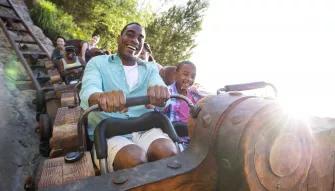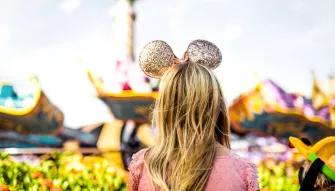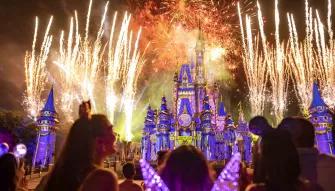 Disney Magic Kingdom Ticket Prices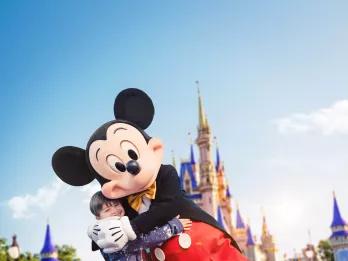 Best Seller
Mobile ticket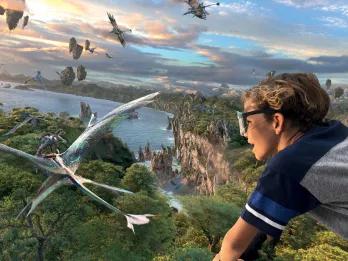 Mobile ticket
Get better value by Combining Magic Kingdom Park with other attractions
Combo ticket
Most Popular
Make the most of your Magic Kingdom Park visit with these extras
Full details
The one and only place where once-upon-a- time is now and make-believe is as real as today.
Use your Disney World theme park tickets to enjoy a Disney experience of six enchanted lands and over 40 magical attractions, making exciting adventures and timeless fairy tale classics just a smile away. Magical tales and bold new adventures await for the price of our Magic Kingdom park tickets, allowing you to make a great saving on your dream family holiday.
Our guide to Magic Kingdom Park
Use your Disney World tickets to experience the most beloved Walt Disney World Theme Park – the only place where once upon a time is now, and make-believe is as real as today.
Our Magic Kingdom ticket prices are great value and offer you the chance to explore an array of magical attractions to suit everyone…
Fun for Kids
Buzz Lightyear's Space Ranger Spin (inspired by Disney•Pixar's 'Toy Story'): travel to infinity and beyond to save the toy universe.
Dumbo the Flying Elephant: Celebrate the golden age of the circus as you soar high in the sky and see an elephant fly on a whimsical flight aboard Dumbo.
Under the Sea - Journey of the Little Mermaid: Board a clamshell and become part of Ariel's world on a musical adventure awash with scenes from the animated classic.
Big Thrills
TRON Lightcycle / Run - Speed across a world with no horizons in a high-stakes race based on the Disney sci-fi film TRON: Legacy.
Thunder Mountain Railroad: Take off on a rollicking runaway train ride through the treacherous Wild West!
Space Mountain: launch into the soaring darkness of space on this high-speed roller coaster journey to the darkest reaches of the universe
Splash Mountain: you're sure to make a splash as you drop five storeys on this hugely popular ride.
Family Fun
Seven Dwarfs Mine Train: Embark on an exhilarating journey inspired by the classic Disney film. It's the rockingest, rollingest train ride ever!
Mickey's PhilharMagic: A spectacular 3-D extravaganza featuring the largest cast of Disney animated characters ever assembled.
Happily Ever After: Gather around Cinderella Castle for an awe-inspiring show that's sure to surprise and delight. Happily Ever After takes you on an unforgettable journey that captures the heart, humour and heroism of many favourite Disney animated films.
Our ticket prices for the Magic Kingdom allow you to experience all of the above wonderful attractions as well as many more for much less than you'd expect – click on the rides tab to see a full list of park attractions.
Hotels In This Area
Rides
Our guide to Magic Kingdom Park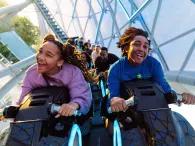 TRON Lightcycle / Run
Minimum Height Required: 48" (122cm)
Lean forward into the ultimate race of survival! Leave the real world behind and join Team Blue in an epic quest across the Grid—the dark, computerized world with no horizons from TRON. Here, there's no limit to the excitement. Climb aboard your very own Lightcycle and take off on a high-speed adventure, racing against the Grid's most menacing Programs. Surge past your fierce opponents as you attempt to cross through 8 Energy Gates and secure your team's victory—so you can survive to race another day.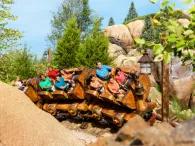 Seven Dwarfs Mine Train
Race through the diamond mine from Snow White and the Seven Dwarfs on this brand new adventurous family coaster! In this first-of-its-kind ride system, excitement holds sway as you swing left and right and go up and down and over every hairpin twist and turn of the track. It's the rockingest, rollingest train ride ever!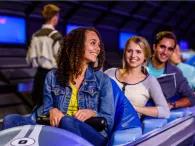 Space Mountain
Blast off on a rip-roaring rocket into the furthest reaches of outer space on this roller-coaster ride in the dark. Fly past shooting stars and celestial satellites. Roar past streaking orbs of light, wayward comets and migrant meteors. Feel the pull of gravity as you're drawn into a swirling wormhole!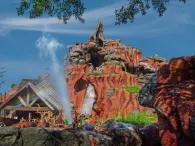 Splash Mountain
Splash Mountain is Magic Kingdom's infamous water ride, offering big thrills for big kids, teens and adults. Hop aboard a hollowed out log and take the twists and turns that lead up to the inevitable grand drop. Hold onto your log and duck if you're trying to stay dry, this drop plunges you down five storeys of rushing water, causing a splash so great that even the onlookers have to run for cover.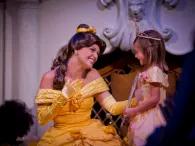 Enchanted Tales with Belle
Relive the magic of Disney's Beauty and the Beast by taking part in her fairy-tale - alongside Belle herself! Take your places inside the Beast's splendid library, where Lumière the talking candlestick directs the action. When Belle appears, you'll get a chance to play your part in her fairy-tale story or just cheer along as you observe the fun!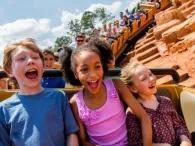 Big Thunder Mountain Railroad
Minimum Height Required: 102cm or taller
The Big Thunder Mountain Railroad is a runaway mine train taking you on a tumultuous journey through the gold-mining town of Tumbleweed. Speeding through canyons and caverns, soaring downhill and ripping across, what appears to be, rickety tracks, this rollicking roller coaster will show you just how wild the Wild West can be.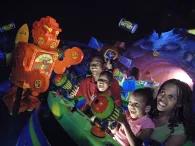 Buzz Lightyear's Space Ranger Spin
Buzz Lightyear's Space Ranger Spin is a video-game-inspired ride at Magic Kingdom theme park based on the exploits of Buzz Lightyear and the Evil Emperor Zurg from Disney Pixar's film 'Toy Story 2'. Accept the role of a Junior Space Ranger, board XP-37 space cruisers and blast away at Evil Emperor Zurg's robot minions with laser cannons.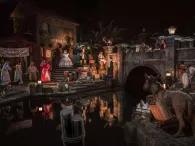 Pirates Of The Caribbean
Pirates of the Caribbean is Disney's Magic Kingdom theme park's much loved ride, enjoyed by adventure seeking kids, teens and adults. This high seas water ride sails you through a town pillaged by pirates and plunges you over a 14 foot waterfall, landing you amidst a pirate battle. Hold on tight, never have the waters been so unsafe.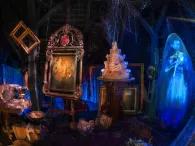 Haunted Mansion
What appears from the outside to be a beautifully preserved 18th century house is The Haunted Mansion, fully equipped with all the mystifying happenings you'd expect when the supernatural lingers. A Ghost Host will be your guide, ensuring you have a spookily good time with some of the friendliest ghosts you'll ever meet!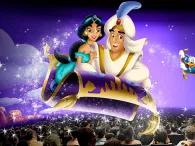 Mickey's PhilharMagic
Mickey's PhilarMagic is a 12-minute 3D movie projected onto one of the world's largest seamless screens in Disney's Magic Kingdom. The Disney cast mingle amongst the audience in this magical 3D spectacle, thrilling all Disney fans. Illustrated with sparkling vivid colours on a 150-foot-wide screen and accompanied by a powerful score, Mickey's PhilarMagic is awe-inspiring.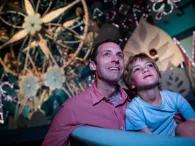 It's a small world
Climb aboard this boat ride and glide past nearly 300 brightly costumed dolls singing "It's a Small World", dressed in costumes that represent more than 100 nations. Boundaries dissolve and continents are connected by this singular song the dolls sing in 5 languages. It's a Small World is fun for little ones as well as guests of all ages.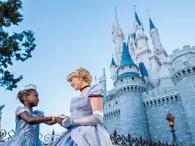 Cinderella's Castle
Pose for a picture in front of what could be the single best-loved structure in the world. The Cinderella Castle is the iconic fairy-tale edifice that stands 190 feet at the entry of Disney's Fantasyland and has become emblematic of Disney World and all the magic and romance it evokes. No matter how many times you have witnessed the Cinderella Castle, it will never feign to take your breath away.
Monsters, Inc Laugh Floor
Monster Mike Wazowski is the host of the kids comedy show. Mike and his fellow monsters are eager to have his audience in continuous fits of laughter – as the city of Monstropolis depends on it. Mike will do all he can to have the crowd crying with laughter. Join Mike Wazowski and his pals in this new interactive comedy showcase inspired by Disney Pixar's "Monsters, Inc."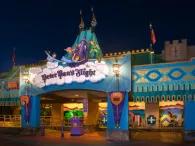 Peter Pan's Flight
Sail high into the moonlit sky with Peter Pan over London, where famous sites like Big Ben and Tower Bridge mingle with a confection of glittering lights. Then, descend into Never Land, home to volcanic peaks and sparkling waterfalls.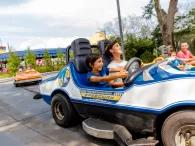 Tomorrowland Speedway
Minimum Height Required: 82cm or taller
On your mark, get set, go! Fasten your seatbelts and rev your engines for Disney's Tomorrowland Speedway. In your own gas powered car, that goes as fast as 7 miles per hour, you'll race around a four mile long speedway on a track that guides your car. Inspired by the the famous Indianapolis Motor Speedway, this four lane speedway mini race car ride is for all ages to enjoy.
Prince Charming Regal Carroussel
Ride an enchanted horse through a whirling fantasy of colour and music. Prince Charming Regal Carousel in Magic Kingdom' Fantasyland is a restored and renovated antique carousel, inspired by the carousel featured in the original Cinderella film. Hop on board one of these beautifully crafted horses and ride alongside Cinderella and Princh Charming.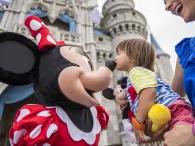 Happily Ever After
Experience a grand finale to your day with the latest - and most spectacular - fireworks show in Magic Kingdom history featuring more lights, lasers and special effects than ever before, plus a soaring score featuring contemporary versions of beloved Disney songs.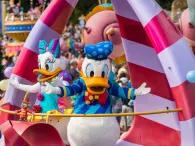 Festival of Fantasy Parade
Celebrate the spirit of Disney as Magic Kingdom park comes alive with music and dance during a tribute to the tales of Fantasyland. Starring some of your favourite Disney Characters, the he dazzling mix of floats, motion and original music will keep you humming along for days to come.
FAQs
Frequently Asked Questions for Magic Kingdom Park
Rides & Attractions
How big is the Magic Kingdom?

Magic Kingdom Park is divided into six themed lands across 107 acres, so there is plenty to see and do during your visit! There are as many as 40 attractions, shows and encounters to experience during your time in the Park, so we would recommend at least 2 full days to see and do everything the park has to offer - but we would return as many times as your schedule allows!

What is there to do in Magic Kingdom?

There are a huge range of attractions, parades, character meet and greets and dining experiences to explore - more than 40 in fact! The Park is split into 6 different themed lands and is home to 4 iconic thrill attractions and more than a dozen family friendly attractions. However we really recommend you also take the time to enjoy some character encounters, which are fun for all ages, the fantastic parades and, of course, the magical finale in the Happily Ever After fireworks show. 

How many attractions are there at Magic Kingdom?

There are over 40 attractions within Magic Kingdom including ''it's a small world'', Big Thunder Mountain Railroad, Seven Dwarfs Mine Train, Space Mountain and Splash Mountain. There is a huge range of attractions suitable for all members of the family and plenty for the whole family to enjoy together. 

What Disney characters will I see at Magic Kingdom?

There are many photo opportunities with characters such as Mickey Mouse, Minnie Mouse, Donald Duck, Goofy, Ariel, Buzz Lightyear, Cinderella and Pluto to name a few. When Disney's Fastpass+ is available, you can make reservations to meet your favourite Characters and avoid waiting in the usual line, which we would highly recommend. Alternatively, book a Character dining experience to meet your favourites in a whole different setting. 

Where can I meet Mickey Mouse at the Magic Kingdom?

Mickey Mouse is at the Town Square Theater on Main Street for a meet and greet with photo opportunity. When this service is available again you can book a Disney's Fastpass+ reservation to make sure that you don't miss out. 

What time are the fireworks at Magic Kingdom?

The time can vary based on the season/when it is dark. They usually have fireworks every night called Happily Ever After. They are often around 9pm but do check the daily park calendar for actual times. Currently this is not in operation at this time.

What time are the parades at Magic Kingdom?

Magic Kingdom has two parades - Disney Festival of Fantasy Parade and Move it! Shake it! MousekeDance it! Street Party. We definitely recommend making time for both during your visit. Timings can vary so it's a good idea to check the schedule when you arrive at the park so you don't miss out. Currently this is not in operation at this time.

Where is FairyTale garden in Magic Kingdom?

FairyTale Garden is he place where you can meet Merida at Magic Kingdom. This is in the Fantasyland area of the Park. Currently the Merida meet and greet is not in operation at this time.

What princesses can you meet at Magic Kingdom?

You can meet princesses such as Cinderella, Elena, Rapunzel, Tiana, Merida and Ariel. Cinderella, Elena, Rapunzel and Tiana will be available for a Character experience at Princess Fairytale Hall, while Merida is waiting to meet you in the FairyTale Garden. Ariel can't wait to meet you at Her Grotto in Fantasyland. When this service is available again we recommend booking a Disney Fastpass+ reservation for this experience. 

Where can I meet Minnie Mouse at Magic Kingdom?

Meet Minnie in her Minnie Magnifique outfit at Pete's Silly Sideshow in Fantasyland.
Ticket Information
How much is a one day ticket to Magic Kingdom?

They can vary between $120-170 per day. We do not offer one day tickets as our multi-day Disney Magic Tickets offer such good value for money, working out at less than £32 per day. Plus, there's far too much to see in just one day!
Fun Facts
When is the 50th anniversary at Magic Kingdom?

The 50th anniversary celebrations began on October 1, 2021 and are scheduled to last until March of 2023. We recommend booking early to avoid disappointment. 

How many hidden Mickeys are there in Magic Kingdom?

Although approximately 1,000 - 1,200 Hidden Mickeys have been recorded across all the parks, The Walt Disney Company has never compiled a complete list of all the "known" or "deliberate" Mickeys (whether created by an Imagineer or a Disney Cast Member), so there is no way to confirm or disprove any reported Mickey sightings.

What is inside Cinderella's Castle at Magic Kingdom?

Cinderella Castle is home to Bibbidi Bobbidi Boutique, a royal transformation salon for young princes and princesses. Here you will also find Cinderella's Royal Table, a restaurant serving breakfast, lunch, and dinner with special tableside visits from Disney princesses.

When was the Magic Kingdom built?

The Magic Kingdom opened its doors in 1971.

How tall is Cinderella Castle at Magic Kingdom?

At 189 feet tall, Cinderella Castle is one of the largest structures at Walt Disney World.
Opening Information
Does Magic Kingdom ever reach full capacity?

Yes it can do. At peak season and busy times of year such as Spring Break, Summer, Christmas and New Year too. In 2022, you will need a theme park reservation to enter the Disney parks so it is recommended that you make your plans as early as possible to secure the park availability you would like. You can view a live availability calendar at the top of this page. 

What time does Magic Kingdom close?

Closing times vary by season ranging from 6pm to 2am with an after hours ticket. Please check the parks calendar for accurate information.

What time does Magic Kingdom open?

Usually this is 9am but please do check the park calendar for accurate opening times. Guests staying at a Disney Resort Hotel can also benefit from Extra Magic Hours at different Disney theme parks on certain days of the week, which means you can enter the park an hour before other guests!

Is Magic Kingdom open on Christmas Day?

Yes it is open. Check the park calendar for hours of opening. This is usually one of the busiest days of the year.
Parking
Where should I park to visit Magic Kingdom?

At the Magic Kingdom, the parking lot is located at the Ticket and Transportation Center. As the car park is huge, a tram will then take you to either the Monorail or Ferry which will then take you to the Magic Kingdom. Don't forget which car park lot you are in!

How much is it to park at Magic Kingdom?

Parking charges start from $25 per day for a car. To avoid paying parking charges, make the most of the complimentary Disney transportation between Disney Springs and the Disney Resort Hotels. 
Location
Is there transportation from Disney Springs to Magic Kingdom?

You can use the Disney transportation bus to take you to Disney's Comtemporary Resort. From there you can then choose to walk to the park or jump on the monorail. Allowing for queue/wait times, this can take around an hour.

How far is SeaWorld from Magic Kingdom?

SeaWorld is 13 miles away by car which is roughly a 20 minute drive. If you are thinking of visiting both parks or more on your trip you should consider our Orlando combo tickets which will save you money vs. buying individual tickets. 

Where is Magic Kingdom located?

How far is Art of Animation to Magic Kingdom?

It is roughly a 10 minute drive, or 20 minutes on the Disney transportation bus which will take you directly from the hotel to the park.

How can I get to Hollywood Studios from Magic Kingdom?

You can use the Disney transportation bus to take you between these parks. You should allow 30-40 minutes for this.

Is Epcot in Magic Kingdom?

No Epcot is a separate park within the Walt Disney World resort.

Which Disney hotel is closest to Magic Kingdom?

The following hotels are the closest and within walking distance to Magic Kingdom: Disney's Contemporary Resort and Bay Lake Tower, Disney's BoardWalk Inn and Villas, Disney's Beach Club Resort and Villas, Disney's Yacht Club Resort and Walt Disney World Swan and Dolphin Resort.

How far is Disneys Caribbean Beach Resort from Magic Kingdom?

It is 5 miles away. Around a 15 minute drive or 30 minutes via the Disney bus transportation.

How far is Epcot from Magic Kingdom?

You can use the monorail to travel between the parks. This can take from 30-60 minutes depending on the queue wait time. Take the Monorail from Magic Kingdom Park to the Transportation and Ticket Center to transfer to the Epcot Monorail. Or take a water launch (also know as a water taxi) from Magic Kingdom Park to the Transportation and Ticket Center and then transfer to the Epcot Monorail. It is a 10 minute drive between parks if you self drive.

How far is Kissimmee from Magic Kingdom?

It is roughly a 30 minute drive away.

How do I get to Chef Mickey from Magic Kingdom?

You can walk (approx 15 minutes) from Magic Kingdom to Disney's Contemporary Resort where Chef Mickey is located. Or you can also use the monorail, and this hotel is the first stop from the Magic Kingdom.

Where is Be Our Guest in Magic Kingdom?

Be Our Guest Restaurant is an expansive and elegant dining destination located at the foot of Beast's Castle in Fantasyland.
Food & Drink
Do they sell alcohol at Magic Kingdom?

The following restaurants serve alcohol at Magic Kingdom: Be Our Guest, Cinderella's Royal Table, Jungle Navigation Co. LTD Skipper Canteen, Liberty Tree Tavern, Tony's Town Square Restaurant, The Plaza Restaurant, The Crystal Palace, and The Diamond Horseshoe.

Where can you eat in Magic Kingdom?

There are 7 full service restaurants including Liberty Tree Tavern in Liberty Square, Be Our Guest in Fantasyland and The Plaza Restaurant on Main Street. There are also 12 quick service restaurants such as Pecos Bill Tall Tale Inn & Cafe, Cosmic Ray's Starlight Cafe and Sleepy Hollow Inn.
Duration of Visit
How many days should I spend at Magic Kingdom?

We would suggest at least two full days to experience as many of the attractions as you can.
General Information
Where can I buy magic bands in Magic Kingdom?

Guests can purchase MagicBands at Tomorrowland Light & Power Co. in Magic Kingdom park and customize with various image and color combinations.
Magic Kingdom Park Reviews
AmaIng as always. Magical and now my home from home

Suzanne Snow reviewed Magic Kingdom Park 01 Dec, 2023

Must do park for us. So many iconic rides. Not to miss is the parade and fireworks.

Trusted Customer reviewed Magic Kingdom Park 30 Nov, 2023

Great service fabulous visit

Trusted Customer reviewed Magic Kingdom Park 27 Nov, 2023

Kids absolutely loved it here we had a character breakfast too.

Michaela Morgan reviewed Magic Kingdom Park 27 Nov, 2023

Again busy early November but still most magical place on earth

Steven Carter reviewed Magic Kingdom Park 26 Nov, 2023
©Disney © & ™ Lucasfilm Ltd
People who purchased Magic Kingdom Park also viewed...