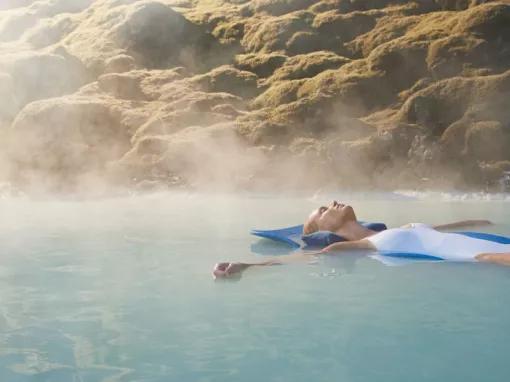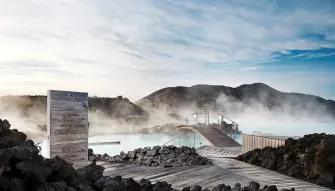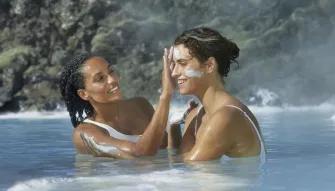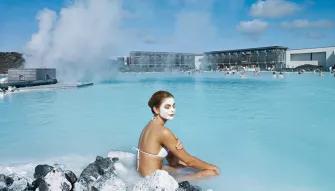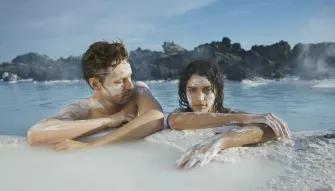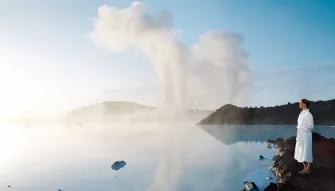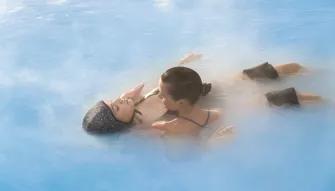 Blue Lagoon Admission - Comfort Experience
Not Available
This ticket is currently not available
This could be because:
We have sold out
New seasonal tickets are not yet available
In the meantime:
Call us on 1800 927 467
Sign up to hear the latest news and offers:
Sign up for our newsletter
no ticket modal
Full details
Start your holiday right!
Visit Iceland's other-worldly Blue Lagoon with this Comfort Experience which, as well as including general admission, entitles you to use of a silica mud mask, a towel and even a drink at the in-water bar.
Our guide to Blue Lagoon Admission - Comfort Experience
Set in the midst of stunning landscape, the Blue Lagoon, named for the extraordinary colour of its waters, is a 'must-see' for any visitor to Iceland.
The lake is located in southwest Iceland, about 30-45 minute drive from Reykjavik, and boasts an average temperature of 39 degrees Centigrade making it the perfect temperature to bathe in!
What's more, this ticket includes transport so all you have to worry about is how to spend your time at the geothermic wonderland.
You can relax and take in the remarkable surroundings, bathe under the man-made waterfalls (great for sore shoulders and stiff muscles!), indulge your skin with a silica mud mask or even grab a beverage at the in-lagoon bar - the choice is yours.
As well as including return transportation and admission, your Comfort package also includes a silica mud, use of a towel and a drink of your choice at the swim-up bar.
How does it work?
1) Choose between a 'hotel pick-up' or to make your own way to the 'BSÍ Bus Terminal': If you prefer to be picked up from your hotel then book the 'hotel pick-up' ticket and a pre-bus shuttle service will collect you from your hotel and take you to the BSÍ Bus Terminal to board a bus to the Blue Lagoon. Please provide the name and address of your accommodation when booking - we will then advise the precise pick-up location and time (note: it will be earlier than when the main bus departs the terminal). If you book a 'with BSÍ Bus Terminal pick-up' option then simply make your own way to the terminal, which is located in downtown Reykjavik (Vatnsmýrarvegi 10, 101 Reykjavík), and catch the bus you've booked.
2) Choose when you wish to depart for the Blue Lagoon: The time you select when booking is when your bus will depart Reykjavik from the BSÍ Bus Terminal.
Bus departure times from BSÍ Bus Terminal: Valid from 1st December 2021: 09.00, 10.00, 11.00, 13.00, 14.00, 15.00 and 17.00
3) Enjoy the Blue Lagoon: You can stay for as long as you want (well, while bus times permit!).
4) Return transfer: Your return ticket is flexible - once you've had your fill of the Blue Lagoon, you can travel back to Reykjavik or onwards to Keflavik International Airport. Simply catch the next available bus (see schedule below) to your required destination. You cannot pre-book this so just head to the clearly-marked bus stop at the Blue Lagoon. If you've booked the hotel pick up option you will also receive a hotel drop off. Otherwise, your journey ends at the BSÍ Bus Terminal.
Schedule (subject to change)
Blue Lagoon to Reykjavik: 13:15, 14:15, 16:15, 18:15, and 20:15
Blue Lagoon to KEF Airport: 14:30
Terms and conditions
Terms and conditions for Blue Lagoon Admission - Comfort Experience
In the event of inclement weather, road closures or other causes which may impact your hotel pick-up, you will be advised of the nearest collection point. It is the customer's responsibility to be at this location to be collected
You will receive a voucher for this experience. Please read it thoroughly. You will be required to present a printed copy of your voucher at the time of tour departure.
Bathing suits are available for hire at Blue lagoon but you can also bring your own.
Guests can store their luggage at the Blue Lagoon for a small fee.
Children under the age of 2 are not allowed to go into the Blue Lagoon but are welcome on the premises.
Babies younger than 1-year-old (under 9 kg) are only safe in babies car seats that require 3-point seat belts, which Reykjavik Excursions cannot provide. According to Icelandic law of children's safety onboard busses, compared to the equipment Reykjavik Excursions offer presently, only children over 1 year of age can be accommodated. Reykjavik Excursions cannot guarantee the safety of children younger than one year and thus they cannot be booked on tours. Children 1-3 years of age must use an appropriate child's car seats. Children 3 or 4 years and older (over 18 kg) can use the normal seat belts on our buses.
Children at the age of 2-8 must use inflatable armbands at all times when bathing in the Lagoon. The armbands are available at the bathing area.
The journey between the Blue Lagoon and Reykjavik takes approximately 50 minutes. The journey between the Blue Lagoon and Keflavik International Airport takes approximately 25 minutes.
Please note: If returning to Reykjavík, the bus will take a pre-determined drop off route which takes an additional 30 minutes (approx.). The first stop is at Hilton Reykjavik Nordica hotel/bus stop A. After the last pre-determined stop the bus heads to the BSI Bus Terminal where, if you've booked the 'hotel pick-up' option, you can switch to a smaller bus for a drop off at your accommodation.
No liability is accepted for losses or expenses due to delays or changes of arrival or departure of flights or other services, injury, sickness, accident, strikes, damage, negligence, weather, war or other causes outside the control of Reykjavik Excursions. All such losses and expenses are the personal liability of the traveller.
*CANCELLATION POLICY: Free cancellations for bookings cancelled with the operator up to 72 hours before your chosen activity date. No refunds are given for cancellations / amendments  made within 72 hours.
FAQs
Frequently Asked Questions for Blue Lagoon Admission - Comfort Experience
Ticket Information
Is there a minimum age limit at the Blue Lagoon?

Yes, there is a minimum age requirement of 2 years to go into the water. Toddlers are certainly allowed on the premises with their parents/supervisors. Children from age 2-13 are welcome to go into the water and enjoy the Blue Lagoon with their family or their guardians. Due to the origin of the Blue Lagoon seawater, it's colour sudden changes in temperature and rough surface, children from age 2-8 must wear inflatable armbands in the lagoon. These are provided free of charge. Please note that each guardian is only allowed to supervise two children under the age of 10. For safety, and out of respect for other guests, please keep an eye on your children at all times. There is no children day-care or other special children facilities at the Blue Lagoon.

Is it possible to visit Blue Lagoon without going in the water?

No, it's not possible without purchasing one of the admission tickets. However, if you are travelling with other people (family or group) that are bathing, and you can't for whatever reason follow them, you are certainly welcome to enter the facilities with them and wait at the cafe. You can dine at LAVA restaurant, have light refreshments at Blue Cafe and shop in the Blue Lagoon store.
Facilities & Amenities
Is there WI-FI access available at Blue Lagoon?

There is a WI-FI in the building, free of charge for guests.

Do they provide bathrobes at Blue Lagoon?

You can rent thick cotton robes at Blue Lagoon. For those who are travelling light, it's worth mentioning that Blue Lagoon shower gel and Blue Lagoon hair conditioner is complimentary in the showers. Also, there is both female and male swimwear available for renting. The female swimsuits are one piece and the male swimwear is shorts. Swimwear is worn in and around all areas of the bathing area in the lagoon.
Accessibility
How accessible is the lagoon to a wheelchair user?

You can access Blue Lagoon easily both indoor and outdoor. There are stairs with a handrail that leads into the water. There is also a pool access lift by the indoor lagoon entrance area.
Opening Information
What day and time of the week tend to be the least crowded at Blue Lagoon?

Blue Lagoon is one of the most popular tourist attractions in Iceland. There are limits on how many guests can visit at each time and, most often, the Blue Lagoon is fully booked until late afternoons 1-2 days in advance. We highly recommend that you pre-book your ticket well in advance, to be sure that you can fit the Blue Lagoon in your Iceland travel schedule.
Food & Drink
Is it possible to bring your own food to Blue Lagoon?

No. Guests are kindly asked to respect that all chairs and tables are intended for customers at the Lagoon bar or Blue Café. Exceptions are made for small children (baby food) or special needs.
Location
How long does it take to get from Reykjavik to Blue Lagoon?

It usually takes about 40-45 minutes to go from Reykjavik centre directly to Blue Lagoon.