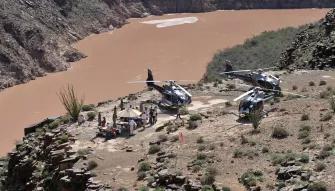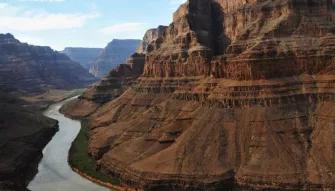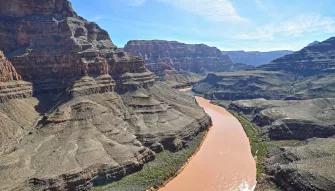 Wind Dancer – Deluxe Grand Canyon Helicopter Tour
Full details
A great option for those looking for a VIP Grand Canyon Experience!
A great option for those looking for a VIP Grand Canyon Experience. This deluxe Grand Canyon helicopter tour flies in an Eco-Star helicopter – the Rolls Royce of helicopters - with enhanced stereo sound headsets for clearer narration; spacious leather seats for superior comfort and wraparound glass for greater visibility.
Our guide to Wind Dancer – Deluxe Grand Canyon Helicopter Tour
Depart the Las Vegas Strip and start your experience with an exhilarating helicopter tour over the iconic Hoover Dam, one of America's national treasures and a popular sightseeing attraction. You will enjoy panoramic views of Lake Mead and the Mojave Desert as you head toward the Grand Canyon. You'll also have intimate views of Temple Rock, a unique formation on the shoreline of Lake Mead and Fortification Hill, an extinct volcano.
The ground drops away as you enter the Grand Canyon, one of the "Seven Natural Wonders of the World." After flying miles into the canyon, this helicopter tour will descend and land 3,500 feet below the rim. Champagne, beverages and light snacks will be served some 300 feet above the mighty Colorado River atop Maverick Helicopters' private bluff deep within this natural wonder.
As you fly back through the Grand Canyon, you'll view the red rock formations of the Bowl of Fire and conclude your adventure with an exciting flight over Downtown Las Vegas and the Strip.
Duration:
Around 4 hours door to door; flight time to the Grand Canyon is around 45 minutes each way.
Departure Airport:
Las Vegas Terminal
Hotel Transfers
Flights include complimentary transportation to and from hotels within five miles of the Las Vegas Strip. Pick-ups commence up to 45 minutes before the flight departure time.
Wind Dancer Sunset Departure
For an extra special experience, why not upgrade to the Wind Dancer Sunset departure. The inclusions are exactly the same as the regular Wind Dancer tour, but you enjoy your tour when the setting sun casts an orange glow over this magical landscape. Departure times vary between 2.30 pm and 8.00 pm depending on the time of year. Additonal Information The Wind DanceThese Grand Canyon Tours are only available for customers staying in Las Vegas.
Helicopters are very sensitive to weight and weight distribution. As such anyone weighing over 300lbs will be required to purchase a comfortable seat. A 50% surcharge will be applicable upon check-in. All passengers must be weighed at check-in.
People who purchased Wind Dancer – Deluxe Grand Canyon Helicopter Tour also viewed...