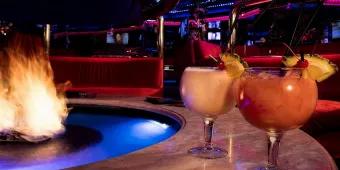 Amazing restaurants in Las Vegas!
From restaurants where mermaids swim by as you eat, to places with spectacular views of the strip, here's our pick of the most unique restaurants in Las Vegas…
If you're planning a holiday to Las Vegas, you're sure to have a huge 'must-do' list, but as well as seeing all of the top Vegas attractions, you should make plenty of time to pay a visit to some of the most unique restaurants the city has to offer. With amazing food and one-of-a-kind experiences guaranteed, you'll definitely make some memorable moments. We've put together a list of our favourite unique restaurants in Las Vegas to give you some inspiration for your trip…
1. Mermaid Lounge
If you're looking for something totally unique, then look no further! There's nothing like enjoying an amazing meal, with an equally amazing view and at the Mermaid Lounge you can do just that. Located inside the Silverton Casino in Las Vegas, this restaurant is truly one-of-a-kind. We spoke to the team at the Silverton Casino and they described the Mermaid Lounge as "downright magical". But what is it that makes this place so special? Well, if you couldn't tell from the name, here's what the team had to say; "Your meal becomes a dining experience alongside real life mermaids swimming in a 117,000-gallon saltwater tank aquarium with 4,000 mesmerizing tropical fish, not to mention sharks and stingrays as well". That's right, as you eat your meal, you'll actually be able to see real mermaids swimming past! Make sure you've got your camera at the ready as this definitely deserves a place on your Instagram.
So, what's on the menu? You can choose from juicy burgers, mouth-watering pizzas, BBQ ribs and beer battered chicken tenders to name just a few. Save some room for dessert as the Oreo cheesecake and banana pudding jars will definitely satisfy your sweet tooth! If you just want a light bite, there are lots of tasty appetisers to choose from, like parmesan fries, beef nachos, crispy wings and calamari. The bar is open until 1am, so sit back, relax and enjoy a drink (or two!).
What makes this place unique? The swimming mermaids of course!
2. Peppermill
The Peppermill Restaurant and Fireside Lounge made it's Las Vegas debut on 26th December 1972 and has remained a must-visit restaurant ever since. Peppermill describes itself as "an iconic reminder of the Vegas Strip the way it used to be". So, if you want to take some time out and experience the real Vegas, this is the place to go.
While the restaurant may have opened more than 45 years ago, lots of things have stayed the same thanks to Peppermill's traditional ethos. We spoke to the Peppermill team and they explained that the restaurant was founded on hearty dishes and oversized portions, which is still reflected in today's menu. So, what can you expect if you're planning a visit? The Peppermill team had a few suggestions; "visit our 24-hour Fireside Lounge and delight in a 64-ounce Scorpion or start your morning off with our award-winning Bloody Mary still made from scratch".
Of course, that's not all. In fact, far from it! The menu here is huge and the portions are too. You can expect the full works at breakfast, with ham, bacon or steak served with not just one but three eggs, hash browns and a toasted bagel. Or for dinner, choose from hearty sandwiches, burgers, steak, salmon or pasta. Make sure you try the refreshing cocktails too- the Scorpion is Peppermill's signature drink. One thing's for sure, you definitely won't be leaving here disappointed!
The Peppermill Restaurant and Fireside Lounge is also known for welcoming lots of famous faces over the years, like Dean Martin, Frank Sinatra and Debbie Reynolds to name a few, so you never know who you might see.
What makes this place unique? Its traditional and feels like you're going back to 'old Vegas'.
3. Lago by Julian Serrano
Image credit- MGM Resorts International
This restaurant is a must-visit for so many reasons, like its incredible food, stunning décor and spectacular views. If you're looking for something special, you really can't beat Lago. Located inside the famous Bellagio hotel, this is the first Italian restaurant from award-winning chef Julian Serrano.
We spoke to the team at Lago to find out exactly what makes this place so unique, "Lago's take on contemporary social dining and one-of-a-kind mixology program can be enjoyed with floor-to-ceiling panoramic views of Bellagio's iconic Fountains for lunch, dinner and Sunday brunch. Boasting an outdoor patio with arguably the most spectacular views of the world-famous Bellagio Fountains, Lago's cutting-edge space is inspired by Italian Futurism – the sweeping artistic and cultural movement of early 20th century Italy". Sounds good, right?
Image credit- MGM Resorts International
The menu is made up of delicious Italian dishes like pizzas, risotto, and of course lots of amazing pasta dishes. You can also order fresh fish, beef tenderloin, meatballs and veal. There's an extensive wine list too, so you can make a toast to your unforgettable holiday.
What makes this place unique? The impressive views.
4. Eiffel Tower Restaurant
There are so many amazing things to see in Las Vegas and just a short walk down the strip will have you in awe of your surroundings. It's hard to believe that on one side of you is the Statue of Liberty and on the other the Eiffel Tower! Did you know, that you can actually dine inside this incredible replica of the iconic Parisian landmark?
Guests can dine 110-feet above the Las Vegas strip in the Paris Resort & Casino. What makes this experience even more special, is the breath-taking views of the Bellagio fountains! This is the perfect place to come for a romantic meal or a special celebration. The Eiffel Tower Restaurant has even been listed by OpenTable as one of the top 20 restaurants to propose!
As you can probably guess, The Eiffel Tower Restaurant specialises in classic French cuisine. Head Chef Jean Joho is the award-winning chef behind the fantastic menu. There's plenty to choose from, including caviar, lobster, veal medallions, pork tenderloin, beef wellington and cauliflower steak. When it's time for dessert, you must try the melt in the mouth souffles. These are one of the restaurant's specialities and if you don't try one, you'll regret it! You can choose from flavours like chocolate, caramel, banana, pistachio and Grand Marnier.
You won't be stuck for choice when it comes to drinks either, as the wine list at the Eiffel Tower Restaurant has nearly 12,000 bottles of 1,200 selections. There's also specialty cocktails and beer too.
What makes this place unique? The fact that you can dine inside the 'Eiffel Tower' in Las Vegas!
5. Hofbräuhaus
Hofbräuhaus is one of the livelier eateries in Las Vegas, so if you're looking for great food and a fun night out, you won't be disappointed. This Bavarian beer hall and restaurant is designed to be a replica of the original Hofbräuhaus in Munich, Germany. In fact, it's the only exact replica in the world! Inside you'll find a bustling 'Bier Hall' with live entertainment, as well as an indoor 'Biergarten' complete with chestnut trees, fountains and guaranteed blue skies!
We wanted to find out what makes this place so popular, so we spoke to the team at Hofbräuhaus. They explained that a visit here is much more than just a dining experience; "Hofbräuhaus Las Vegas is an energetic party daily, with authentic German bands, boisterous sing-alongs, dancing in the aisles and on the benches, and serves premium Hofbräu beer imported directly from Munich, Germany". So, if you're ready to join in the fun, Hofbräuhaus needs to be at the top of your list.
As well as great-tasting beer, there's a brilliant Bavarian menu. Choose from chicken schnitzel, curry sausage or their famous pork shank to name just a few. We also love the Oktoberfest-style roasted chicken, which is stuffed with beer butter, parsley and onions… delicious! Don't leave without trying the freshly baked pretzels either. They come with a side of Obatzda cheese and onion mustard.
What makes this place unique? The lively atmosphere and Bavarian menu.
Ready to start planning your Las Vegas holiday? Click here, to view our great value Las Vegas attraction tickets.
Liked this post? You may also like…