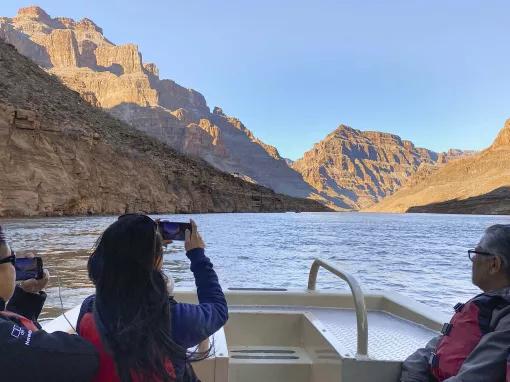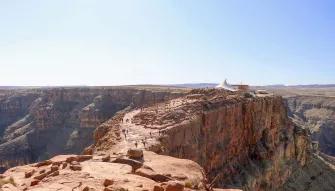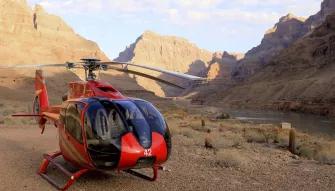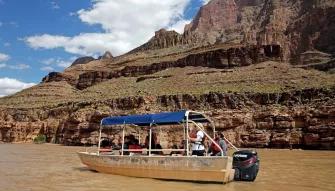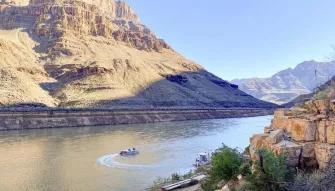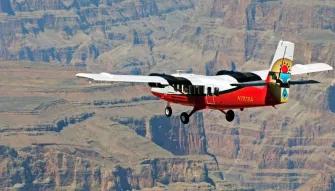 Grand Voyager Rim to River
Full details
A unique experience combining Plane, Boat and Helicopter!
Experience the Grand Canyon by Plane, Boat and Helicopter! Start with a scenic flight to the Grand Canyon before descending 4,000 feet into the depths of this geographical wonder before enjoying a pontoon boat excursion along the Colorado River.
Our guide to Grand Voyager Rim to River
A unique experience is guaranteed on this action-packed excursion which combines three thrilling modes of transport: plane, boat and helicopter!
Your day starts with a wonderful scenic flight over the abstract dramatic visuals of the Mojave Desert, the colossal Hoover Dam, and the winding waters of the Colorado River. Your plane touches down at Grand Canyon West, a Native American Tribal Park owned by the Hualapai Indian Nation.
Transfer to a helicopter at Grand Canyon West for a 4,000-foot descent into the spectacular depths of this geographical wonder. At the bottom, a leisurely 10-15 minute float trip along the Colorado River awaits. This will give you chance to appreciate the sheer scale and majesty of the Canyon walls from a completely different perspective.
You will return to the rim via helicopter, where motorcoaches are ready to show you the rest of Grand Canyon West. Visit Eagle Point and Guano Point where photo opportunites await. Learn about the Native people of the Southwest by touring replicas of their traditional homes or watching a dance performance or cultural program at the amphitheater. A short and easy trail around the tram line and other equipment from the defunct Guano Point Mine not only offers excellent views of the Colorado River but a fascinating glimpse at one of many ill-fated attempts to capitalize on the mineral resources within the Grand Canyon. Both of these famous Grand Canyon West regions offer cafes and food options available for purchase.
Return transportation to your Las Vegas hotel takes place upon return to the Boulder City Municipal Airport.
Fuel Surcharge - All tours are now subject to a $20 per person fuel surcharge, which will be collected locally at check-in from passengers
People who purchased Grand Voyager Rim to River also viewed...