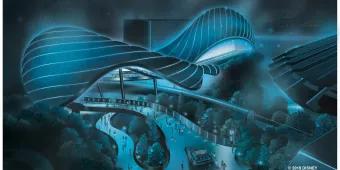 Coming soon to Walt Disney World Resort
After releasing a series of clues on social media, the opening date for the newest ride in Tomorrowland has been officially announced.
The Lightcycle races in both TRON and TRON Legacy are the most iconic and memorable moments from these films so it was no surprise that TRON Lightcycle Power Run was an instant success when it opened at Shanghai Disneyland, and we have been patiently waiting for its appearance at Walt Disney World Resort in Florida ever since it was announced. And now we're so excited to finally have an opening date of April 4th 2023! 
The opening was teased by Disney Parks on social media, with a couple of video game and TRON-inspired clues… were you able to decipher them and work out the date?
TRON Lightcycle / Run will follow on from the 2010 film TRON: Legacy. Sam Flynn, Kevin Flynn's son, has now opened two gateways into a digital realm called The Grid; the first of these is the original attraction at Shanghai Disneyland, and this ride at Magic Kingdom Park will be the second. 
As you enter the queue from Tomorrowland you'll become 'digitised' ready to take part in a Lightcycle race, just like in the film. Taking on the Grid's menacing Programs on the Orange Team, you'll compete on the Blue Team to be the first through eight Energy Gates… and to make sure that happens this is said to be one of the fastest coasters at any Disney Theme Park! 
And this isn't the only announcement we've had about what we can expect this year at Walt Disney World Resort. The much-anticipated Happily Ever After fireworks will be returning to Magic Kingdom Park on April 3rd, featuring all-new projections along Main Street U.S.A.. EPCOT Forever will also return to World Showcase Lagoon as an interim show before a brand new nighttime spectacular debuts later this year. 
Want to experience TRON Lightcycle / Run, Happily Ever After, EPCOT Forever, and everything else Walt Disney World Resort has to offer? Book now and get a Disney Band included with every 2023 ticket!