New York Meal Tickets
With the New York Eat and Play Card, enjoy exclusive, incredible savings on virtually everything – dining, attractions, entertainment, shopping and more!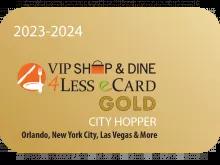 Dine out more and spend less in New York with the New York VIP Shop & Dine 4Less Card. For one low price, up to four persons receive exclusive discounts of up to 20% at dozens of top New York restaurants. You only need to use the card once or twice and you will more than recoup the cost of the card ...