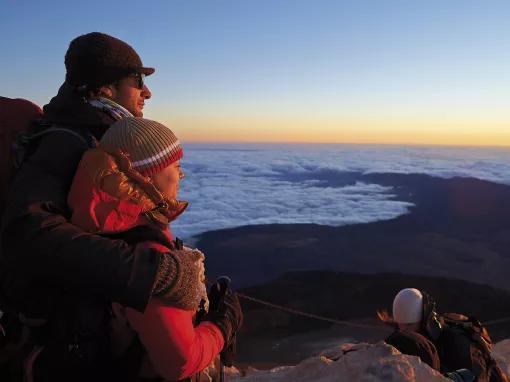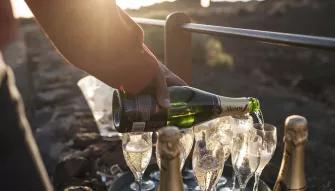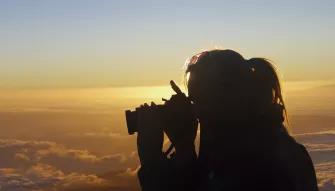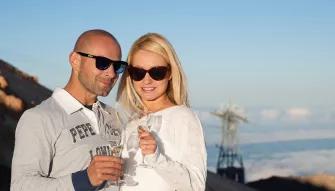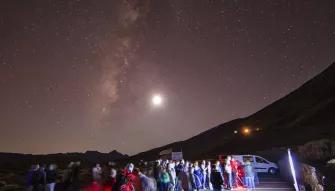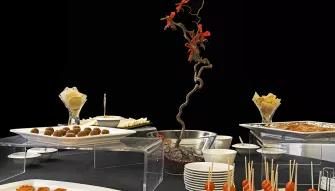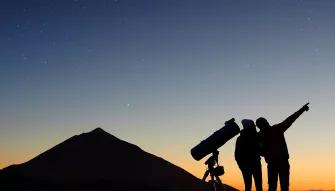 Sunset and Stars on Mount Teide
Not Available
This ticket is currently not available
This could be because:
We have sold out
New seasonal tickets are not yet available
In the meantime:
Call us on 1800 927 467
Sign up to hear the latest news and offers:
Sign up for our newsletter
no ticket modal
Full details
Enjoy a sunset-and-stargazing adventure high in the craggy landscapes of spectacular Mount Teide National Park. Watch the sunset enjoying a picnic followed by stargazing with a professional guide from a special viewpoint on the mountain.
Our guide to Sunset and Stars on Mount Teide
Seeing a sunset from Mount Teide is a spectacular experience. 
Your experience starts with the wonderful spectacle of sunset from one of the most privileged lookouts on Teide. On clear days the islands of La Gomera, El Hierro and La Palma can be observed from this vista. 
As the sun drops, Teide's enormous shadow stretches out toward the East, creating a spectacular projection and the rocks take on red and orange tones that are in perfect synchronisation with the volcanic terrain. 
There is also the optional opportunity to ride the cable car to Mount Teide's summit to savour the spectacle (cable car ticket included).
This is not the end of the experience. Teide National Park provides the ideal conditions to stargaze so after dinner you will be able to admire the stars with the help of expert astonomers who will provide in-depth information about the fascinating world of the night sky.
Long range telescopes will be provided so you can view the most distant constellations and planets, such as Saturn, Jupiter and its moons, or even the craters of our own moon.
Sample Menu (subject to change):
Cured meat picnic includes water or a soft drink.  Cured meat & cheese sandwich and a sweet treat
OR
Vegetarian picnic includes water or a soft drink, veggie sandwich and a sweet treat
Collection Points:
Depending on the location of your hotel, you will need to make your way to one of the following collection points:
Southern Resorts collection points: Hotel Bahia Principe, Parada bus Oasis Paraiso, Riu Buenavista, Hotel Jardines del Teide, Hotel Plantacion del Sur, Hotel Sheraton La Caleta, Hotel Jardín La Caleta, Parada de Bus, El Mirador, Hotel Bahia del Duque, Gran Tacande, Isla Bonita, Hotel Bahia Princess, Hotel La Pinta, Hotel Villa Adeje Beach, Parada Bounganville, Rotonda Tropical Playa, Colon II, Banco Santander, Parada Best Tenerife, Los Cristianos Hotels.
Northern Resorts collection points: Outside Hotel La Quinta Park, Hotel Las Aguilas, Hotel Maritim, Outside La Chiripa Garden, H Parque San Antonio, H Noelia Playa, H Dania Park, Planet Fun Bus stop, Black and Red (Concordia), Zum Zum Cruce Meliá, Hotel Teidemar, Hotel Garoé, Hotel Botánico, Hotel Playa Canaria.
Departs
Fridays.
Start times
Pick-ups normally start at 6.00pm in the Summer and 5.00pm in the Winter. Your exact pick-up time will be detailed on your voucher.
Duration
Around 7 hours.
Locations
This tour picks up from various collection points around the Island:
Southern Resorts
HOTEL
COLLECTION POINT
Bahia Principe
Hotel Bahia Principe
Roca Nivaria
Parada bus Oasis Paraiso
Paraiso Floral
Riu Buenavista
Riu Buenavista
Jardines del Teide
Hotel Jardines del Teide
Plantacion del Sur, Baobab
Hotel Plantacion del Sur
H10 Costa Adeje
Hotel Sheraton La Caleta
Sheraton La Caleta
Jardín Caleta
Hotel Jardín La Caleta
Riu Arecas
Parada de Bus
El Mirador
El Mirador
Bahia del Duque
Hotel Bahia del Duque
Gran Tacande
Gran Tacande
Costa Adeje Gran
Isla Bonita
Anthelia Park
Jardines de Nivaria
Colon Guanahani
Fañabe Costa Sur
Isabel Family
Isla Bonita
Jacaranda
Guayarmina
Hotel Bahia Princess
Torviscas Playa
Luabay
Sol Sun Beach
La Pinta
Hotel La Pinta
La Niña
Santa Maria
Adeje Beach Laguna I-II
Hotel Villa Adeje Beach
Las Dalias
Parada Bounganville
Panorama
Jardín Tropical
Los Hibiscos
Bouganville, Bonanza
Paraiso d Sol, Paradero
Rotonda Tropical Playa
Troya
Gala
Oro Negro
Las Palmeras
Colon II, Banco Santander
Sol Tenerife
La Siesta
Parada Best Tenerife
Vulcano
Bitacora
Sunprime, Victora
Coral Suites
Best Tenerife
Conquistador
Andorra, Los Cardones
Mediterranean, Cleopatra, Sir Anthony
Los Cristianos
Hotel
Northern Resorts
HOTEL
COLLECTION POINT
La Quinta Park
Outside Hotel La Quinta Park
Hotel Las Aguilas
Hotel Las Aguilas
Hotel Maritim
Hotel Maritim
Hotel Perla
Outside La Chiripa Garden
H Casa del Sol
Edén Explanade
Don Cándido
H Elehance Miramar
H Tigaiga
H Puerto Place
H Parque San Antonio
Aptos Los Dragos
H Acuario
Florasol Aparthotel
H Parque San Antonio
H Noelia Playa
H Noelia Playa
H Luabay Tenerife
Aptos Tenerife Ving
Aptos Florida
Aptos Valle Luz
Aptos Teneguía
H Sol Puerto Playa
H San Borondón
H Don Manolito
H Trovador
Aptos Florida Plaza
H Elegance Dania Park
H Dania Park
H Trianflor
H Marte
H Puerto Azul
H Park Plaza
H Sun Holidays
H Tejuma
Hotel Monopol
H Maga
H Chimisay
H Xibana park
Planet Fun Bus stop
Aptos Bambi
H Catalonia Las Vegas
Black and Red (Concordia)
H Valle Mar
H10 Tenerife Playa
Gran Hotel Concordia Playa
H Las Palmeras Plaza
H Beatriz Atlantis Spa
H Bahía Príncipe San Felipe
Aptos Alta
H Be Live Orotava
H San telmo
Aptos Pez azul
Zum Zum Cruce Meliá
H Puerto de la Cruz
Aptos Casablanca
Gran Hotel El Tope
Hotel Teidemar
Hotel Teidemar
Hotel Garoé
Hotel Garoé
Hotel Botánico
Hotel Botánico
Hotel Playa Canaria
Hotel Playa Canaria

Terms and conditions
Terms and conditions for Sunset and Stars on Mount Teide
Free cancellations for bookings cancelled with the supplier 48 hours prior to the tour date. No refunds are given for cancellations made within 48 hours of tour date.
In the event that weather conditions impede the operation of the cable car for the 'Sunset and Stars' activity, the sunset shall be enjoyed either from the Chío viewpoint or from Roques de García, and guests will receive a refund for the cable car.
Children under 8 are not allowed to participate in the Sunset and stars on Teide activity.

This tour picks-up and drops off from various collection points around the island - see Locations for specific details.

People with heart problems and pregnant women are not allowed to participate in it due to the risk that high altitude poses to their health.

If no pick-up option is booked, the meeting point is at the Teide Cable Car base station.

People with cardiovascular conditions, pregnant women, and children under the age of 3 are not allowed on the Cable Car, because of the risks posed to their health by the altitude. 
In accordance with current regulations, persons with any physical disability or motor impairment are not permitted to make the ascent by Cable Car, because of the potential risks if the vehicle has to be evacuated.
It is essential to bear in mind that in the event of the failure of the cable car system due to unexpected technical reasons, passengers already at the upper station will have to make their descent on foot and using steep mountain paths.
FAQs
Frequently Asked Questions for Sunset and Stars on Mount Teide
What should I wear

?




When visiting Mount Teide it's recommended to wear appropriate clothing to protect you from changing temperatures and footwear suitable for rocky terrain. Bear in mind, the temperature drops significantly in the evening.
Are children permitted on this tour?


Children ages 7 or younger are not permitted on this excursion. Guests aged between 8 and 13 are eligible for the child rate.
Where does the tour pick up from if i book with transportation?


This tour picks up from various collection points around the island. See the separate Locations section for specific details.
People who purchased Sunset and Stars on Mount Teide also viewed...