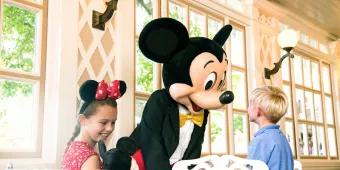 We've summarised all the character dining experiences to choose from at Disneyland® Paris!
Whether you prefer to eat breakfast in the company of Mickey Mouse or enjoy lunch surrounded by your favourite princesses, there's a restaurant option for you!
Once you've got your Disneyland® Paris tickets, you should start thinking about your dining reservations, especially if you've got a meal plan included in your hotel booking. Of course, one of the most popular Disney dining experiences is the Disneyland® Paris Character Meal, so here are the options you can choose from… 
Disneyland® Paris Character Breakfast
Plaza Gardens Restaurant Breakfast
Plaza Gardens Restaurant is situated on Main Street U.S.A in the Disneyland® Park. Mickey and friends join guests as they enjoy an American-style buffet breakfast in an elegant Victorian setting. Sumptuous greens and pinks as well as a period elegance will make you feel like you've stepped right back in time.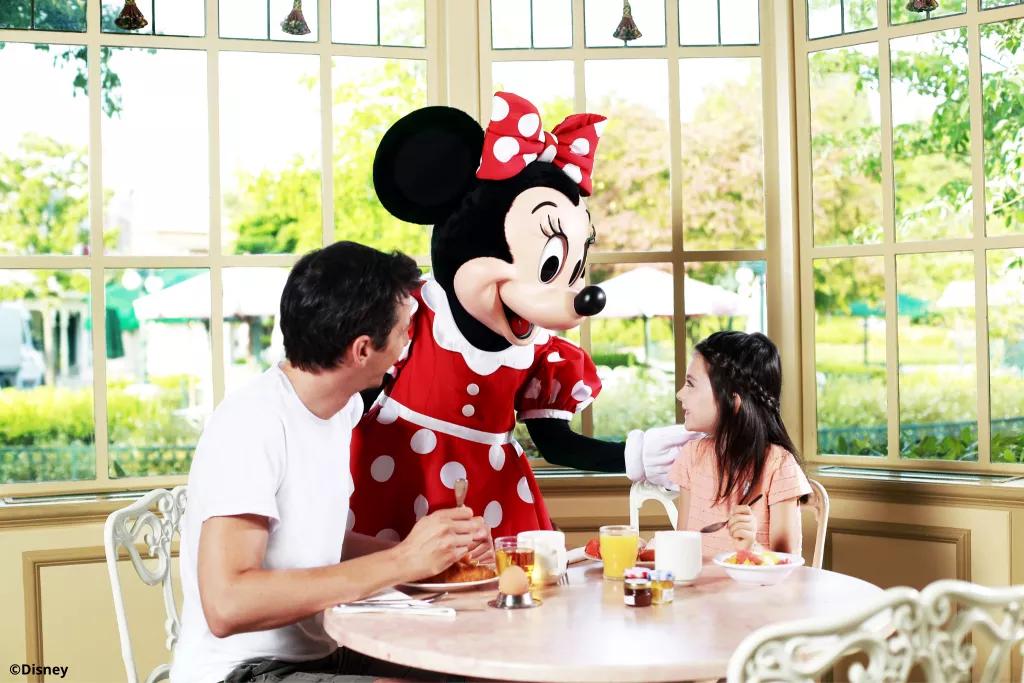 Some of the characters you might meet enjoying your breakfast include Daisy Duck, Winnie the Pooh and Mickey Mouse, however these are subject to change depending on the day. All the characters will be happy to meet you for a hug and a signed autograph! Reservations are highly recommended for this dining experience, which is €41 for an adult and €35 for a child.
Auberge de Cendrillon Breakfast 
If you'd prefer a princess-inspired character dining experience, head to Auberge de Cendillon in Fantasyland for a princess breakfast! There are two breakfast sittings per day, with two breakfast types available, including vegan options of a coconut and mango chia pudding or scrambled tofu with turmeric and onions. 
All of this is set against a backdrop of stone archways and colourful stained glass windows for a truly royal experience; the perfect location for meeting your favourite Disney Princesses. Breakfast at Auberge de Cendrillon starts from €50 per adult and €40 per child.
Disneyland® Paris Character Lunch
Auberge de Cendrillon Lunch
If you aren't a family of early risers, don't worry, as you can visit Auberge de Cendrillon for lunch too. Indulge in some exquisite food as your favourite Disney Princesses swirl around, stopping for hugs and autographs as they go. Cinderella will be holding court but guests also have the chance to meet two other princesses depending on the day. 
Reservations are highly recommended for this dining experience and can be booked up to 2 months in advance on the Disneyland® Paris app. The price for this character meal is €95 for adults and €50 for children.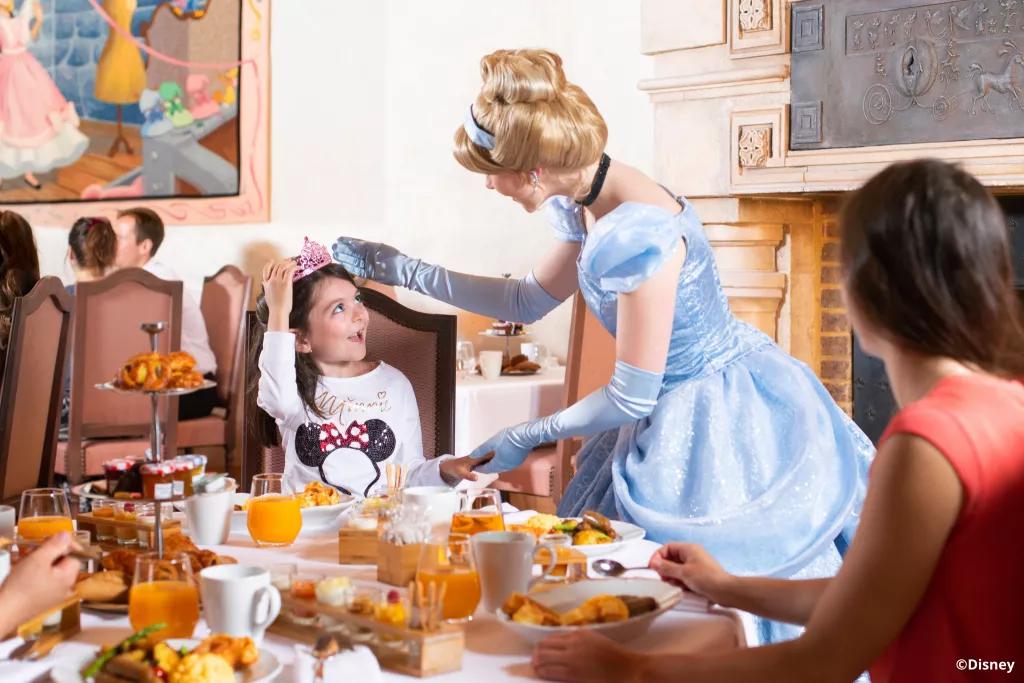 Disneyland® Paris Character Dinner Options 
Plaza Gardens Restaurant Dinner 
While lunch at Plaza Gardens Restaurant is a standard buffet (making it the perfect alternative for guests on the Standard and Plus Meal Plans), Mickey and his pals return in the evening for a character dinner. 
This all-you-can-eat buffet offers a wide selection of starters, mains and desserts, including salads, meats, pasta, potatoes, cakes and mousses. Dinner at Plaza Gardens Restaurant costs €80 for adults and €40 for children. 
Auberge de Cendrillon Dinner 
The royal treatment continues for dinner at Auberge de Cendrillon where Cinderella and her Disney Princess friends will still be greeting guests. The menu is the same here for both lunch and dinner offering a set menu of delectable French cuisine. 
If you have younger guests with you, they're encouraged to dress for the occasion in their royal best as the princesses love to meet fellow royalty!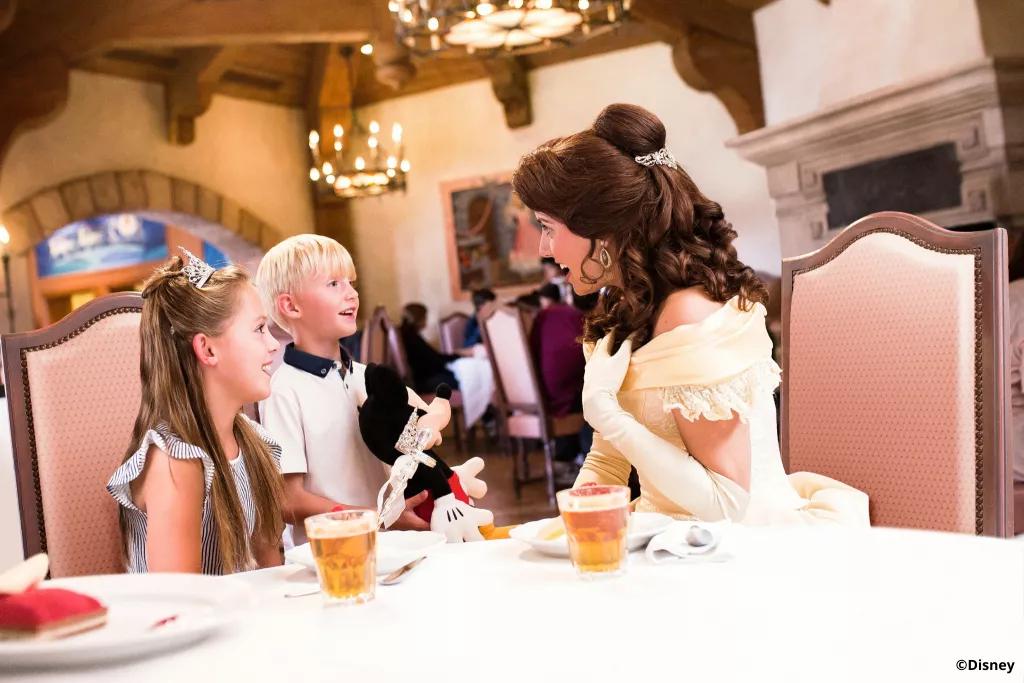 Character dining experiences at Disneyland® Paris are a little more expensive than the everyday dining you can enjoy elsewhere in the parks and hotels. However, for the opportunity to meet your favourite Disney Characters in a relaxed setting, while enjoying high-quality food, we think they are more than worth it! 
Haven't booked your Disneyland® Paris tickets yet? Take a look at our latest offers or give our dedicated team a call on 0800 223 0324 to discuss your options, including hotel deals and meal plans. Or, if you already have a Disneyland Paris Hotel and Ticket Package, email [email protected] with your preferred date and time and our team can book your character dining for you!
*All prices correct as of 27/07/23 but may be subject to change