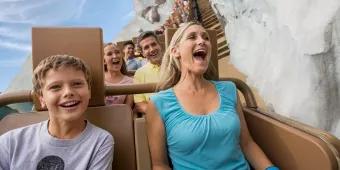 How to use Disney FastPass+
We've put together a handy guide with everything you need to know about Disney FastPass+ including the rides you really need a fast pass for…
When you buy your Walt Disney World tickets, you'll get Disney FastPass+ service included completely free of charge! This amazing feature lets you make reservations for some of the most popular Disney rides, shows and Character experiences, so that you can skip the standby line. Wondering which rides you should use Disney FastPass+ for? We've put together a handy park-by-park guide with everything you need to know about Disney FastPass+ to make planning your Disney holiday hassle free.
What is Disney FastPass+?
Disney FastPass+ is included free with all Disney theme park tickets. This fantastic service lets you make up to three FastPass+ reservations in advance per day (you can make more later!) at a single park and this means that you'll be able to skip the standy line and get to the fun faster. Sounds good, right?
What's even better, is that you can make your reservations before you even leave home! That's right, if you're staying at a Disney Resort Hotel, you can start making FastPass+ bookings up to 60 days before you arrive, and if you're staying off-site you'll be able to make reservations up to 30 days before you arrive.
How should I use Disney FastPass+?
If you're planning a visit to Walt Disney World, the WORST possible thing you could do, is not use Disney FastPass+. This free service helps you make the most of your time at the parks and lets you skip the standby lines, who doesn't want that?
We have three top tips for using Disney FastPass+
Make a rough plan of which park you plan to visit on which day so that you can make your reservations.
Use Disney FastPass+ for the most popular rides.
Make your reservations as soon as possible, so that you don't miss out. It's a good idea to make a note of the date and time the FastPass+ reservations become available for your trip, so that you don't forget.
What rides do I need Disney FastPass+ for?
With so many amazing rides to choose from it can be hard to know where to start, but don't worry because we've got you covered! We've put together a park-by-park guide of the rides and attractions that are worth using your FastPass+ reservations for. Read on to make your holiday planning much easier…
Magic Kingdom Park- FastPass+
All of the Disney theme parks use tier systems for FastPass+ except the Magic Kingdom Park, which makes choosing which rides you want to go on a lot simpler. Although with so many fantastic attractions at the park, you'll still have a tough decision to make.
Disney's Animal Kingdom- FastPass+
At Disney's Animal Kingdom, the attractions are separated into two tiers. Ever since Pandora- The World of AVATAR opened at the park in 2017 this has been one of the most popular areas to visit. There are 2 incredible rides in this land but unfortunately, they are both in the same FastPass+ tier, which means you'll have to choose between them. We'd recommend making a FastPass+ reservation for Avatar Flight of Passage mid-morning and heading straight to Na'vi River Journey as soon as you arrive at the park. You can then choose two attractions from tier 2 to enjoy afterwards.
Disney's Hollywood Studios- FastPass+
The FastPass+ tier system at Disney's Hollywood Studios has recently changed. This is so that guests can now make reservations for the park's newest attractions in the brand new Toy Story Land. Tier one is now entirely dedicated to the Toy Story Rides- Slinky Dog Dash, Alien Swirling Saucers and Toy Story Mania. This means, that for now, you can only make a FastPass+ booking for one Toy Story Attraction. All three are great rides, so choosing between them is going to be hard. You could use FastPass+ for one of the new rides, as the queues are likely to be longer here and then ride the other two either first thing in the morning when the park is at it's quietest or when the evening shows are on, as most guests will be in a different area of the park.
The good news for thrill-seekers is that two of Disney's most famous rides are in tier two and you can use FastPass+ for both of them. We'd recommend booking a reservation for The Twilight Zone Tower of Terror™ and Rock 'n' Roller Coaster Starring Aerosmith in advance as you won't want to miss out on these.
Epcot- FastPass+
Epcot is another park that uses two tier systems. We actually think that it's harder to make decisions when it comes to FastPass+ reservations at Epcot, than it is at any other Disney park. This is because three of the park's most popular rides are in tier one, so you'll have to choose between three great rides- Test Track, Soarin' Around the World and Frozen Ever After. If you're a serious thrill-seeker you'll want to choose Test Track, if you want something a bit tamer but equally impressive, go for Soarin' and if you're visiting with little ones, we'd suggest choosing Frozen Ever After.
You're then free to choose two more attractions from tier two to enjoy. Turtle Talk with Crush is a must for the kids!
FastPass+ questions
How many reservations can I make each day?
You can make 3 FastPass+ reservations in advance at a single park, but once you've used all three, you can then make as many as you like one by one. Simply book another, enjoy the ride, book another and repeat!
When can I start using FastPass+?
If you're staying at a Disney Resort Hotel you can start using Disney FastPass+ service up to 60 days in advance. If you're staying off-site you can start making bookings up to 30 days in advance. You can make reservations from 7am (Eastern Time) so make sure you make a note of the time and date beforehand, so you don't miss out.
Do I have to make my FastPass+ reservations in advance?
No, you don't have to do this, but lots of people do so if you leave it until the day, you may miss out on your first choice.
Can I change my FastPass+ reservations?
Yes, you can. You can use the free Wi-Fi in the Disney parks to make changes at any time.
Can I make FastPass+ reservations for my whole group?
Yes! You can use the My Disney Experience App to link your tickets with other members of your group. Then when you make your FastPass+ booking just select the names of the other people you want to include.
Do I have to use my FastPass+ reservation at a certain time?
FastPass+ reservations mostly have a one-hour time slot and you can choose what best suits you from whatever is available. You then have a one-hour window to use the reservation. This is handy, because it gives you more flexibility. This means that if you're having fun on another ride, you won't have to worry about rushing to make it in time!
Can I make FastPass+ selections for more than one theme park in a day?
When making your three FastPass+ bookings, they must all be at the same park. However, if you have a park to park ticket, you can make additional reservations for another park once you've used all three of your initial reservations.
Ready to start planning your Disney holiday? Click here, to view our great value Walt Disney World Resort tickets.
Liked this post? You may also like…