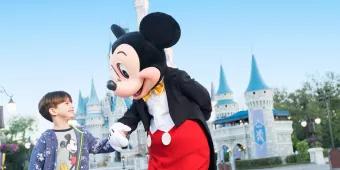 Our tips on how best to enjoy the Parks with an Autistic child.
We spoke to parents of children with autism to find out their valuable, first-hand advice and guidance for taking your child to Walt Disney World.
No matter your age and abilities, everyone deserves to have an incredible and unforgettable time visiting Walt Disney World Resort in Florida. There are plenty of guides out there for parents taking their children to Walt Disney World, but what about parents with children on the autism spectrum?
We spoke to parents of children with autism to find out their valuable, first-hand advice and guidance for preparing your child for Walt Disney World and ensuring your trip runs smoothly.
Advice for Taking an Autistic Child to Walt Disney World Resort
Obtain a Disney Disability Service (DAS pass)
Pick up or download a 'Guide for Guests with Disabilities'
Obtain a 'Stroller as Wheelchair' tag
Skip queues and reserve attraction slots with a FastPass+
Research the parks beforehand
Make a detailed timetable
Use dining plans to experience attractions without the crowds
Use the Rider Switch service
Make use of the break areas
Bring sensory comforts
 
Disney Services for guests with disabilities
Disney Disability Access Service (DAS) pass
If your child is unable to wait in a conventional queue, first and foremost, it is worth looking into Disney's Disability Access Service (DAS) pass.
In short, the DAS pass allows you to 'virtually queue' for rides and attractions, leaving you and your child free to explore the park, grab a bite to eat or meet your favourite Characters while waiting for your scheduled time.
Family blogger Jane from Our Little Escapades obtained one for her autistic son, Ethan, when they visited the Disney Parks.
"The DAS pass was linked to all of our MagicBands, which meant that I could go by myself to the ride entrance to obtain a return time for all of our group. This meant that our son didn't get distressed about having to leave the ride without being able to go on it."
As well as being able to book a return time on behalf of your child and group at the attraction, Family blogger Steph from Steph's Two Girls says there are also numerous pop-up stations, which were perfect for accommodating her daughter.
"In Magic Kingdom Park, Disney's Animal Kingdom Theme Park and Disney's Hollywood Studios there are Guest Experience Team Umbrellas where staff provide DAS return times instead of having to go to the ride to get a return time."
Jackie from Paint Brushes and Pixie Dust also swears by the pass, using one for her autistic son, Andrew, when they visited the parks.
"It's been great – we use the time to visit the restroom, sit down for a snack, or meal, browse nearby shops, or to simply relax."
As well as blogging about family life, Jackie was also a panellist on the Disney Moms Panel in 2016 and 2017.She walks us through the steps to obtain a DAS pass.
"Guests have to visit any Guest Relations once inside any of the four parks with all of their travel party.
"Once a cast member at Guest Services deems this service appropriate, a digital photograph of the person requiring the accommodation will be taken, and the service will be activated and associated to everyone in the travel party's valid admission tickets, and/or MagicBands.
You can find out more about the DAS pass and its benefits here.
 
Guides for Guests with Disabilities
When you get to the parks, Jackie recommends picking up a Guide for Guests with Disabilities to find extra information to accommodate your needs should you require it.
"The Guides for Guests with Disabilities are available for printing online, and they are available at the theme parks, near the main entrance, at Guest Relations, and in many gift shops. They contain pertinent information for accessibility and mobility, tips and information for attractions, and considerations for special needs guests. As well, there is an entire section devoted to guests with mobility, visual, and hearing disabilities."
 

'Stroller as Wheelchair' Tag
Not all disabilities require a wheelchair all the time, and if your child has mobility or sensory issues and frequently relies on their stroller, Steph recommends collecting a 'Stroller as Wheelchair' tag from any of the Guest Relations locations at the parks.
"The tag system enables you to use a stroller as a wheelchair, allowing you to wait in the wheelchair line for attractions, buses and more without having to fold the stroller up."
WDW Radio has more information about the tag here, as well as some useful tips and advice on how and when to use it.
If you're unable to bring your own stroller to the parks, family blogger Jane from Our Little Escapades recommends hiring one from Kingdom Strollers.
 
Other services and advice
Skip queues and reserve attraction slots with a FastPass+
When you purchase your Walt Disney Worldtickets through Attraction Tickets Direct, you'll be given a free Disney FastPass+ so you can not only skip the queues during your visit, but you can reserve a slot before you've even arrived.
Jackie and Andrew use a Disney FastPass+ every time they visit Walt Disney World. She highly recommends it for others to help minimise upsets and help with planning your visit.
"The Disney FastPass+ is a hugely convenient service which allows online reservations for select attractions 30 days before your visit to the parks, or 60 days before check-in at a Disney Resort Hotel."
Research the parks beforehand
"My advice for parents of autistic children would be to research well before going," says Steph. "YouTube videos of most rides are available if you think it would help your child to know in advance what is going to happen on the rides, for example, finding out how dark they are and how fast they go."
Jackie also agrees with preparing your child ahead of your trip, showing them pictures and videos of the Disney Parks so there are no unexpected surprises.
"Preparation is key, as is a familiarity with what places will look like. Therefore, I prepare my son by watching videos of the parks, dining areas, and attractions online, and by looking at the wide array of photos again, available online, of our expected Disney Resort Hotel."
Make a detailed timetable
For many children on the autism spectrum, knowing what is going to happen next is key for reducing anxiety and providing reassurance. If your child prefers to have a schedule, Jane recommends making a detailed plan or timetable.
"I made a very detailed visual plan of what we were doing during our three-week holiday. Ethan would look at this if he felt anxious to know what was happening next. At times this was like gold dust!"
As a seasoned visitor to Walt Disney World, Jackie too has a timetable board, using it helps her son visualise what to expect each day. When they're in the parks, Jackie keeps a mini version on hand just in case.
"I prepare my travel timeline from the moment we leave home until our arrival at our Disney Resort Hotel. From that point, I create a daily visual schedule board with our specific plans for the day. I search photos online, print, laminate and stick the photos to the visual schedule board with Velcro.
"The visual schedule that I travel with to the parks is more compact in a mini-booklet format. It's enough for him to understand the pace of the day as he is aware of what each park is called, what it looks like and how we are getting to and from each one."
The Guide for Guests with Cognitive Disabilities resource also has plenty of tips and advice for making your own visual timetable. It details which attractions have flashing lights, smells, loud noises and more to determine which are suitable for your child and help you plan your itinerary.
 
Use dining plans to experience attractions without the crowds
If your child doesn't cope well in crowds, there are other more relaxed environments for them to watch a fireworks display, meet their favourite Disney Characters and more through dining reservations.
Jane said this was a big help for Ethan as it meant they could enjoy some of the Park's best offerings in a more suitable environment: "We booked dessert parties to watch the firework shows so that we didn't have to wait for a long time in big crowds of people."
Use the Rider Switch
"Keeping my Autistic son's needs in mind, I rely heavily on accommodations such as the Rider Switch," says Jackie. "Parties with two or more people may want to enjoy an attraction while another guest in their party waits with a non-rider. When the guests have returned, they can then swap with the other guest left waiting who can then enter the attraction without waiting in the queue.
"This works well if my son chooses not to ride a particular attraction, whereby, I can take him to a rest area to wait. Any cast member at a desired attraction is able to assist guests with this accommodation if needed."
Make use of the break areas
If your child becomes overwhelmed and needs a place to relax, there are several break areas throughout the parks that are worth noting, says Jackie.
"There are many quiet areas to relax in the shade and enjoy a refreshment throughout all the parks," says Jackie. "One area we rely on is the first aid indoor stations. Staffed by nurses and other cast members, these areas are air-conditioned and have indoor seating for a short break.
"A list of locations for various break areas can be found by consulting and downloading the Guide for Guests with Cognitive Disabilities."
This resource also has attraction details which will help determine which attractions may or may not be suitable for your child.
Bring sensory comforts
When considering what to bring to the parks, ensuring your child has some sensory comforts will help ease anxiety and help them feel comfortable in unfamiliar situations, says Jackie.
"I always bring: noise-cancelling headphones to help decrease anxiety from excessively loud areas; my son's iPad to play on which has the fun Play Disney Parks app which provides a fun interaction with the Disney Parks; a small item of comfort such as a small sensory object or toy; and a favourite snack of his."
A final note
With your child's wellbeing to consider and so much to plan in advance of your visit, it's understandable why so many parents of autistic children are apprehensive about taking them to Walt Disney World. But Jackie says not to feel discouraged. Seeing your child light up upon meeting their favourite character, growing in confidence and talking about the trip for years to come makes it all so worth it.
Jackie finds that taking Andrew to the Walt Disney World has helped greatly with his development.
"I must attest, that, we have taken Andrew to Walt Disney World 30 times or so. One of the main reasons we return is that Andrew experiences the greatest developmental bursts during our vacations, both socially and cognitively. His expressive language increases, as does his sense of independence, as he is now able to navigate the parks quite well, and walks many, many steps ahead of us."
For more information or if you have any questions regarding Services for Guests with Disabilities, you can email [email protected].