By Oliver Brendon, founder and CEO of AttractionTickets.com
Everything you need to know about some of Orlando's newest attractions and the latest top tips to help you make the most of your holiday.
It's been a number of years since I have been to Orlando. COVID got in the way of many things, including international travel. This week though, I have attended a conference in Orlando called IPW and had the chance to meet up with our major US suppliers. It's great to be back and nothing beats meeting in person. What has made this week even better though is that I've been able to experience the new rides and attractions at the parks during the private evening parties that the parks have hosted. Here is my update and latest top tips:
Universal Orlando Resort 
Hagrid's Motorbike Adventure at Universal's Islands Of Adventure is still the most popular ride at Universal Orlando Resort with queue times often in excess of 120 minutes. I've ridden it before but WOW – what a ride! One of you sits on Hagrid's motorbike and the other in the sidecar as the coaster hurls you deep into the Forbidden Forest. You do not go upside down and there are no loop-the-loops but there are seven different launches and the ride speed gets up to 50mph. It is the longest roller coaster in Florida and there is a surprise at the end which I won't ruin for you. The height restriction is 110cm so most people aged 6+ will be able to ride.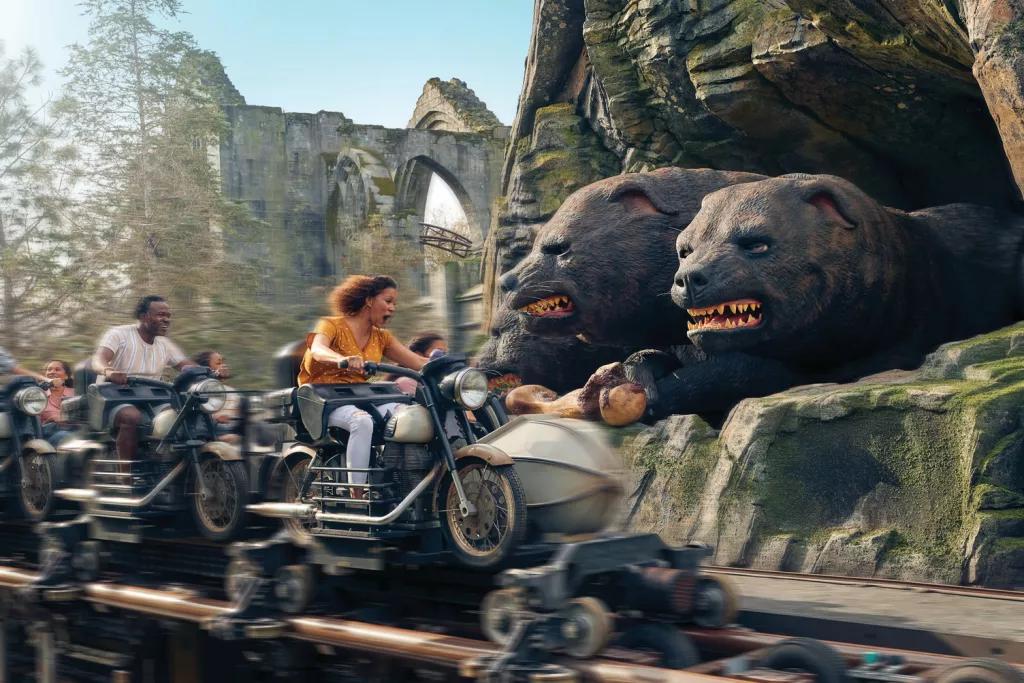 I also got the chance to ride the new Velocicoaster at Islands Of Adventure.  I challenge you to ride this without screaming and/or saying OH MY GOD a lot.  If you like dinosaurs and very big, very fast rollercoasters, this one is for you.  It is in fact the fastest coaster at any Universal park in the world! Combined with the many twists and turns, this is the ultimate thrill ride. Truly remarkable. The queuing experience is pretty amazing too. In the queue, you come face-to-face with the impressive, animatronic velociraptors. Their eyes dart around, their nostrils flare behind the metal restraints and you get close enough to count their scales and feel their breath on your face. This ride isn't for the faint-hearted and the height limit is 130cm.
Both Hagrid's Motorbike Adventure and Velocicoaster are amongst just a few rides at the Universal Orlando parks not included within the Universal Express queueing system. So, even if you are staying at one of Universal's Premier hotels or have bought Universal Express, you won't be able to join a shorter queue for this ride. If you are staying on-site, the top tip is to access Islands Of Adventure early (one of the Universal parks opens an hour early to ALL onsite guests every day) and go straight to Hagrid's Motorbike Adventure and then Velocicoaster. There will still be a queue but both rides are 100% worth it and we recommend completing these rides before the parks open to regular ticket guests.  
EPCOT at Walt Disney World Resort
I only had time to ride their very newest ride - Guardians of the Galaxy: Cosmic Rewind – which opened on May 27th. This is more of a family coaster and the height limit of 42 inches (107 cm) will mean that most people aged 5 years and up will be able to ride it. It is probably the smoothest coaster that I've ever ridden with remarkable next-generation track technology. Although it's a coaster, your 'vehicle' also spins 360 degrees and there is a reverse launch as well - both add to the incredible experience and help to ensure that you get the most out of the amazing immersive technology.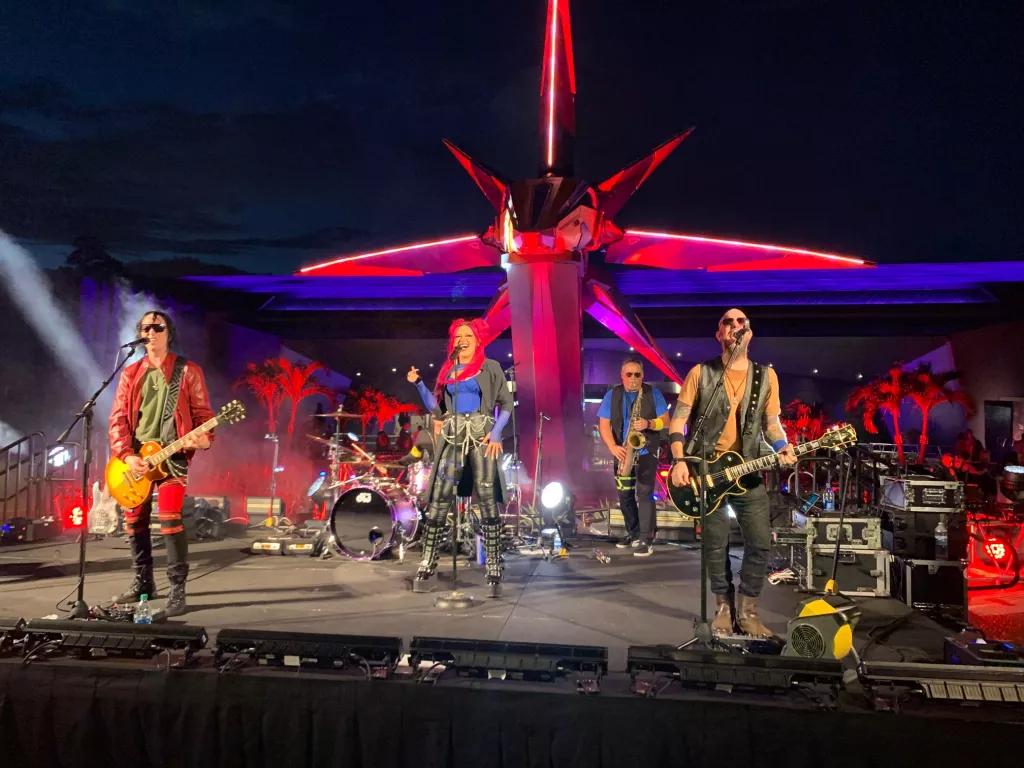 The biggest question is how to ensure you get on the ride.  It's quite complicated but here is a bullet point summary much of which also applies to other major rides and attractions at the Disney Parks.
Guardians of the Galaxy: Cosmic Rewind is not included within Disney Genie+ so even if you have this on your ticket, you cannot use it to access the Lightning Lane. (As a side note Genie+ is no longer available to pre-purchase but is available to buy via the My Disney Experience App day by day)
There is no traditional queue (what they call 'standby' in the US) at this ride. There are two ways to get on the ride – via a virtual queue or by paying extra to access the Individual Lightning Lane
Each day, there are 2 opportunities to join the virtual queue via the My Disney Experience App (or 3 opportunities if you are staying on-site at a Deluxe hotel)
You can try to join the virtual queue at 7am when the availability opens. You will require a Park Pass reservation for EPCOT in order to join the virtual queue, but you don't need to be inside EPCOT to try to join the virtual queue at 7am. Be quick though, the virtual queue availability won't last long. If you are successful, you will be given a time slot to access the ride.  
If you don't manage to join at 7am, you can try again at 1pm although you must be inside EPCOT to join the queue this time. Again, this is done via the My Disney Experience app and if successful, you will be given a time to access the ride
If you are staying at a Deluxe Disney hotel or villa, you can try again at 6pm to join the virtual queue and then access the ride during the extended evening hours available exclusively to guests staying at these hotels (and some other selected properties) 
Guardians Of The Galaxy: Cosmic Rewind also has Individual Lightning Lane access available for purchase and the typical cost is $14 - $17 per person 
If you are staying off-site, the first time that you can try to buy Lightning Lane access for the ride is when the park opens. Again, you will need a Park Pass reservation at EPCOT to buy Lightning Lane access.
If you are staying on-site, you can buy Lightning Lane access from 7am 
The dilemma for on-site guests is, therefore, do you try to access the virtual queue or buy Lightning Lane access at 7am? If you have two or more people in your group with the My Disney Experience app, you can of course try both, but you'll need to be careful not to actually purchase the Lightning Lane access if the other person has been successful with gaining access via the virtual queue which is of course free!
This all sounds very complicated but once you get used to the My Disney Experience app, it is actually all fairly straightforward.  
My main top tip for getting the most out of the Orlando attractions has not changed in the last 20 years: Get there early. If you get too hot and too exhausted, have a break in the middle of the day and go back in the evening. All of our tickets enable you to have this flexibility.
That's it from me. If you have any questions about Orlando, please don't hesitate to call our amazing Sales and Customer Service teams on 0800 223 0324. 
Always Adding Happiness
 
Olly
Founder & CEO
AttractionTickets.com