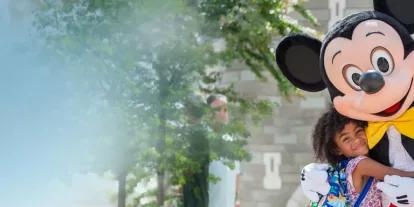 Introducing the Disney Park Pass System
Get Ready to rediscover Walt Disney World in Florida. Here are some of the key things to know before you go including the new Disney Park Pass System for theme park reservations and the updated Park Hopper experience. Walt Disney World may be different from the last time you visited. But together with Disney, you can find new ways to create magical moments - and memories to treasure.
Top Things You Should Know As You Prepare to Visit:
To enter a Disney Park, both a valid Disney Ticket AND a date-specific theme park reservation are required. Disney Park reservations are automatically included with Disney One-Day Tickets. For Disney Multi-day, Multi-park Ticket, you must reserve Disney Parks for each day of your ticket on receipt of your Disney Ticket confirmation. See the step-by-step guide below for details
Disney Water Parks are subject to seasonal closure each year for maintenance and refurbishment. The Disney Base Ticket + Water Park and Sports Option and Disney Ticket with Park Hopper Plus tickets will include admission to Disney's Blizzard Beach or Disney's Typhoon Lagoon Water Park, whichever is open
Park Hopper hours will start at 2.00pm each day and end at the park's scheduled close time. The ability to visit another park will be subject to the park's capacity limitations. 
The My Disney Experience App and Disney Genie Service will help you make the most of the magic
Theme Park Reservation Availability
Before you visit a Disney Park, you MUST make a reservation using the Disney Park Pass System - now available for Guests with valid Disney theme park admission to make Disney Park Reservations up to 31 December 2024. 
A Disney Park reservation must be made for each day of entry for every member of your party; If you have a multi-day ticket, you will be required to make a park reservation for each date of your visit.
TOP TIP: We highly recommend that you make your Disney Park reservations as soon as you receive either your Disney Ticket Confirmation, as Disney Park availability can change until the reservation is finalised.
How It Works
Here's how to use the Disney Park Pass system - and start planning for your visit to Walt Disney World in Florida.
Step 1: Link Your Admission to Your Disney Account
To get started, you'll need your Disney Ticket Confirmation which you can find in your Customer Account.
First, you'll need an account on My Disney Experience which is where your Walt Disney World plans are stored and managed. Create an account or sign in to your existing account
Then, link your valid Disney Ticket Confirmation to your Disney account
Please use the My Disney Experience website NOT the My Disney Experience App to set up your account and link your Disney Ticket Confirmation
Once your Disney booking is linked to your My Disney Experience account, you can begin to make a Disney Park reservation.
Step 2: Create Your Party
When you begin to make a reservation, you'll be prompted to create your party from your Family & Friends list.
Simply select the family and friends you'd like to include, then select "Continue"
Don't see someone in your travel party? Select "Add a Guest" to include them
Step 3: Select a Date and Disney Park
Choose the date and the Disney theme park that you'd like to visit from the available reservations. Please note that dates and theme park selections are limited and subject to availability. After creating your party in the Disney Park Pass system, you'll be prompted to:
Select a Date: View a calendar and choose one of the available dates for your visit.
Select a Theme Park: Park hours will be displayed for your convenience.
Select a Time: This is the time that you can visit the park.
Confirm your reservation.
Step 4: Review and Confirm Your Plans
Carefully review and confirm your selected park and date.
If you need to make any changes, select "Back" to revise your selections.
Before confirming, you'll need to agree to the Terms & Conditions. Then, select "Confirm" to complete your park reservation.
Once confirmed, your Disney Park reservation will appear in My Plans.
Want to make another Disney Park reservation? Select "Make Another Reservation" to continue planning. As a reminder, if you have a multi-day ticket, you will be required to make a park reservation for each date of your visit.
Your new reservation(s) will appear in My Plans - both online and in the My Disney Experience app.
If you need to cancel a reservation, view your daily itinerary in My Plans, then select "Reservation Details".
Park Hopping
The 'Park Hopping' benefit is available to all guests with a Disney Ticket with Park Hopper or a Disney Ticket with Park Hopper Plus, allowing you to visit more than one Disney Park in a day when following the new process for reserving Disney Theme Park visits. Park Hopping will be available from 2.00pm each day, subject to park capacity limitations. Learn more about the updated Disney Park Hopper Experience.
My Disney Experience App
Make the most of the magic with the My Disney Experience app. We strongly recommend that you have the latest version of this app on your mobile device, with location services and notifications enabled.
Helpful features include:
Create Disney MagicMobile passes - a contactless way to enter the Disney Parks using your smartphone. 
Mobile Order Service for Dining: Please order ahead and save time at select dining locations using the mobile order service. We highly recommend that you use this service during your visit.
Scannable Codes for Select Restaurant Menus: While at a table-service restaurant, you can scan a code to access the digital menu.