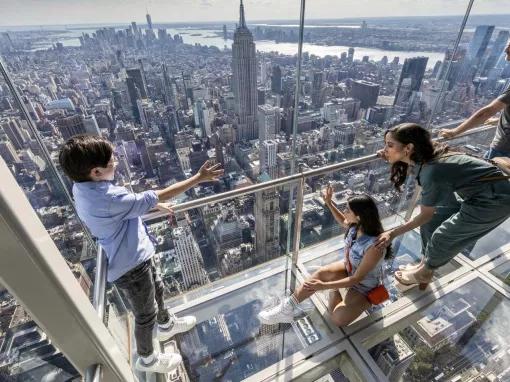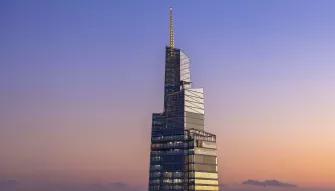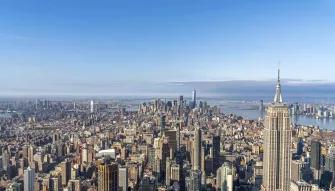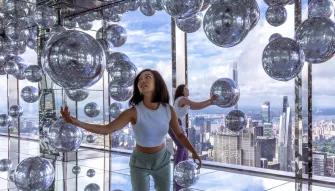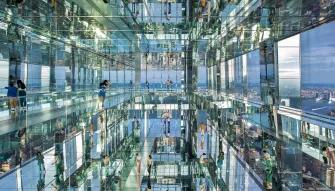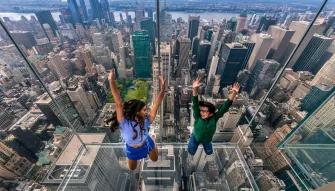 SUMMIT One Vanderbilt Tickets
Not Available
This ticket is currently not available
This could be because:
We have sold out
New seasonal tickets are not yet available
In the meantime:
Call us on 0800 223 0324
Sign up to hear the latest news and offers:
Sign up for our newsletter
New
no ticket modal
Full details
New York City's most innovative observation space
Set atop the tallest commercial skyscraper in Midtown Manhattan (1,401 feet, 427 meters), SUMMIT One Vanderbilt, an observatory high atop Grand Central Terminal, was conceived as an installation that compels you to question your perception of the built environment, the natural world around you, and your sensorial reality and offers spectacular 360 views of New York City and beyond, including close-up views of the Empire State Building and the Chrysler building.
Our guide to SUMMIT One Vanderbilt
Explore three levels of multi-sensory immersive experiences, a unique combination of art and design central NYC's DNA.
Your journey at the top of One Vanderbilt starts in Transcendence: part of AIR, a story-driven immersive experience designed by Kenzo Digital, mixing transparency and reflectivity to create the illusion of boundless space.
Enjoy a beautiful art installation in Reflect: on display in the most famous art galleries across the world, "CLOUDS" is comprised of stainless-steel cloud-like shapes, designed by Japanese artist Yayoi Kusama. Your experience then evolves and becomes interactive and playful in Affinity where you are invited to connect physically to the space by playing with highly reflective orbs floating around the room.
Then it's time for a thrilling experience at Levitation: the sky boxes allow you to step out from the envelope of the building and stand on transparent glass 1,070 feet (325 meters) above Madison Avenue, with the hustle and bustle of city streets directly beneath you.
In Unity: you are invited to become part of the space itself – your 3D face capture transformed into a cloud in a mesmerizing, infinite cloudscape display on a giant screen.On the last floor of SUMMIT, you'll find the sky-high lounge and café Après, featuring bespoke light fare and an innovative cocktail program curated by Danny Meyer's Union Square Events.  Après's offerings can be enjoyed inside the Nordic themed lounge and café or outside on the SUMMIT Terrace. The SUMMIT Terrace wraps around the south and west sides of One Vanderbilt and is the perfect open air viewing spot to take in the incredible views for up to 80 miles while toasting your experience.
Location: 45 East 42nd Street, New York, NY 10017. Entrance located on the Main Concourse Level of Manhattan's Grand Central Terminal, inside Vanderbilt Passage
Opening hours:  Wednesdays & Thursdays: 1pm-9pm, Fridays & Saturdays: 9am-11pm, Sundays 10am-9pm.
Terms and conditions
Terms and conditions for SUMMIT One Vanderbilt Tickets
To help control capacity, all guests must pre-book a time slot before visiting the SUMMIT. Your SUMMIT ticket guarantees entry for the selected date and time.
Cancellation Policy: Tickets can be cancelled for free up to 72 hours before your selected date/time.
FAQs
Frequently Asked Questions for SUMMIT One Vanderbilt
General Information
What is SUMMIT One Vanderbilt?

SUMMIT One Vanderbilt is an iconic observatory located atop the One Vanderbilt skyscraper in the heart of Manhattan, offering breathtaking views of New York City.

Are there any age restrictions for SUMMIT One Vanderbilt?

There are no specific age restrictions for SUMMIT One Vanderbilt. Visitors of all ages are welcome. Children under a certain age (typically 5 and under) may enter for free, but please check the specific ticket details for the most accurate information.
Location
Where is SUMMIT One Vanderbilt located?

SUMMIT One Vanderbilt is located at 1 Vanderbilt Avenue, in Midtown Manhattan, right next to Grand Central Terminal.
Ticket Information
What is included with my SUMMIT One Vanderbilt ticket?

Your SUMMIT One Vanderbilt ticket grants you access to the observation deck, where you can enjoy breathtaking views of New York City. Additionally, you'll have access to the immersive experiences and exhibits within the SUMMIT experience.

Do I need to select a specific date and time for my visit when purchasing tickets?

Yes, it is recommended to select a specific date and time for your visit when purchasing tickets. This helps ensure a smooth and enjoyable experience, allowing us to manage visitor capacity effectively.

Can I purchase tickets on the same day of my visit at the attraction?

While it's possible to purchase tickets on the same day of your visit at SUMMIT One Vanderbilt, availability may be limited. To secure your preferred date and time, we recommend booking your tickets in advance on our website.
Accessibility
Is SUMMIT One Vanderbilt wheelchair accessible?

Yes, SUMMIT One Vanderbilt is wheelchair accessible, and we strive to accommodate all visitors with disabilities. Please contact us in advance to arrange any necessary accommodations.
Opening Information
What are the operating hours of SUMMIT One Vanderbilt?

SUMMIT One Vanderbilt typically operates from morning until late evening. Be sure to check our website or contact us for the most up-to-date information on operating hours.
Food & Drink
Are food and beverages available at SUMMIT One Vanderbilt?

Yes, there are dining options available at SUMMIT One Vanderbilt, where you can enjoy a meal or a snack while taking in the stunning views.
Restrictions
Are there any restrictions on bags or items I can bring inside?

There are security measures in place, and certain items may not be allowed inside. Check our website for a list of prohibited items to ensure a smooth entry.