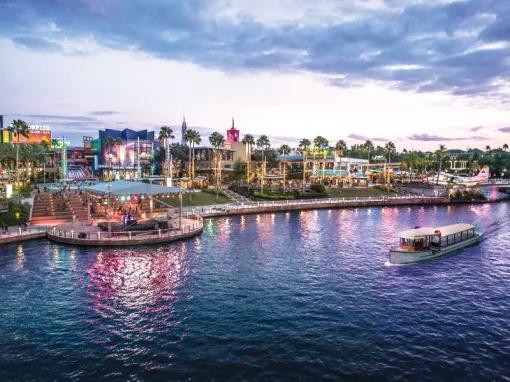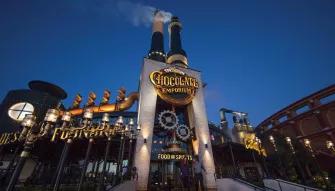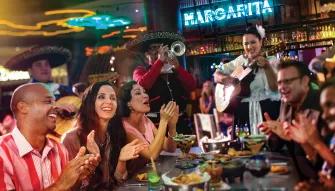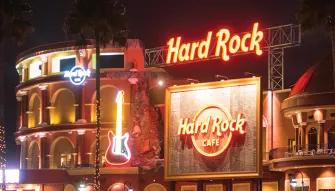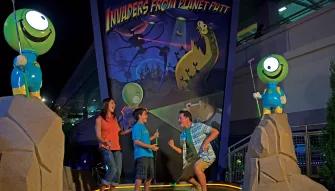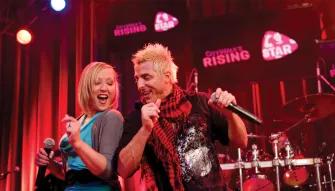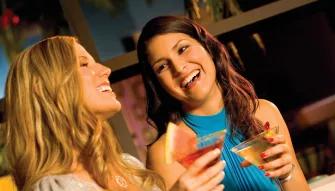 Universal CityWalk
Full details
Universal CityWalk is Orlando's hottest spot for entertainment
Home to the best of the best in live music, fine and casual dining, shopping, dancing, state-of-the-art cinemas and more, Universal CityWalk is Orlando's hottest spot for entertainment. Head to Universal CityWalk for great places to eat, movie screens and hot night spots. Plus, Self-parking is Free* after 6pm for all guests.
Our guide to Universal CityWalk
Take in the wonders of The Toothsome Chocolate Emporium & Savory Feast Kitchen, a fantastical steam-punk-themed restaurant, bar and confectionery, or enjoy a meal at the world's largest Hard Rock Cafe®. Try the unique burger/sushi fusion of The Cowfish® or kick back to the Floribbean fare of Jimmy Buffett's® Margaritaville®. Whether you want a quick bite after leaving the theme parks, an unforgettable family feast, a romantic dinner for two, or a late-night snack, CityWalk is the one spot with everything you're craving. You can even sing karaoke in front of a live band with backing singers.
And that's just the beginning! With fabulous live entertainment, sizzling nightclubs*, an incredible variety of restaurants and shopping, plus a 20-screen movie theatre, CityWalk makes your nights at Universal Orlando Resort every bit as exciting as your days. No matter what kind of fun you're in the mood for, CityWalk has it all and you can enjoy the lot on a visit to Universal Orlando Resort.
*Some CityWalk venues require ages 21 or older for admission. Does not include admission to Universal Cinemark or Hollywood Drive-In Golf.
Rides
Our guide to Universal CityWalk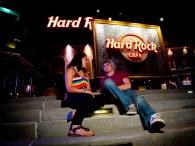 Hard Rock Live®
Catch the biggest names in music and comedy live in concert at Hard Rock Live®, Orlando's premiere performance venue. The "Coliseum of Rock 'n' Roll" seats up to 3,000 and boasts state-of-the-art audio, lighting and video.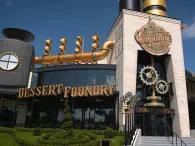 The Toothsome Chocolate Emporium & Savory Feast Kitchen
Delight your palate with fantastical fare including steak, seafood, crepes, milkshakes, gourmet chocolates and one-of-kind desserts at this full-service restaurant, bar and confectionary at Universal CityWalk. Extraordinary foodstuffs await you at this enchanting 19th century themed, Steampunk inspired dining establishment.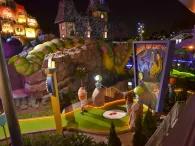 Hollywood Drive-In Golf™
Grab your family, grab your friends and get set to play your way through 36 holes of golf that capture all the fun of the hilariously silly horror and sci-fi movies of the 1950's! Hollywood Drive-In Golf™ is sure to get mini golfers of all ages giggling at the classic (often silly) "thrills." And everyone who loves those vintage flicks will cherish the spooks and surprises around every corner.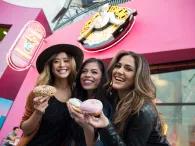 Voodoo Doughnut
The phenomenon known as Voodoo Doughnut is now serving more than 50 types of doughnuts daily at Universal Orlando. The doughnut shop with a cult following features signature originals and one-of-a-kind delectables like the Dirt Doughnut, the Memphis Mafia and the Bacon Maple Bar®.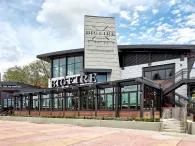 Big Fire Restaurant
Bigfire welcomes guests with a modern take on the nostalgia of cooking over open flames during memorable family holidays. Open fire cooking is centre-stage, high-quality American-style food like steaks and freshwater cuisine are given the fire-kissed treatment with pairings of different woods, flavouring your meal with smoky goodness.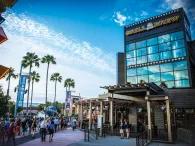 NBC Sports Grill & Brew
NBC Sports Grill & Brew introduces a unique sports-dining experience unlike anything you've seen before. Inside, a wall of Foosball tables invite guest to test their skills while nearly 100 HD screens play a constant stream of sports coverage. Offering private dining, areas for groups and an indoor-outdoor beer garden, NBC Sports Grill & Brew is a stylish and sophisticated addition to Universal CityWalk.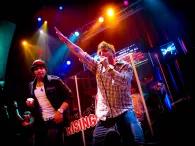 CityWalk's Rising Star
For everyone with dreams of taking the stage and belting out a song as lead singer of a band, get ready for your moment in the spotlight. In CityWalk's Rising Star, when you grab the mic you're performing with a live band complete with real backup singers. Choose from an impressive number of song titles and rock out like a superstar, or croon your favourite country ballad, as you perform in front of a live audience.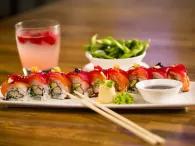 The Cowfish®
Dive into a custom-designed burger or saddle up to some sushi. Whether you keep them separate or embrace the spirit of Burgushi®, a cutting-edge fusion of sandwiches made with sushi stuff, and sushi built with burger stuff, this unique eatery offers the best of both worlds. You can also opt for a bento box to sample a little of everything.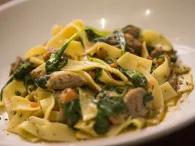 VIVO Italian Kitchen
Celebrate the beauty of true Italian cuisine at this full-service restaurant, where heirloom family recipes are served up in a sleek, modern setting. An open Expo Kitchen allows you to glimpse piping hot pizzas emerging from the oven and watch as chefs make fresh bread, sauce, mozzarella, and pasta before your eyes. The finest ingredients ensure every meal is authentic, robust, and full of flavour.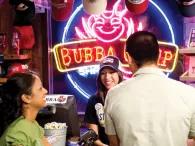 Bubba Gump Shrimp Co.™ Restaurant & Market
Bubba Gump Shrimp Co.™ is a great family dining experience right at the entrance to the amazing CityWalk®. Engaging staff will entertain you and make you feel at home with their Southern hospitality. You won't want to miss the chance to try on plaster casts of Forrest's running shoes for a memorable photo at the famed bus bench in front of the restaurant.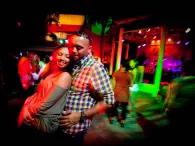 Bob Marley - A Tribute to Freedom℠
Share in a one-of-a-kind celebration of music and culture as Bob Marley–A Tribute to Freedom℠ takes you on a musical journey through the life of the "King of Reggae." Enjoy live music nightly and authentic Jamaican and Caribbean cuisine.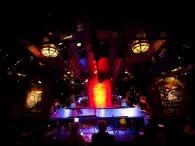 Pat O'Brien's®
Pat O'Brien's® is the home of the world-famous Hurricane® drink, dueling pianos, and the Flaming Fountain™ patio, a picturesque courtyard that will have you believing you're in the middle of Bourbon Street. There's also a popular Locals Bar perfect for friendly conversation and Pat O's offers unique private parties with a huge balcony overlooking CityWalk®.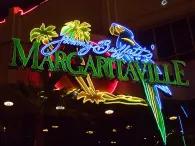 Jimmy Buffett's® Margaritaville®
The music, lyrics and laid back island attitude of Jimmy Buffett comes to life at this popular landmark restaurant with live bands performing every evening. The main dining room was inspired by one of Jimmy's favorite South Florida waterfront concerts and the three bars – The Volcano Bar, Land Shark Bar, and 12 Volt Bar – were themed around Jimmy Buffett songs.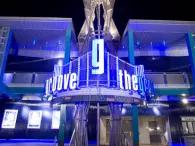 the groove
Get into the groove! Come party with your friends and enjoy the pulsating music and swirling lights of the hottest dance club in the universe.
FAQs
Frequently Asked Questions for Universal CityWalk
General Information
What is CityWalk Orlando?

CityWalk is an entertainment and dining area only a short walk away from Universal's parks.

Is CityWalk on the I-ride trolley route?

The I-ride trolley's closest stop is about 10 minutes walk away from Universal Orlando.
Rides & Attractions
What is there to do at CityWalk?

There is so much to take in at Universal's CityWalk. It is home to incredible restaurants, bars, shops and even a cinema! Whether you are looking for a delicious authentic meal or a yummy sweet treat, live music and entertainment or to pick up some amazing gifts, CityWalk is exactly the place to visit.
Opening Information
What time does CityWalk close?

CityWalk usually closes around 2am. Closing time for the car park and last shuttles back to the Universal hotels are shortly after this.

Is CityWalk open on Christmas Day?

CityWalk is open all year round, although Christmas Day is one of its busiest days.
Location
How do you get to Citywalk Orlando?

Universal's Citywalk is on Universal Boulevard at the end of International Drive. It is within walking distance of the Universal theme parks and the Premier Universal hotels or connected by complimentary shuttle transport from the other Universal Orlando Resort hotels. 

Where is Voodoo Doughnuts located at CityWalk?

Voodoo Doughnuts is an incredible doughnut emporium located by Hard Rock Café in CityWalk and a short walk from Universal's Islands of Adventure.
Parking
Is parking free at CityWalk?

There is one car park area at Universal for CityWalk and the parks. Parking starts from $25 per day, per car. Parking is free after 6pm (except during Halloween Horror Nights).
Ticket Information
What is the fee to access Universal CityWalk?

Access to Universal's CityWalk is free but on select nights some bars charge a cover (entry) charge. If you have a Universal 3 Park Explorer ticket, you won't have to pay a cover charge though!

What is a CityWalk party pass?

The CityWalk party pass is included in the Universal 3-park Explorer ticket. This gives you club-to-club access to Jimmy Buffett's, Margaritaville, CityWalk's Rising Star, Pat O'Brien's, Red Coconut Club, The Groove and Bob Marley - A Tribute to Freedom. If you do not have a multi-day ticket, a cover fee for admission may be charged. You can also purchase a party pass directly.
Food & Drink
Where is there to eat at Universal CityWalk?

There are lots of options for food and drink within Universal's CityWalk! Antojitos is amazing for fresh Mexican food or try CowFish for a mix of meat and Sushi. Check out the iconic Hard Rock Cafe and see memorabilia from the rock legends over the years! For something sweeter, try the Toothsome factory or Voodoo Doughnuts. There is so much to try!

Can you get a butterbeer at Universal CityWalk?

Currently butterbeer is only available in the Wizarding World of Harry Potter within Universal Studios and Islands of Adventure.

Do you have to book CityWalk restaurants?

Most of the time you can just walk up and wait for a table. If there is a large group of you, it may be worth calling the restaurant to check they are able to accommodate you. During busy seasons, please expect to wait a little longer than normal for a table.
Restrictions
Do you need to take ID with you to CityWalk?

It is always best to take photo ID with you whilst in Orlando as most places will be required to check this before admission. The legal age of drinking in the U.S is 21 years and above and as such children may not be allowed in certain venues.
Universal CityWalk Reviews
A vibrant and lively place, Plenty to eat and lots of shops

Steven Halse reviewed Universal CityWalk 07 Dec, 2023

No issues using Ticket during my holiday

Trusted Customer reviewed Universal CityWalk 07 Dec, 2023

Fantastic place to visit!!

Sharon Evans reviewed Universal CityWalk 04 Dec, 2023

The best most vibrant place especially when lit up at night.

Toby Webber reviewed Universal CityWalk 02 Dec, 2023

As diverse an area of entertainment can be, there is literally something for everyone

Steven Baily reviewed Universal CityWalk 01 Dec, 2023
Some Universal CityWalk shows/venues are separately ticketed and some require ages 21 or older for admission with valid photo ID. Not valid for separately ticketed concerts and special events. Restrictions apply and benefits are subject to change without notice.
Hollywood Drive-In Golf and associated logos are trademarks of Adventure Golf Design & Development, Inc. Bubba Gump Shrimp Co. TM & © 2021 Par. Pic. Jimmy Buffett's ® Margaritaville ® Jimmy Buffett. The Cowfish and all related logos TM The Cowfish Sushi Burger Bar, LLC. All rights reserved. Pat O'Brien's®, Hurricane Glass logo®, Have Fun! ® and Iron Grill Design ® Pat O'Brien's Bar, Inc. © 2021 Pat O'Brien's Bar, Inc. All rights reserved. TM & © 2021 NBCUniversal Media, LLC. All rights reserved. © 2021 Universal Studios. All rights reserved. © 2021 Cinemark USA, Inc. Century Theatres, CinéArts, Rave, Tinseltown, and XD are Cinemark brands. "Cinemark" is a registered service mark of Cinemark USA, Inc. © 2021 BMP. Blue Man Group photo by Lindsey Best. Hard Rock Cafe, Hard Rock Live ® Hard Rock Cafe International (USA), Inc. Universal elements and all related indicia TM & © 2021 Universal Studios. All rights reserved. ©2019 Voodoo Doughnut, LLC. The Cowfish and all related logos TM The Cowfish Sushi Burger Bar, LLC. All rights reserved.
People who purchased Universal CityWalk also viewed...