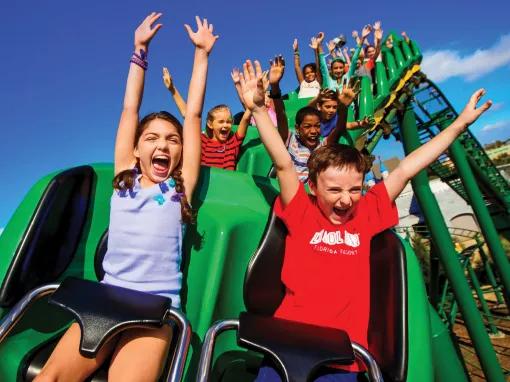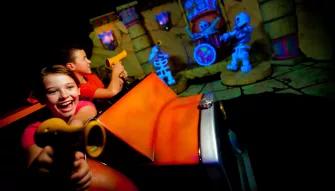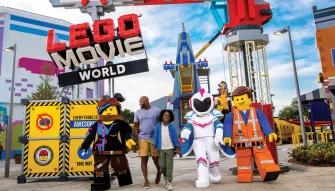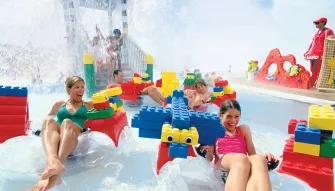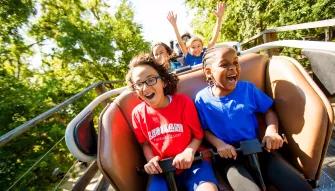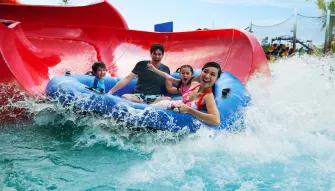 LEGOLAND® Florida Resort Tickets
Full details
Enjoy an 'Awe-Summer' and take the holidays to the next level with 'Holidays at LEGOLAND presented by Hallmark'
With more than 50 rides, shows and attractions, plus the slides and splashes found in the five-acre LEGOLAND® Water Park, it's all here at the one and only place #BuiltForKids!
Our guide to LEGOLAND® Florida Resort
At LEGOLAND Florida Resort there are options to cover every hoilday, from a one-day, theme-park only ticket to a theme park/water park combo ticket. Plus, enjoy seasonal events, such as Brick or Treat, Christmas Spectacular and Kids New Year Eve included in your standard admission tickets.
Currently the largest LEGOLAND park in the world, LEGOLAND® Florida features nearly two dozen LEGO®-inspired rides in 10 colourful themed lands and includes everything from the "pink knuckle" thrills of roller coasters such as The Dragon, The Great LEGO Race, Coastersaurus and Flying School, to interactive adventures including LEGO® NINJAGO® The Ride, Lost Kingdom Adventure and Kid Power Towers. Guests also can enjoy multiple "4D" movies and meet-and-greets with characters including Emmet, Wyldstyle and Benny from "The LEGO® Movie™." Here are just some of the amazing highlights.
Newest Attractions
THE LEGO® MOVIE™ comes to life through new attractions, character experiences, and more! Fly aboard Emmet's Triple Decker Couch through a world created completely from LEGO® bricks on the THE LEGO MOVIE Masters of Flight.
Stop DUPLO aliens from invading and stealing LEGO bricks at Battle of Bricksburg - beware you'll get wet!
Get ready for the Great LEGO Race, a virtual reality rollercoaster experience where you are invited to not just ride a themed roller coaster, but to literally buckle up and go for a ride inside the most incredible, exhilarating and fun LEGO race ever created! Immerse yourselves in a brick-built world racing brick-built vehicles in the hopes of becoming the next Champion! So step right up and prepare for RACE DAY.
Thrill Rides
Have a roaring good time on the Dragon Coaster as you conquer the twists and turns of this indoor/outdoor steel roller coaster.
Jump aboard Flying School and get ready for takeoff! Climb aboard this suspended coaster and take flight.....
Fun For Kids
Experience a rainbow-filled journey on Unikitty's Disco Drop. Swoop to the tiptop of Cloud Cuckoo Land, then drop, spin and bounce back down to earth in sync with Unikitty's wide range of emotions, creating a thrilling and frenzied experience.
DUPLO® Valley - Jump on the DUPLO Train and find the missing farm animals or cool off in the DUPLO Splash and Play area.
Family Fun
Unleash your inner Ninja with a visit to LEGO NINJAGO World. Master your LEGO® building skills by building the NINJANGO Monestary and test your reflexes in Jay's Lightning Drill. Balance and vortex spinning are two skills you need to practice for the art of Spinjitzu and Cole's Rock Climb teaches patience and body endurance. As you train, meet your favourite LEGO® NINJAGO™ characters Kai and Nya
After NINJANGO training, head to the star attraction, LEGO NINJAGO The Ride. Combining state-of-the-art 3D animation with breath-taking 4D special effects, the ground-breaking ride lets you blast scorching fireballs and hurl blasts of lightning at your enemies using just your hands!
Head to Pirates Cove for the Battle for Brickbeard's Bounty. Defeat Captain Brickbeard and his pirate gang in a water-ski live-action show. With Water skis, personal watercrafts, boats and baddies – a swashbuckling adventure awaits you!
LEGOLAND® WATER PARK LEGOLAND® Florida Resort is also home to one of only four LEGOLAND® Water Parks in the world!
LEGOLAND Water Park is the perfect introduction to water parks for younger children. Build a LEGO raft as you float down the lazy river, race your own LEGO boat against other guests, take on several thrilling tube and body slides or relax in a private cabana. With five acres of slides and splashes you will be entertained all day! It's a great place to unwind in the Florida sunshine surrounded by the fun and creativity of the LEGO brand.
Rides
Our guide to LEGOLAND® Florida Resort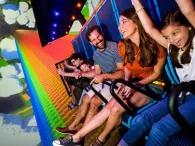 The LEGO® MOVIE™ Masters of Flight
Minimum Height Required: Guests between 40" to 52" tall and 3 to 8 years of age must be accompanied by a responsible rider aged 14 years of older. Guests under this height or age are not allowed on the ride.
Flying theatre attraction where guests join Master Builders on a Triple Decker Flying Couch transporting riders all over THE LEGO® MOVIE™ universe.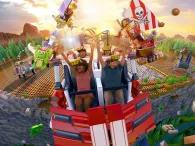 The Great LEGO® Race
Minimum Height Required: 42" (1.06m)
The Great LEGO® Race combines roller coaster thrills with virtual reality and pits guests against a pirate, wizard, surfer and pharaoh as they steer LEGO-built vehicles in the center of an action-packed road rally where the laws of physics and aerodynamics only loosely apply!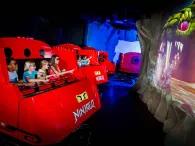 LEGO® NINJAGO™ The Ride
Minimum Height Required: Children must be accompanied by an adult if smaller than 48 inches.
LEGOLAND® challenges YOU to become a master of Spinjitzu at the all new LEGO® NINJAGO™ World! Join your favourite heroes and take on awesome training activities before taking on LEGO® NINJAGO™ The Ride! Blast animated fireballs, lightning and more at a sinister gallery of villains before teaming up to defeat a powerful foe. Track your score against friends, family and other guests, then ride again!"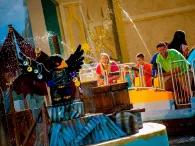 The Quest for CHI
Minimum Height Required: 48" (1.22m)
The centrepiece of the new World of Chima, The Quest for CHI is an interactive, family-friendly water ride set amidst dramatic landscapes and the magical waters flowing from Mount Cavora. Unleash the power and battle with water cannons to help Laval the Lion Prince defeat Cragger the Crocodile King in his quest to steal the mystical energy source, CHI.
Ford Driving School
Beep! Beep! Kids will learn the rules of the road and earn their own LEGOLAND® Driver's license in this free-wheeling driving attraction! This is one of the favourites at LEGOLAND Florida and should not be missed.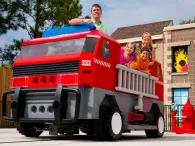 Fun Town Fire Academy
Families demonstrate their fire fighting skills by competing against other families to rescue Fun Town from a "fire". Each family bundles into their own large fire engine, powering the truck themselves by pumping levers. The first engine to make it down the tracks, put the fire out and make it back to the starting line wins.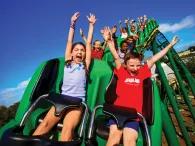 The Dragon
Minimum Height Required: 40" (1.02m)
An indoor/outdoor steel roller coaster that features a spirited and humorous view of life behind the scenes within the enchanted LEGOLAND Castle.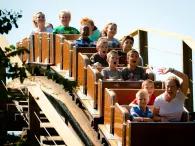 Coastersaurus
Minimum Height Required: 36" (0.92cm)
This junior coaster reaches curves and dips in and around a prehistoric jungle of animated and life-sized LEGO brick dinosaurs.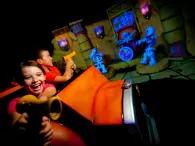 Lost Kingdom Adventure
Minimum Height Required: 30" (76cm)
Set in the Land of Adventure against a 1920's Egyptian backdrop, the Lost Kingdom Adventure offers a mind blowing ride in all-terrain roadsters that invites riders into dark surroundings, where they will need to keep their wits about them as they protect themselves with laser blasters from an unsafe Egyptian region.
Pirates' Cove
LEGOLAND Florida's breathtaking live stunt show tells the story of the pirate invasion of Lake Eloise. Packed with lots of entertainment and action, this water stunt show will have you at the edges of your seats throughout the entire performance.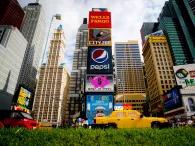 Miniland USA
Miniland USA the heart of every LEGOLAND Park, Miniland USA is home to seven specially themed areas including New York, Las Vegas, Florida, Kennedy Space Center, California, Pirate Shores and Daytona International Speedway.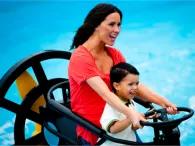 AQUAZONE Wave Racers
Minimum Height Required: 40" (1.02m)
In miniature speed boats riders surf the waves and dodge the jets of water on this crazy water carousel ride.
Speedorz Arena
Located in the World of Chima is the super-charged, super-fast Speedorz™ Arena where multiple players build and race their Speedorz through a series of obstacles to win the precious supply of CHI.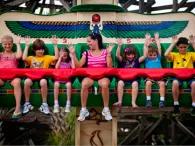 Beetle Bounce
Minimum Height Required: 36" (92cm)
Launch 15-feet up toward intricate, brightly jewelled LEGO scarab beetles perched atop two monumental obelisks.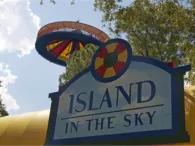 Island in the Sky
Minimum Height Required: 48" (1.22m)
Island in the Sky is a 150- foot rotating platform that gives guests a 360° view of LEGOLAND Florida.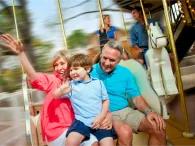 The Grand Carousel
Minimum Height Required: Below 48" (1.22m) must be accompanied by a responsible rider of this height or taller
This double-decker carousel is the centerpiece of Fun Town. Children can choose their favorite horse and giddy up!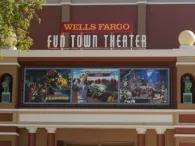 Wells Fargo 4-D Theater
Three different 4-D movies show throughout the day at LEGOLAND's largest 4-D theater with seats for 700.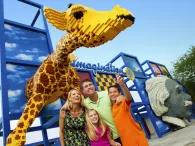 Imagination Zone
This is where children's imaginations really can run wild. Here LEGOLAND Florida encourages free play and celebrates the creativity of young people. By engaging their minds Imagination Zone allows children to design their own LEGO cars and test their performance or build and program state of the art technology LEGO MINDSTORM robots.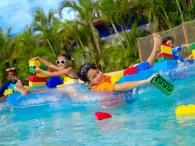 Build-a-Raft River
Who can build the biggest, best LEGO® raft? You can! Imagine, design and build your own unique LEGO vessel and float around the 1000-foot-long lazy river, featuring playful LEGO models, flowering vegetation and palm trees.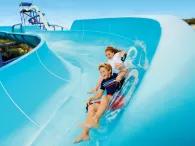 Twin Chasers
Minimum Height Required: 42" (1.06m)
Grab your friends and go for a slide! Ride tubes 375-feet down an intertwining pair of enclosed water slides before plunging into a refreshing pool below.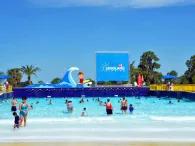 LEGO® Wave Pool
Catch some waves or cool off where the waves are just big enough for all ages to enjoy.
FAQs
Frequently Asked Questions for LEGOLAND® Florida Resort
Rides & Attractions
What is LEGOLAND Florida?

LEGOLAND Florida Resort is an interactive theme park, a water park and a themed-hotel all inspired by the LEGO brand and characters. The resort is catered towards the needs and enjoyment of younger children aged between 2 and 12 so all attractions are accessible for younger kids and families. 

How big is LEGOLAND Florida?

LEGOLAND Florida theme park has more than 50 incredible rides, shows and attractions to be enjoyed by younger children and families. You will need at least a day to explore the theme park itself, plus extra time if you want to visit the fantastic LEGOLAND water park which again is accessible to younger thrill seekers. 

What can you do at LEGOLAND Florida?

LEGOLAND Florida features over 50 fun-filled rides, shows and attractions. Highlights include seeing the LEGO Movie World, LEGO Ninjago ride and the VR experience at the Great Lego Race. There's also the not to be missed MiniLand, featuring LEGO replicas of some of the world's greatest wonders. As well as this, there are a further 6 amazing slides, pools and attractions at LEGOLAND waterpark next door.
Ticket Information
How much are LEGOLAND tickets Florida?

You can find prices and options for our LEGOLAND Florida tickets on this page. Tickets are priced very reasonably and are available as 1 or 2 day tickets, with or without waterpark access. 

Can you re-enter LEGOLAND Florida?

You can leave LEGOLAND Florida and re-enter on the same day, just remember to have your hand stamped by a staff member before you leave. You can also buy 2-day tickets if you would like more flexibility.

Does LEGOLAND Florida have fast pass?

Fatstrack tickets can be purchased directly from LEGOLAND only and start at $30 per ticket. You will need a valid ticket for admission too.
Duration of Visit
Is one day enough for LEGOLAND Florida?
Location
Where is LEGOLAND Florida?

LEGOLAND Florida is located in Winter Haven, roughly a 45 minute drive south of Orlando.

How far is LEGOLAND Florida from Disney World?

LEGOLAND Florida is approximately a 1 hour drive south of Disney World. 

Planning on visiting Walt Disney World Resort while you're in Florida? See more information on our Disney Tickets. 

Where is LEGOLAND hotel in Florida?

LEGOLAND hotel is located on-site right next to Legoland itself. There is also another hotel, LEGOLAND Beach Resort, which is a short drive away by complimentary shuttle from the LEGOLAND Parks. Both hotels are excellently themed and ideal for families with young children. 

How far is LEGOLAND Florida from Orlando airport?

LEGOLAND Florida is a 1 hour and 10 minute drive from Orlando International Airport.

What city is LEGOLAND in Florida?

LEGOLAND Florida is located in Winter Haven, Florida, roughly 45 minutes away from Orlando. 

How far is LEGOLAND Florida from Universal Studios Orlando?

LEGOLAND Florida is roughly a 1 hour drive south of Universal Studios Florida.

How far is LEGOLAND from Kissimmee Florida?

LEGOLAND Florida is a 1 hour drive away from Kissimmee.

How far is LEGOLAND Florida from Busch Gardens?

LEGOLAND Florida is roughly a 1 hour and 10 minute drive away from Busch Gardens Tampa.

How far is LEGOLAND Florida from SeaWorld Orlando?

LEGOLAND Florida is roughly a 1 hour drive from SeaWorld Orlando.

How far is LEGOLAND Florida from Tampa?

LEGOLAND Florida is roughly a 1 hour drive from Tampa.
General Information
What is the best age for LEGOLAND Florida?

Younger children are more likely to be entertained by many of the attractions at LEGOLAND but the ideal age will be around 5-12 when they are old enough to enjoy the rides but not too old that they will be looking for bigger thrills. Of course adults and children of all ages will find something to enjoy at LEGOLAND Florida because who doesn't love LEGO?!

What should I wear to LEGOLAND Florida?

You will definitely need comfortable footwear as you'll be doing quite a lot of walking about. LEGOLAND is located in central Florida where the climate is hot and humid throughout the year, but remember to check the weather forecast before you travel, just in case!

Does LEGOLAND Florida has disabled access?

The majority of rides, restaurants, shops and show venues at LEGOLAND Florida are ADA accessible. If you have any specific questions about accessibility, our team are here to help. 

Does LEGOLAND Florida have an app?

There is a downloadable app for LEGOLAND Florida before you visit. It has multiple features including live queue times, a daily planner and an interactive park map.
Fun Facts
When did LEGOLAND open in Florida?

LEGOLAND Florida opened on 15th October, 2011.

Who owns LEGOLAND Florida?

LEGOLAND Florida is owned and operated by Merlin Entertainments.
Opening Information
What time does LEGOLAND Florida close?

Normal opening hours for LEGOLAND are 10am - 5pm but they can vary throughout the year. Before check for up-to-date information before you visit.

Is LEGOLAND Florida open on Christmas?

LEGOLAND Florida is open on Christmas day. However it isnt open every day of the year so please check up-to-date information before you travel.
Parking
How much is parking at LEGOLAND Florida?

Parking at LEGOLAND Florida is $23 per car and can be used for re-entry within the same day of your visit.
Food & Drink
Can you bring food to LEGOLAND Florida?

You can bring outside food and drinks into LEGOLAND Florida but there are some guidelines, alcohol and glass containers are prohibited. 
LEGOLAND® Florida Resort Reviews
Legoland Florida is brilliant for child between 2 to 10 or 11, extremely good value for money.

Matthew Sephton reviewed LEGOLAND Florida Resort 12 Sep, 2023

Fantastic attraction to visit!

Marcus reviewed LEGOLAND Florida Resort 24 Aug, 2023

Great day out well worth a visit!

Sonia Butler reviewed LEGOLAND Florida Resort 05 Aug, 2023

excellent tickets, park was excellent for young children.

Rachel Ellis reviewed LEGOLAND Florida Resort 02 Aug, 2023

Exactly what we needed for our young ones

Trusted Customer reviewed LEGOLAND Florida Resort 07 Jul, 2023
LEGO, the LEGO logo, the Minifigure, DUPLO, the DUPLO logo, LEGENDS OF CHIMA, the LEGENDS OF CHIMA logo, the FRIENDS logo, the MINIFIGURES logo, MINDSTORMS, the MINDSTORMS EV3 logo, NINJAGO, the NINJAGO logo, NEXO KNIGHTS, and the NEXO KNIGHTS logo are trademarks and/or copyrights of the LEGO Group. ©2020 The LEGO Group. All rights reserved.
People who purchased LEGOLAND® Florida Resort also viewed...