Siam Park Tenerife Tickets
Special Offers

for Siam Park Tickets

Exclusive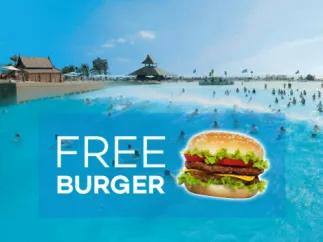 EXCLUSIVE TO ATTRACTIONTICKETS.COM. Purchase a Loro Parque Day Ticket, Siam Park Day Ticket or Loro Parque & Siam Park Twin Ticket and receive a FREE BURGER on us when you visit. Limited time offer - Will End Soon!
Full details
Get the best Siam Park Ticket Prices with Attraction Tickets
Set against a backdrop of spectacular Thai architecture, Siam Park tickets let you discover a waterpark like no other. From the moment you enter, you'll know this will be no ordinary day as you discover white knuckle rides and an immense Wave Palace, tropical lazy rivers and white sand beaches. It's no wonder Siam Park has recently been recognised as the best water park in the world for seven successive years!
Our guide to Siam Park Tickets
If you're in the mood for some relaxation and carefree fun, then let Tenerife's exotic Siam Park seduce you! 
Stretch out on the huge white sand beach, catch the surf at the immense Wave Palace or meander along the world's biggest lazy river in this stunning waterpark. You'll travel through almost the entirety of Siam Park on your journey past cascading waterfalls, lush vegetation and even through a spectacular aquarium full of tropical fish. This is a long and winding journey with a not-to-be-missed whirlpool style finale! 
If blissful relaxation is not your thing that is OK with us because Siam Park in Tenerife has the ultimate line up of adrenaline-pumping thrills. There are over 30 rides at Siam Park but start with a test to your nerves and plunge down the jaw-dropping (and almost vertical) Tower of Power. Still feeling the need for speed? The Dragon is likely to be the most unexpected ride of your life and if you've never felt zero gravity before, rest assured that you will on this big boy!
For the young and the young at heart head for The Lost City – it's a kid's attraction that adults love! And the best part? Siam Park, Tenerife prices are the cheapest you'll find with AttractionTickets.com.
Siam Park Tickets:
What are the Siam Park ticket options?
There is a wide range of Siam Park tickets to choose from:
Siam Park Tenerife One Day Ticket: Enjoy a full day's admission to Siam Park.
Siam Park Premium Ticket: Enjoy a full day's admission, plus lunch, free use of lockers, and a towel in the park.
Siam Park All-Inclusive Deluxe Ticket: This all-inclusive ticket includes a full day's admission to Siam Park plus Fast Pass to all attractions throughout the day except Tower of Power, use of locker and towel, free all-you-can-eat in all restaurants (except tea house), soft drinks, beer and water.
Loro Parque and Siam Park Twin Ticket: Enjoy entrance to two of Tenerife's favourite attractions for one exceptional price! Two fun days, one ticket. There is also the option to include one round-trip journey between Siam Park and Loro Parque with your ticket.
AttractionTickets.com will send you a gate-ready Siam Park ticket, not a voucher. Print your tickets in advance or simply present on your smartphone for instant access on arrival at Siam Park. All our Siam Park tickets are open-dated, giving you the flexibility to visit Siam Park on the day that best suits your holiday plans.
Rides
Our guide to Siam Park Tickets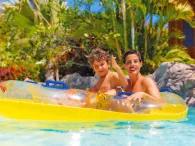 Mai Thai River & Crazy River & Downshute
Minimum Height Required: 1.10m
Relax in the biggest lazy river in the World meandering through the waters in the heart of the park. Take in the sights of the cascading waterfalls, lush vegetation and spectacular aquarium full of tropical fishes. A long winding journey with a Jacuzzi finale to add to the pleasure.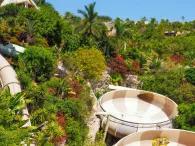 The Giant
Minimum Height Required: 1.25m
Incorporating the exquisite image of the biggest legendary "Temple Guardian" in the world, The Giant will transport you into a world of adventure and mystery as you slide round feeling the force of gravity. An attraction that is popular with all ages.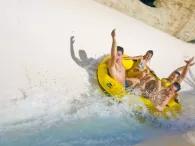 Mekong Rapids
Minimum Height Required: 1.10m
No great water park would be complete without some rapids but at Siam Park you can share the laugh-out-loud adventure in family sized rafts. As you careen along through the rushing waters we challenge you not to smile!
Naga Racer
Minimum Height Required: 1.10m
Feeling a tad competitive? Then grab a mat and challenge your fellow riders to a slide down the stunning Naga Snakes. The six lanes of this crazy water race whisk you down the hillside face-first – the only question you have to answer is what's your strategy going to be to emerge as the winner?!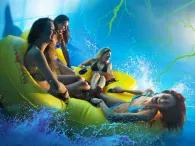 The Vulcano
Minimum Height Required: 1.25m
The light fades and the speed builds up as riders enter the mighty volcano. Riders spin round the enormous crater as if they were caught in the flow of lava for an adventure where darkness adds to the mystical excitement and a brand new generation of spot lights are revealed in an.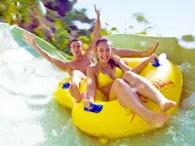 Jungle Snake
Minimum Height Required: 1.10m / 1.25m
Discover the mythical jungle and enjoy the rush of speed as you slide down the entwined snakes through different journeys, adding to the mystery and adventure you will experience.
Dragon
Minimum Height Required: 1.25m
Grab a seat in a raft that can hold you and up to 3 of your companions, and you'll find yourself gathering speed before emerging in to the mouth of an enormous cone. Can't picture it? Well suffice it to say that at this point you'll plunge to and fro and even experiencing zero gravity before being washed away to the ride's end.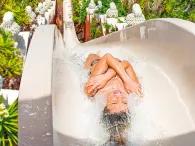 The Tower of Power
Minimum Height Required: 1,49m / 14 Years
Siam Parks' most iconic feature, The Tower of Power, is also its most jaw-dropping thrill ride. Climb the tower, take a deep breath and hang on to your swimwear as you plunge down the almost vertical 28 metre drop in "free-fall" and emerge (unscathed but screaming your head off!) via a mysterious aquarium. Minimum Age: 14yrs.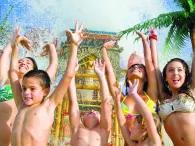 The Lost City
Uncover the secrets of this splashy water fortress as you venture across bridges, through waterfalls and down gentle slides. This is the parks attraction for kids that adults love! Water temperature 24º.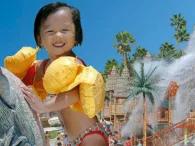 The Lost City baby zone
Not to leave anyone out, Siam Park also has a special area for water babies! in the Lost City The really young members and their parents can enjoy slides that have been specially designed for them.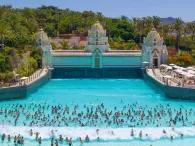 The Wave Palace
Siam Park has many claims to fame but none that we're more proud of than our wave pool. We have the biggest artificial waves in the world! Rising up to 3 metres high you can jump right in and let the surf crash over you or paddle at the edges on our incredible and vast white sands. Water temperature 24º.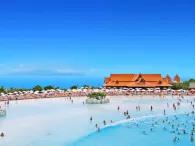 Siam Beach
Relax and sunbathe underneath the palm trees as you take in the beautiful views at La Gomera and the ocean or enjoy a snack on the white sand beach and in a wonderful Thai atmosphere. With its comfortable sun beds and sun umbrellas available, the turquoise waters will transport you to paradise. Water temperature 24º.
FAQs
Frequently Asked Questions for Siam Park Tickets
General Information
What is Siam Park Tenerife?

Siam Park is a water park in Tenerife which has regularly been voted the best water park in the world by Trip Advisor users. Highlights include the terrifying Tower of Power and the huge wave pool and sandy beach. 

How often are Siam Park buses running?

There is a free Siam bus service available to guests staying in Costa Adeje, Playa de las Americas and Los Cristianos. These run every 30 minutes. 
Location
Where is Siam Park?

Siam Park is located in Costa Adeje, Tenerife. The parks address is Av. Siam, s/n, 38660 Costa Adeje, Santa Cruz de Tenerife, Spain.

How far is Siam Park from Los Cristianos?

Siam park is a 5-10 minute drive away from Los Cristianos and a 3 minute drive from Playa de las Americas. Guests staying in Los Cristianos, Las Americas and the Costa Adeje can take advantage of a free bus service, which makes getting to the park really easy.
Ticket Information
Can you buy fast passes at Siam Park?

The all-inclusive deluxe ticket includes unlimited fast pass, all-you-can-eat dining options, complimentary locker use and more! If you want to see more about what this ticket has to offer, we recommend this video on a VIP Siam Park experience. 

What does Siam Park Premium ticket include?

The Siam Park Premium ticket is an open-dated ticket that allows you one full days admission to the park, towel, locker and food to the value of €15 per adult and €9 per child which can be redeemed at the Beach Club restaurant.
Opening Information
Is Siam Park Tenerife open in April?

Siam Park is open all-year round and is open from 10am until 6pm in the summer season (May-October) and from 10am until 5pm in the winter season (November-April).

Is Siam Park open Christmas day?

Yes, Siam Park is open on Christmas day.
Rides & Attractions
Is the water heated at Siam Park?

Yes, the water at Siam Park is heated to around 24 degrees Celsius.

How deep is the water at Siam Park?

The maximum depth of the water at Siam Park is 105 cm.

How does Siam Park wave machine work?

The Wave Palace at Siam park is a wave pool with an artificial white sand beach and the highest waves of any wave pool in the world (11 ft).

How high is the tower of power Siam Park?

The Tower of Power is a 28 metre-high freefall slide that allows riders to reach speeds of us to 80 mph.

Is Siam Park salt water?

Siam Park has a desalination plant on-site so there is no salt water used in any of the pools or slides.
Clothing & Accessories
What to take to Siam Park?

All you will need to bring to Siam Park is a spare set of dry clothes which can be stored in a locker along with any personal items. Read more about what to expect from your visit to Siam Park on our blog, 7 Things to Know Before You Visit Siam Park.
Food & Drink
Can you take food into Siam Park?

You are allowed to bring picnic food and beverages into Siam Park, although you will need to pay €3 for your food to be held until you are ready to collect and eat.
Facilities & Amenities
Are there lockers at Siam Park Tenerife?

Both lockers and towels can be rented at Siam Park. A small locker is €3, a large locker is €5 and a towel is €3 with a €5 deposit.

Where can I find the lockers in Siam Park?

Lockers are conveniently located throughout the park, ensuring easy access for all visitors. Look out for locker areas near the entrance and at various locations within the park.  During busy periods it's advisable to go to the lockers that are located within the park if lockers at the entrance are busy.

Can I make an advance reservation for a locker in Siam Park?

Currently, Siam Park does not offer advance reservations for lockers. Lockers are available on a first-come, first-served basis. We recommend arriving early to secure a locker, especially during peak periods.
Fun Facts
Is Siam Park the biggest waterpark in Europe?

Siam Park is the largest water park in Europe with a total area of 46 acres.
Siam Park Tickets Reviews
This park is a brilliant day out for all the family will definitely return

Liam Barker reviewed Siam Park 27 Nov, 2023

Easy purchase no issues at all

Gareth Davies reviewed Siam Park 25 Nov, 2023

Siam park is out of this world!!!

John Harrison reviewed Siam Park 23 Nov, 2023

Excellent day out for our teenagers.

Alison Jenkins reviewed Siam Park 22 Nov, 2023

Siam park the best water park in the world! Go in low season if you can as it's very busy.

Karl Graham reviewed Siam Park 19 Nov, 2023
People who purchased Siam Park Tickets also viewed...