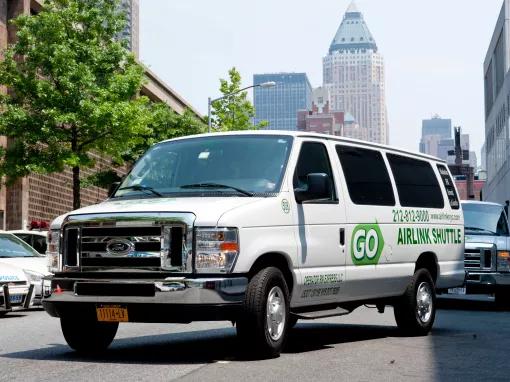 New York Shared Van Airport Transfers
Full details
Shared van transfers can save you about £10 per person over taking a taxi...
Cheap, convenient and dependable, Airlink New York shared van airport transfers offer an excellent option for arrival and departure New York Transfers. With all toll fees and all taxes included a transfer with Airlink can save you about £10 per person over taking a taxi.
Our guide to New York Airport Transfers
Airlink Shared Van Transfers offer a reliable and courteous 24-hour service between New York's three major airports - JFK, Newark and LaGuardia airports - and your Manhattan hotel*.
What's more, the great thing about these transfers is that, with a maximum of 10 passengers per shuttle bus, the number of stops is limited. Which means you'll get to your hotel in good time.
In fact, with all toll fees and all taxes included, a transfer with Airlink can save you about £10 per person over taking a taxi.
Arrival Transfers:
On arrival at JFK, Newark or LaGuardia, simply proceed to the Ground Transportation Desk in the terminal and present your  voucher to the clerk. You will then be directed to the next available Airlink shared-van transfer to your New York Hotel.
Airport Transfers in New York usually depart every 15-30 minutes from the airports, ensuring waiting time is minimal. Please note times may vary.
Departure Transfers:
For departure transfers simply call Airlink New York airport transfers using the number detailed on your voucher at least 24 hours prior to your departure to book your pick-up time from your hotel. Your driver will then collect you from your hotel and take you to the airport.
Hours of Operation:
Airlink New York Transfers operate 24 hours a day.
Baggage Allowance:
One suitcase per person and one small carry-on per person.
Child policy:
Children under 3 years of age are free if accompanying a full paying adult - only one free child per each paying adult and must sit on the adult's lap. Please note car seats are not provided. If required, customers can bring their own but must book an individual seat for the child.
*Hotel must be located between Battery Park & 125th Street
New York Airport Transfers Reviews
A must if you want hassle free option. You are collected at the terminal and dropped to your hotel door. There is no messing. The return journey was excellent. No complaints. I will.use this service again

Carol Anderson reviewed New York Airport Transfers 12 Apr, 2023

Transport to and from airport was good but had to wait 45minutes to get the transport to the hotel which is the last thing you want do after a 8hour flight. 1hour and half in transport before arriving at hotel.

Beverley reviewed New York Airport Transfers 28 Jan, 2020

A big saving worth doing

Trusted Customer reviewed New York Airport Transfers 03 Jan, 2020

Easy to arrange the pickup at the airport but as late at night had a 40 minutes wait which was a bit stressful. Pick up to return to the airport was good, but arrived 30 mins late. Mix up was explained but a phone call to me to at least say they were on the way would have really helped . Our pick up and drop off were exactly where we requested. Great driver on our return to airport, comparing notes about USA and England.

Carol Walker reviewed New York Airport Transfers 17 Sep, 2019

Have used before no issues waited about 20 mins so quick and easy and a lot cheaper than taxis, highly recommend.

Trusted Customer reviewed New York Airport Transfers 01 Sep, 2019
People who purchased New York Airport Transfers also viewed...