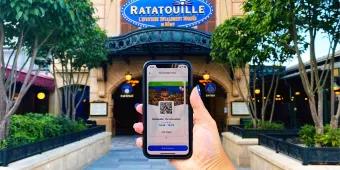 To minimise the time you spend in the queue during certain periods of the day and to ensure safe physical distancing, visitors to Disneyland Paris can now reserve a Standby Pass to enjoy some of the most popular attractions at Disneyland® Park and Walt Disney® Studios Park. It's easy, it's free and it helps you enjoy more time exploring the Disney Parks!
What is a Disneyland Paris Standby Pass?
The new Disneyland Paris Standby Pass is a free service, available via the official Disneyland Paris app. During certain periods of the day, you will need to reserve a Standby Pass to be able to join the queue for some of our most popular Disney Park attractions during a specific allocated 30-minute time slot (subject to availability).
How to know if you need to reserve a Standby Pass for a specific ride or attraction?
Find out if the attraction you wish to ride requires a Standby Pass by consulting the official mobile app on your smartphone. You will also see a sign at the entrance of the attractions where Standby Pass is activated. If Standby Pass is not activated for your chosen attraction, simply join the ride line as normal.
How does it work?
Download the free Disneyland® Paris app via the App Store or Google Play
Create or log in to your Disney account 
Link your Disneyland Paris Park Tickets to your Disney account.
After entering a Disneyland Paris Park, you'll be able to choose an attraction and reserve a Standby Pass (if Standby Pass is activated for that attraction) for each person who wishes to ride. Disney will then allocate you the next available time slot
Arrive at the attraction entrance during your allocated 30-minute time slot and be ready to present your Standby Pass QR code.
Join the queue and get ready to enjoy the ride!
Additional Infomation
The Standby Pass service will only be activated during the busiest periods to help reduce wait times for certain attractions. You can still queue for these attractions without a Standby Pass at the beginning and at the end of the day (times may vary). 
You can only reserve one Standby Pass at a time, from 5 minutes after entering the Disney Parks.
When your allocated time slot has begun, you may reserve a Standby Pass for another attraction.
It is not possible to cancel or transfer a Standby Pass.
Psst! To manage your Standby Passes easily during the day, you can link all the Tickets and Passes for each member of your group to a single Disney account.