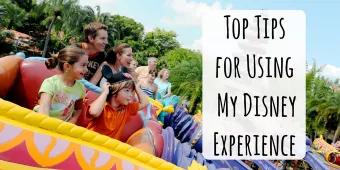 Tips to help you plan your Disney trip
From skipping the queues to meeting your favourite characters, here's our top tips for getting the most out of My Disney Experience…
My Disney Experience is a fantastic service included with your Disney tickets, that lets you plan your perfect trip in advance. You can reserve character greetings and shows, make restaurant reservations and secure skip-the-line access for your favourite attractions before you even get on the plane! We've put together a few top tips to help you master My Disney Experience…
Plan in advance:
This is our number one top tip and it's so important! Disney's FastPass+ service is part of My Disney Experience and it allows you to make 3 skip-the-line reservations of your choice for each day of your trip. What's even better, is that you can make the reservations from your sofa at home, up to 30 days in advance (with any Disney ticket) or 60 days in advance for those staying onsite at a Disney hotel.
Disney super fans will often book their reservations as soon as they possibly can, so we'd recommend doing the same, as you don't want to miss out and be left disappointed. It's a good idea to make a note of the day you can start making your reservations so you don't forget.
Make the most of your FastPass+ reservations:
We suggest making a rough plan of which park you'll be visiting on which day, so that you can make the most of the FastPass+ service by booking all 3 reservations. Don't worry if you need to change anything later, the free Wi-Fi in the parks means you can update your reservations at any time.
Download the My Disney Experience App:
The My Disney Experience App is absolutely essential for any Walt Disney World holiday, and the free Wi-Fi in the parks means you can use it throughout the resort. The app gives you all the park information you need, like opening hours, interactive maps, show times and live waiting times for all of the park's top attractions. You'll also be able to make dining reservations as well as additional FastPass+ reservations on the go, and make any changes to your plans.
Memory Maker is also included with your Disney tickets and if you link it to your My Disney Experience account, you'll be able to access all the photos from your trip on the app. They will automatically be loaded onto your account, so that you can view them all in one place and choose your favourites. 
Book more reservations when you arrive:
Did you know, you can make more FastPass+ reservations as you go? After you've enjoyed your third FastPass+ experience in the park, you can make another selection by visiting an in-park kiosk, or by using the free My Disney Experience App. Once you've used your latest reservation, simply book another and so on! This is a great way to ensure you spend as little time as possible waiting in line, plus you'll be able to make the most of any last-minute cancellations that become available.
Track down your favourite character:
If there's one Disney character you've always been desperate to meet, then tracking them down is bound to be at the top of your list. By using My Disney Experience to book a character greeting in advance, you're guaranteed the chance to snap a few selfies and have a chat with your favourite Disney star. You can book character greetings with the Disney princesses and Mickey and the gang.
Be theme park savvy:
It's a good idea to do a bit of research before you go, to find out which attractions are the most popular. This way you can secure your FastPass+ reservations in advance and avoid the longest lines. It makes sense to use your FastPass+ reservation for either your favourite ride or the park's most popular attraction so that you're guaranteed to get on without a long wait. This way you won't be left disappointed and can queue for the rides with shorter queues afterwards.
Make your dining reservations early:
At Walt Disney World, there are so many incredible restaurants to choose from, but the down side is that the most popular often get booked up months in advance. If there's a restaurant you've got your heart set on, we can't stress enough how important it is to book early! Character dining experiences are generally the most popular (particularly Cinderella's Royal Table and Be Our Guest) so if you want to enjoy this unforgettable experience you must book as soon as possible. You can make bookings up to 180 days in advance, so make sure you don't miss out.
Don't forget the shows:
Disney's FastPass+ isn't just for skipping the ride queues. You can also use it to reserve special viewing locations for a range of amazing shows, including dazzling firework displays and the Magic Kingdom parade.
Another good idea is to book evening entertainment for your rest day. It can be tiring walking around the Disney parks, and that's why most people planning a visit tend to allow for a rest day in-between. But, just because you're not spending a whole day at the parks, doesn't mean you should waste your FastPass+ reservations. If you fancy spending the day relaxing by your hotel pool, why not use your reservations to book an evening show followed by a few rides. This way you get the best of both worlds!
Got more questions about Disney's FastPass+ service? Click here, to find out all the answers.  
Ready to experience the magic? Click here, to view our great value Walt Disney World Resort tickets.
For more blog posts like this try…