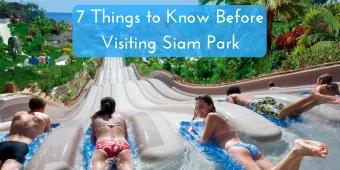 Get ready to make a splash!
Want to visit the 'best water park in the world'? There's 7 things you need to know before you go...
1. You can take a free bus to the park
Every 30 mins, a bus departs from different resort locations and takes you straight to Siam Park absolutely free. Guests staying in Los Cristianos, Las Americas and the Costa Adeje can take advantage of this service, which makes getting to the park really easy. At the end of your day, you can hop back on the bus and be dropped back off near your resort – simple! Make sure you check the park and bus timetables before you travel so you don't miss the last one!
2. Siam Park is TripAdvisor's 'Best Waterpark in the World'
…and has been for multiple years in a row! Siam Park was awarded this honour by the discerning reviewers on Trip Advisor in their annual Travellers Choice Awards, beating the likes of Walt Disney World Resort's Typhoon Lagoon and Blizzard Beach, as well as epic water parks like Universal's Volcano Bay.
3. You can hire towels and lockers when you get there
If you don't fancy lugging your things around all day, don't worry, you won't have to! Lockers are available at the park for between €5 and €7 depending on the size you need, and towels can be rented for €5 + a €5 deposit. If you don't fancy carrying your towel to and from the park or if you simply want to save space in your case on the way out, this is a really handy service! It also means if you're planning on taking any valuables to Siam Park they will be locked safely away while you go on the rides.
Don't worry if the lockers at the front of the park are full; there are multiple locker locations throughout the park which can be found on the map below.
4. Be careful with what you try and take on the rides
You'll be asked to remove things like sunglasses, reading glasses (you might want to consider wearing contacts if you can), goggles, flip flops, loose jewellery and video or photography equipment before going on the slides. The only exception is a go-pro mounted on a chest or head mount which is allowed on certain rides but is not allowed on Tower of Power!
5. You can upgrade your ticket to include queue-skip and all-you-can-eat!
If you're only visiting Siam Park for the day, you'll really want to make the most of your time there. Upgrade to an All-Inclusive Deluxe Ticket and you'll be given a wristband which allows you to skip the lines to every attraction (except Tower of Power) as many times as you like and avoid queues of up to an hour in peak times! Not only will you get to skip the queue though, you'll also have access to as much food and drink as you can manage, so you can keep hydrated and not have to worry about getting money from your locker all day.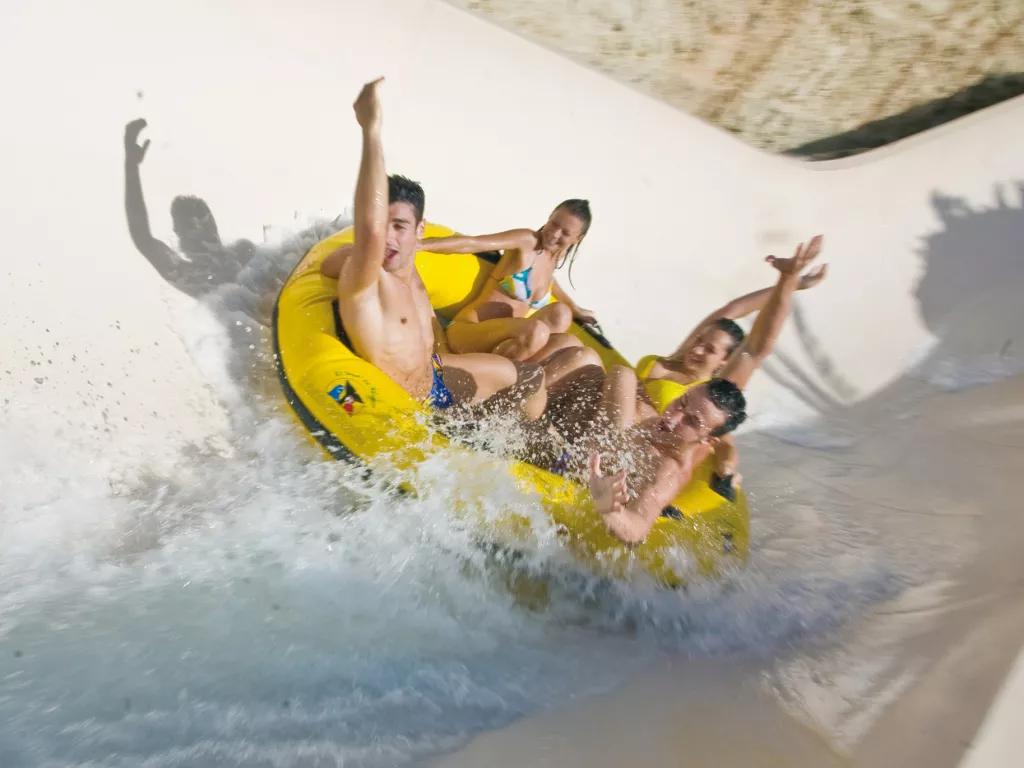 6. You can't bring food into the park
This is another great reason to go all-inclusive! Theme park food is often pricey so most customers will try to bring some food into the park. Unfortunately, with the exception of water, you can't bring anything into the park so leave the picnic basket at home! If you upgrade to the All-Inclusive Deluxe ticket of course you can help yourself to free food and drinks throughout the day, or with even the basic 1-day ticket from AttractionTickets.com you'll receive a free tasty burger* included with your ticket price.
7. Ride Tower of Power first
Although you might want to ease yourself in at Siam Park with a gentler water slide, we recommend going straight for Tower of Power. This attraction has no skip the line option, so it's a good idea to get on there early in the day before the park gets too busy. It also means if you're feeling a little nervous about plummeting 28m on a near vertical drop at 80km/h (and who wouldn't be?!) you get it over with right at the start! Who knows, you might even want to give it another go…
Still want to know more about Siam Park? Watch our video to find out more...
Ready to take the plunge at Siam Park? View our great value Siam Park tickets and book yours today! 
*T&Cs apply. This offer is valid for one hamburger per voucher and cannot be swapped or upgraded for anything else on the menu.