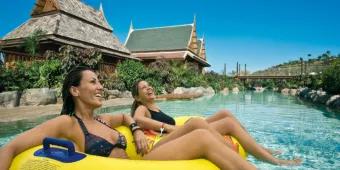 Etwas Abkühlung gefällig? Hier gibt's die Crème de la crème der Water-Fun-Parks
Wenn der Sommer uns fest im Griff hat und ein Hitzerekord den nächsten jagt, wollen alle nur noch eins: Ab ins kühle Nass!
Damit Sie auch genau wissen, wo Sie am besten den Sprung ins kalte Wasser wagen, haben wir hier die 10 besten Wasserparks weltweit aufgeführt. Wo soll die Reise hin gehen?
10. Jungle Aqua Park, Ägypten
Den Anfang in unserer Top 10 Wasserparks macht der Jungle Aqua Park in Ägypten. Nahe des Roten Meers gelegen, überzeugt dieser Wasserpark mit einer hohen Anzahl von Rutschen (35, um genau zu sein!) und anderen Attraktionen, die vor allem für die jüngeren Besucher einen ordentlichen Spaßfaktor vorweisen.
9. Water Country, USA
Der nächste Park auf unserer Liste ist der Water Country Wasserpark im Osten der USA. Dieser Park bietet außer hervorragender Verpflegung auch Rutschen, bei denen auch die großen Kinder voll auf ihre Kosten kommen. Besonderes Highlight: Die Colossal Curl Rutsche mit unvorhersehbaren Biegungen durch die Sie mit bis zu 4 Personen gleichzeitig sausen.
8. Hot Park, Brasilien
Der erste Vertreter aus Südamerika findet sich auf dem 8. Platz. In einer tropischen Atmosphäre erwarten einen hier hohe, lange und wilde Rutschen, sowie Becken in erleuchteten Höhlen. Gerade Kinder haben in diesem Park eine fantastische Zeit. Besonderes Highlight: Das Wasser im Park ist auf eine angenehme Temperatur erwärmt.
7.  Disney's Blizzard Beach, USA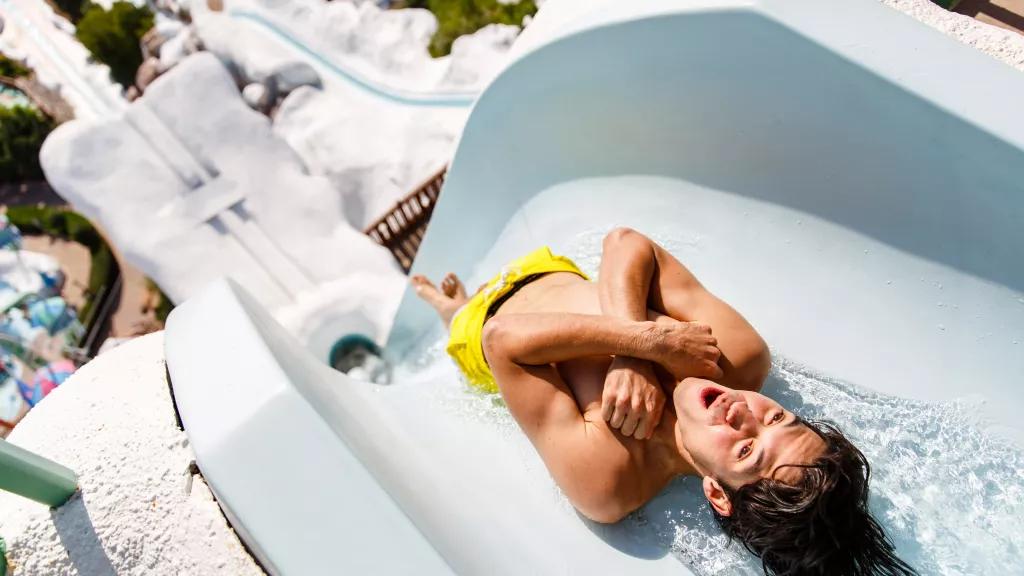 Auf der Nummer 7 kommt der erste große Name; der Blizzard Beach im Walt Disney World Resort in Orlando. In einer unglaublich detailreichen Kulisse aus Schnee und Eis gibt es hier eine Vielzahl spektakulärer Rutschen, die wirklich für jedes Alter die ein oder andere Überraschung bereit halten. Besonderes Highlight: Der Summit Plummet, mit einem nahezu vertikalen, 12-stöckigen Fall.
6. Aquaventure Waterpark, Dubai
Der beste Wasserpark Dubais und größte Wasserpark der Welt ist bei uns auf der Nummer 6 zu finden. Der atemberaubende Aquaventure Waterpark befindet sich auf der künstlichen Palmeninsel vor Dubais Küste und überzeugt durch 79 adrenalinreiche Rutschen und Attraktionen, inklusive einer Zip-Line durch den Park! Besonderes Highlight: Die Tower of Neptune Rutsche befördert einen in einem durchsichtigen Tunnel durch ein Becken voller Haie - sind Sie mutig genug für diese Rutsche?
5. Disney's Typhoon Lagoon, USA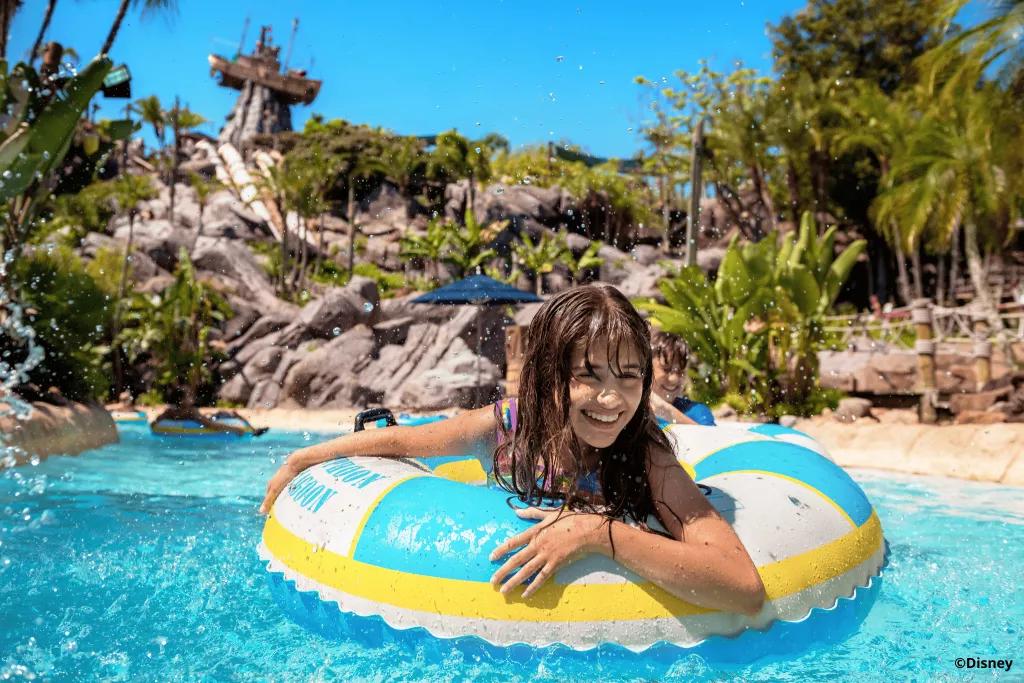 Im Park, der bei uns auf der Nummer 5 landet, fühlt man sich, als wäre man auf einem tropischen Eiland gestrandet. Im Typhoon Lagoon Wasserpark im Walt Disney World Resort in Orlando wird Abwechslung groß geschrieben. Ob wilde Rutschen oder ruhige, wie der Lazy River, oder aber Tauchen in einer der Lagunen im Park: Jeder findet hier genau das Richtige für sich. Besonderes Highlight: In der Typhoon Lagoon kann man sogar lernen, wie ein richtiger Profi-Surfer die Wellen zu reiten.
4. Waterbom, Bali
Auf unserer Nummer 4 befindet sich der beste Wasserpark ganz Asiens: Der Waterbom auf Bali in Indonesien. Mit mehr als 12 atemberaubenden Rutschen, einem eigenen Kinderbereich und noch mehr Attraktionen, lässt dieser Park das Herz eines jeden Wasserenthusiasten höher schlagen. Besonderes Highlight: Auf der Twin Racers Rutsche kann man gegen Familie und Freunde rutschen und herausfinden, wer schneller ist.
3. Aquatica, USA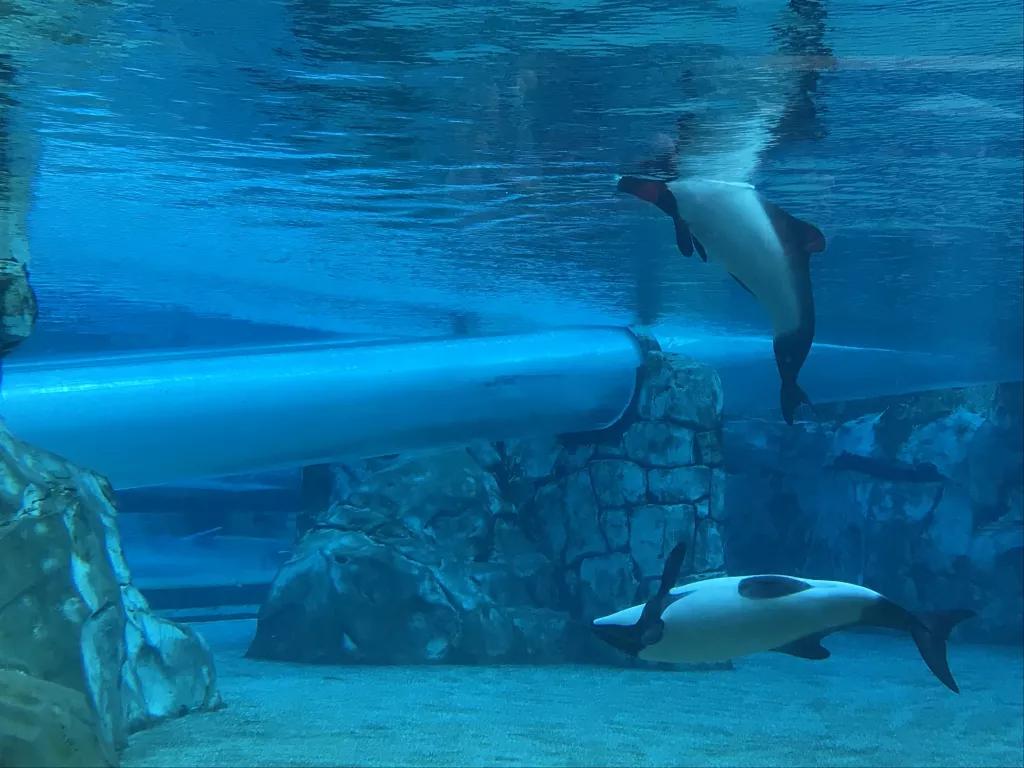 Jetzt sind wir endlich in den Top 3 Wasserparks der Welt angekommen. Den dritten Platz belegt der beste Wasserpark in Amerikas Themenpark-Hauptstadt: Der Aquatica Park in Orlando. Der Park hat neben ruhigeren, familienfreundlichen Rutschen auch echte Thrill-Rutschen für Nervenkitzel im Angebot, bei denen man in ungeheuren Geschwindigkeiten Kopf voran durch den Park schießt. Besonderes Highlight: Die Dolphin Plunge Rutsche führt in einer durchsichtigen Röhre durch ein Becken voller spielfreudiger Defline, die sich nicht selten gegen die schnellen Rutschenden messen.
2. Beach Park, Brasilien
Die Silbermedallie geht an den zweiten brasilianischen Wasserpark in unserem Ranking. Der Beach Park im brasilianischen Fortaleza lockt Touristen aus der ganzen Welt an. Grund dafür ist die Ausgewogenheit zwischen Entspannungsmöglichkeiten und Adrenalinschub-verursachenden Thrill-Rutschen. Besonderes Highlight: Die Insano Rutsche, die zwar nun nicht mehr die höchste Rutsche der Welt ist, aber weiterhin zu den verrücktesten Wasserrutschen der Welt zählt, lässt einen aus über 40 Metern in die Tiefe stürzen!
1. Siam Park, Spanien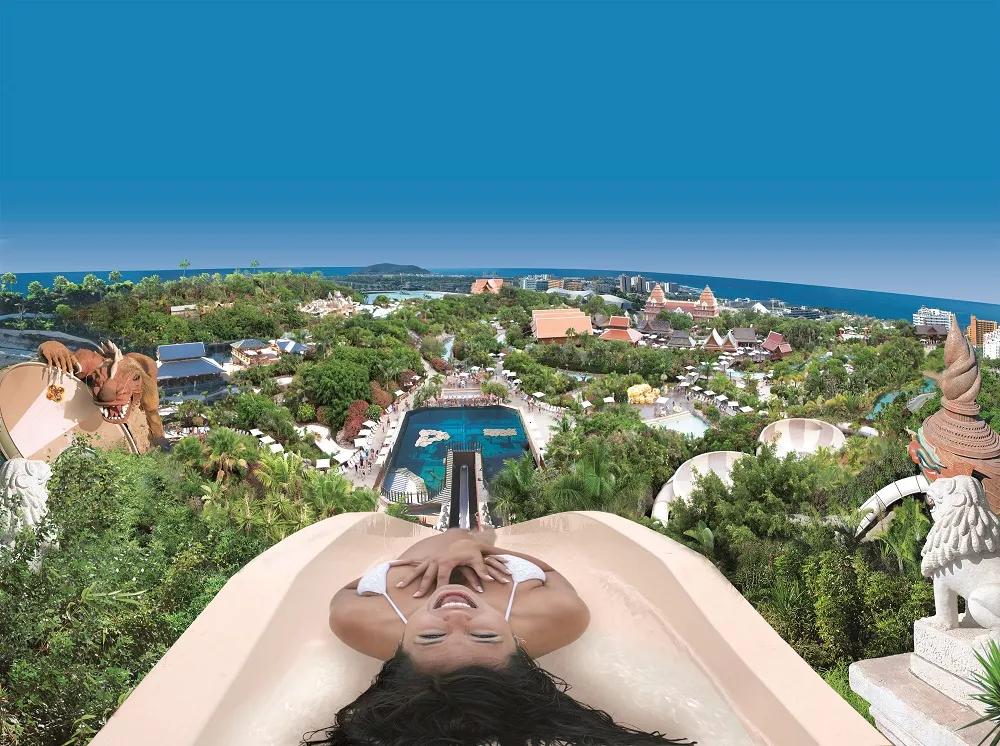 Der beste Wasserpark Europas ist gleichzeitig auch der beste Wasserpark der Welt. Im Süden der spanischen Mittelmeer-Insel Teneriffa liegt der berühmte Siam Park – ein Wasserpark der Extraklasse. Ob groß oder klein, jung oder alt, auf Entspannung aus oder Action: Dieser Park hält wirklich für jeden die passende Attraktion parat; wobei aber natürlich die  actiongeladenen Rutschen den Löwenanteil ausmachen. Besonderes Highlight: Ein fast freier Fall aus 28 Metern befordert einen in unglaublichen Geschwindigkeiten durch ein Unterwasser-Labyrinth – na, wagen Sie sich auf den Tower of Power?


Falls Sie auch dringend Abkühlung brauchen, entdecken Sie unser Angebot an Wasserparks auf unserer Webseite AttractionTickets.com/de. Mit den garantiert besten Preisen und E-Tickets, die Ihnen das Warten vor dem Park ersparen. Wir bieten exklusive Tickets für die Wasserparks im Walt Disney World Resort, Aquaventure in Dubai, Aquatica in Florida, dem Siam Park in Spanien und vielen, vielen mehr an. Lassen Sie den Wasserspaß beginnen!
Sie mochten diesen Blogpost? Diese könnten Ihnen auch gefallen: