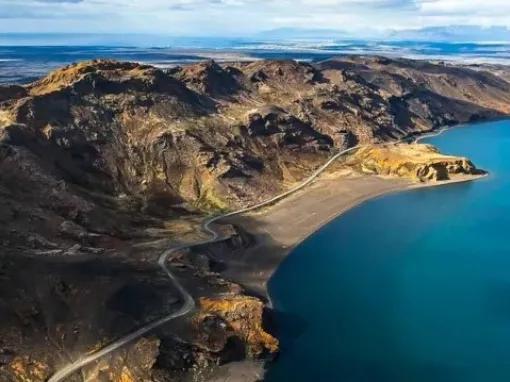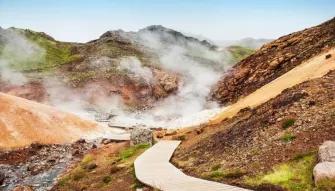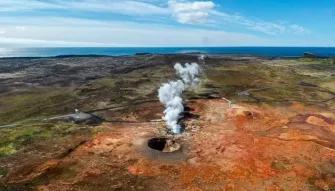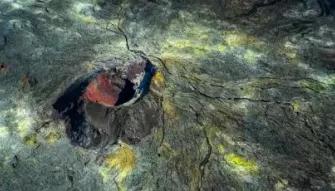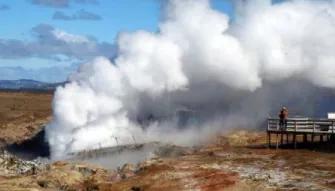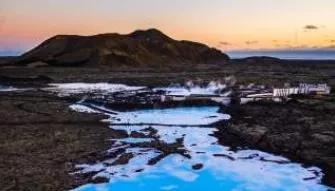 Volcano Wonders of Reykjanes Geopark
Full details
Explore the otherworldly beauty of Reykjanes Geopark's Volcanic Wonders. Witness dramatic landscapes, bubbling geothermal activity, and rugged terrain in this unique Icelandic natural wonder.
Our guide to Volcano Wonders of Reykjanes Geopark
The Reykjanes Geopark is located on a peninsula divided between two continents. This unique placement of the Reykjanes Peninsula on the drift zone between the North American and the Eurasian continental plates makes it a true Volcanic Wonder.
On the drive along the Reykjanes peninsula, you are constantly in the presence of the roaring Atlantic Ocean, endless lava fields, and volcanic craters. An alien landscape, decorated by windblown palagonite and petrified troll formations.
Your adventure starts by the youngest volcano in Iceland, Fagradalsfjall Volcano, and the surrounding lava fields. The hike up to the view point takes about 40 minutes, where you will be able to explore the devastating yet beautiful aftermath of this recent volcanic eruption.
From 2021 there have been three eruptions on the peninsula, the most recent one ended on 6th of August 2023. 
After the volcano hike, you stop by the bridge between continents, where you can walk between the continental plates that divide the peninsula. This stop underlines this unique placement directly on the Mid-Atlantic Ridge.
On your way back to Reykjavík, you will stop by the largest mud pool in Iceland, Gunnuhver. You can feel the ground shake from the enormous power released from the boiling water and steam released.
You will also visit one of the most iconic features of the Icelandic volcanic landscape, the boiling mud pools of Seltún, and the steaming colourful surrounding landscape. This stop is only available when the road to Seltún is open (usually closed during winter).
Blue Lagoon Comfort
When selecting the Blue Lagoon add on, you will get the Comfort Package which will give you entrance to the Blue Lagoon, silica mud mask, use of a towel, and a drink of your choice. 
People who purchased Volcano Wonders of Reykjanes Geopark also viewed...