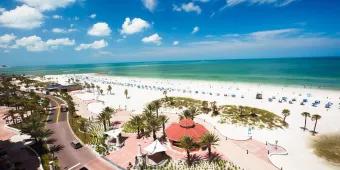 By Attraction Tickets' Florida Experts, Susan and Simon Veness
Whether you're new to Orlando holidays or a seasoned pro, a day spent beachside is the perfect way to slow down and say, "Ahhhhhh!" And it gives you a taste of "the other things" Florida is known for: sun, sand and surf.
Every time we visit Clearwater we're reminded how much we love the area, and why it is such a fantastic addition to an Orlando holiday. Here are eight reasons you'll love all it has to offer, too, and the amount of time you should plan for each experience.
Clearwater Beach: The most obvious draw of Clearwater Beach—the strip of land connected to the city of Clearwater by a long causeway—is, of course, the beach. With white sand stretching out in both directions and the warm, clear-blue seas of the Gulf of Mexico, the beaches here are world-class. In fact, we voted three beaches in Clearwater and nearby St Pete the "best in Florida" in a recent Top Beaches feature. Along with Clearwater Beach, the absolute tranquility of North Beach at Fort De Soto and the hidden gem of Pass-A-Grille beach are well worth a day away during your Orlando holiday.
Clearwater Beach is the bustling big brother of the three, with loads of restaurants and shopping intertwined with high-rise hotels and condominiums along the main strip of Coronado Drive (which transitions into Mandalay Avenue at a rare Floridian roundabout). Frenchy's on the Beach is a local institution for its superb Grouper Sandwich, while the new Crabby's has good food and fantastic views over the Gulf and the Intracoastal Waterway.
Time Commitment: Plan for a full day…or more!
Clearwater Marine Aquarium: This is a fantastic family adventure loaded with the kind of educational insights that feel like fun rather than schooling. Watch a medical procedure being performed; attend presentations on sea turtles, otters, stingrays and dolphins; participate in a hands-on or photo experience; or opt for a boat or kayak tour out on the calm Intracoastal Waterway.
The aquarium rose to fame thanks to Dolphin Tale, a book and movie about Winter - the world's first dolphin with a prosthetic tail. After becoming entangled in a crab trap back in 2005, she was rescued and rehabilitated at Clearwater Aquarium, where she became an ambassador, inspiring children with disabilities from around the globe. Sadly, Winter passed away in 2021 however her legacy lives on and the aquarium continues to rescue more and more sea life from Florida's waters. 
Time Commitment: 2 hours or more.
Captain Memo's Original Pirate Cruise: This one appeals mainly to families, especially with young children, but it's such an iconic sight in Clearwater Beach you'll want to have your camera ready even if you don't go for a ride. The Pirate's Ransom ship comes complete with swashbuckling pirates who keep kids of all ages entertained with stories, games, activities and music, and keep the adults' goblets filled with grog.
Captain Memo's hasn't reached its 40th anniversary of providing high-seas fun in Clearwater Beach for no reason, making it an exceptional choice for a genuine family adventure.
Time Commitment:3 hours, one of which is required for check-in and boarding, with the remaining two hours out to sea, or around the calm Intracoastal Waterway if the weather is rough.
Dolphin Encounter cruise: As you would imagine, there are quite a few ways to get out on the Gulf waters, and several of them include dolphin sightings. This area is so rich with wildlife, many tours guarantee you'll see dolphins. Most of these excursions depart from Clearwater Bay, just opposite Pier 60 (we'll get to that in a minute), making them entirely accessible from the beach, so you can throw on a cover-up or a tee-shirt and shorts, grab your flip-flops, and spend an hour poodling around the Gulf.
If you've always wanted to view dolphins from inside a shark, Mega Bite is the boat for you. More the tiny tugboat type? Try Little Toot. Or, if you're the adventurous traveller who likes to be in charge of their destiny, hire a Jet Ski or Wave Runner from one of several operators.
But for sheer comfort, The Tropics Boat Tours take up to 125 guests into the Gulf on a large pontoon-style, double-decker catamaran, appropriately fitted out with two waving palm trees. It's impossible not to see this one coming, and it also offers a leisurely sunset cruise after a day on the beach. The upper deck is open for maximum enjoyment of the sun and surf, while the lower deck has enclosed seating for those who prefer a more shaded environment. They even offer drinks packages to turn your tour into a mini party.
Time Commitment: 1-2 hours, depending on which tour you choose.
Sea Screamer: Yes, it's billed as "the world's largest speedboat." Yes, it looks like the screamin' hot beast you'd own if money were no object. And Yes, it's just that much fun! Another surprising Yes here is, even babies can ride—though we suggest checking how tight your grip is if wave conditions are rough, because while the seats are plenty deep and the edge of the boat is plenty high, there are no seat belts or child-carrier restraints, so children too young to sit on their own must be held. That said, you're in for a HUGE thrill once the boat reaches the Gulf!
It all starts innocently enough, with a slow, leisurely cruise out of Clearwater Bay, and a terrific off-shore view of the beaches when you reach the Gulf, but then it's time to hit the gas pedal and get those dual twin-turbo charged diesel engines cranking! The massive wake the boat spits out behind it creates perfect surfing waves for dolphins—and we don't mean metres away! Get ready for an unforgettable close encounter!
Time Commitment: 1 hour, plus time to check in and board the boat.
Nightlife: If all of those options fill up your day, the area doesn't close down once night falls. Pier 60 is the place to be for the fun daily sunset celebration, with plenty of games for kids and live entertainment, but the main strip also has bars and restaurants, as do all of the resort hotels along the beach.
Time Commitment: Check your stamina level and decide from there!
Whether you plan for a Twin Centre stay that includes Clearwater or you decide at the last minute you need an extra day to take it all in, the newly-refurbished Hyatt Regency Clearwater Beach Resort and Spa features massive rooms with full kitchens and ample bathrooms, so you can be comfortable for as long as you're there. It offers a fabulous eighth-floor pool deck, is right on Gulfview Boulevard for easy beach access and is only a five-minute stroll from Pier 60.
Time Commitment: Anywhere from one day to "I'm staying here forever!"
Not using a hire car during your Orlando stay? No problem! Only have one day and want to pack a lot in? Of course you can! Want to try a few of the local beers as well as the local cuisine? Just say "YES", and let AttractionTickets.com do the driving. They offer a range of tours to Clearwater, all of which also include lunch, and you'll find them here: Clearwater Beach Tours.