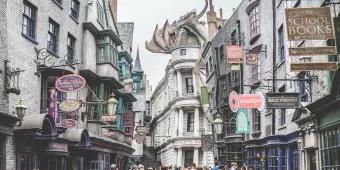 Harry Potter's number one shopping destination
All the familiar names are brought to life in Florida's own Diagon Alley, including Ollivanders and the infamous Weasley's Wizard Wheezes...
In the Harry Potter movies and books, Harry and his friends must use a specific combination on the brick wall of the Leaky Cauldron to access their wizardly supplies on Diagon Alley. However, all aspiring witches and wizards are only required to take a trip to The Wizarding World of Harry Potter in Orlando for their magical needs.
For additional authenticity, JK Rowling insisted that the Wizarding World shops were exact replicas of those shown in the movies, so prepare to get cosy in these miniscule stores!
Although hours can be spent exploring this enchanting street, here we narrow down our favourite stores, those that simply cannot be missed on your trip to the Wizarding World of Harry Potter.
Step in to Harry, Ron and Hermione's shoes and embrace the bustling high-street that is Diagon Alley!
1. Ollivanders
No aspiring Wizard's trip to Diagon Alley would be complete without dropping in to Ollivanders to pick up their most vital item – a wand! Piles of boxes of wands line the walls, reaching high up to the ceiling, waiting to select their owner. To truly embrace the magic of the Wizarding World of Harry Potter, purchase an interactive wand at Ollivanders. Using special motion sensors, this wand will allow you to cast various spells throughout the park, giving you the ability to make fountains squirt water and turn lights on and off.
2. Madam Malkin's Robes for all Occasions
Have you ever wondered what you would look like in Dumbledore's robes? Are you Looking for the perfect outfit to set off your wizarding look? Then look no further than Madam Malkin's Robes for all Occassions. Madam Malkin's is also the hotspot for picking up all Hogwarts merchandise, including scarves, hats and sweaters. You'll also want to peek at your new garments in the mirror inside Madam Malkin's – you're likely to be given an extremely honest opinion…
3. Magical Menagerie
Behind every great witch or wizard is a cuddly/feathered/scaly companion. The Magical Menagerie is the ideal point to meet your new furry friend. If you happen to speak parseltongue, you may even be able to converse with Nagini who resides in one of the shop windows.
4. Quality Quidditch Supplies
By The Conmunity - Pop Culture Geek from Los Angeles, CA, USA [CC BY 2.0 (http://creativecommons.org/licenses/by/2.0)], via Wikimedia Commons
An essential stop on every sports fan's shopping journey. Quality Quidditch Supplies is the location to buy everything related to the Wizarding World's favourite sport, including brooms, Golden Snitches and Bludgers. Stock up on Quidditch supplies and bring this much-loved sport to a town near you. The more vigilant shopper will not miss the moving posters featuring Chudley Cannons players plastered across the walls.
5. Weasley's Wizard Wheezes 
This vibrant centre of chaos is a flawless replica of the joke shop belonging to troublesome duo, Fred and George Weasley. Much like the film, the shop contains many practical joke objects, including Extendable Ears, U-no-poo and Pygmy Puff's. If you do purchase a Pygmy Puff, the shopkeeper will ring a bell and announce your Pygmy Puff's name to the whole store!
6. Sugarplum's Sweet Shop
Suppress those hunger pangs after your shopping trip with a visit to Sugarplum's Sweet Shop. Although the Chocolate Frogs neither croak nor jump like they do in the movies, these tasty treats are extremely popular with adults and children alike. Another item that cannot be missed from your shopping list are the 'Bertie Bott's Every-Flavour Beans', like in the books and movies these beans come in a variety of curious flavours, including the revolting tastes of earwax and vomit. Whatever sweet treat takes your fancy, it is almost guaranteed that you will walk out of Sugarplum's Sweet Shop with a full stomach and a smile on your face!
Written by Chloe Flatt
If you would like to take a visit to Diagon Alley, click here to view our Universal Orlando Resort tickets.
Liked this post? You may also like...