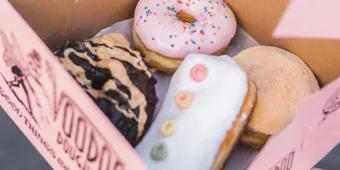 Treat yourself this National Doughnut Week!
Whether you're into a simple glazed doughnut or an extravagant filled delight, there are doughnuts to suit everyone's taste buds at the Orlando theme parks.
In recent years, the Orlando theme parks have become well known for their delicious and Instagrammable food options, from giant cake-topped milkshakes to themed soft-serve. But sometimes you just can't beat a classic treat like the good old fashioned doughnut… Although there's nothing old-fashioned about these ones!
Voodoo Doughnut 
Universal Orlando Resort, City Walk 
Voodoo Doughnuts are now more of a phenomenon than just a dessert! These crazy creations include both ring doughnuts and filled doughnuts, with flavours like Maple Bacon, Butterfingers and Tangfastic, as well as classics like chocolate and sprinkles. 
They also sell a range of specialities like the famous Voodoo Doll and an Orangesicle doughnut that's exclusive to Universal Orlando. Plus they have a number of vegan doughnuts too! You won't want to leave City Walk without a pink box full of these goodies. 
Everglazed Donuts and Cold Brew 
Walt Disney World Resort, Disney Springs
This is a relatively new addition to Disney Springs, serving delicious fresh doughnuts every single day. As well as classic sprinkle and iced doughnuts, this stall offers sweet treats like the Cinnamon Toast Crunch, S'mores Galore and Brooklyn Blackout (a chocolate lover's dream!) 
But what takes this location to the next level is the sandwiches and burgers made with doughnuts instead of buns and the cold brew toppers. That's right, an iced coffee topped with one of their delicious doughnuts. 
Lard Lad Donuts 
Universal Orlando Resort, Universal Studios Florida 
Mmmmm… doughnuts. It's no wonder that Homer Simpson loves these doughnuts so much, because we do too! These famous sprinkled doughnuts are practically the size of your head, making them perfect for sharing - or keeping all to yourself, we won't judge! 
The sprinkle doughnuts are also joined on the menu by D'oh-Nut sundaes and plenty of other desserts and ice creams that will wash down great with a drink or two from Moe's Tavern. Here are six other fun things you can do in Springfield U.S.A while you're there! 
Erin McKenna's Bakery NYC
Walt Disney World Resort, Disney Springs
Erin McKenna's Bakery is the perfect place for anyone with dietary restrictions, as their whole menu includes vegan, gluten-free and kosher cakes, cookies and more. One of their most famous treats are their doughnuts, with flavours including Cinnamon Sugar, Coffee Crunch, Vanilla Dipped, and some seasonal offerings too.  
Even if you don't have any dietary restrictions, we'd recommend these doughnuts and other baked goodies as they're some of the best you can find! 
Chef Art Smith's Homecomin'
Walt Disney World Resort, Disney Springs
For a more savoury twist, Chef Art Smith's Homecomin' restaurant is known for its fried chicken and doughnuts - yes you did read that right! Two pieces of fried chicken are served alongside sugar doughnuts and syrup, and it's delicious. 
If you'd rather stick to the sweet options though, their weekend brunch menu includes doughnuts served with either pecans, bacon and caramel or sugar, spiced cane syrup and fresh fruit, and there are always sugared doughnuts on their dessert menu.