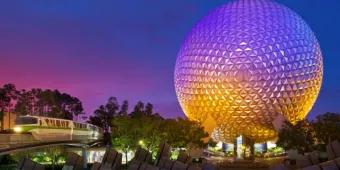 Große Neuigkeiten!
In Epcot stehen große Veränderungen an…
Letzte Woche hat Epcot - der Walt Disney World Park, in dem sich alles um Wissenschaft, Technologie und Weltraumfahrt dreht - seinen 35. Geburtstag gefeiert. Hierbei wurde auch heiß die Zukunft des Parks diskutiert, darunter auch brandneue Attraktionen.
Eine der wichtigsten neuen Attraktionen für die Entwicklung Epcots ist Guardians of the Galaxy. Diese soll Universe of Energy, eine der ältesten Attraktionen des Parks, welche am 13. August geschlossen wurde, ersetzen. Hierzu gab es bisher jedoch nur spärliche Informationen. Uns war lediglich bekannt, dass die Attraktion an den früheren Epcot-Besuch des Helden Peter Quill (Star Lord) erinnern soll, und dass es die Möglichkeit geben soll, einige der Helden aus dem Film, darunter Groot und Gamora, persönlich zu treffen (siehe Darstellung).
Glücklicherweise kann ein so großes Geheimnis nicht lange gehütet werden. Bei den Feierlichkeiten zum 35. Geburtstag Epcots wurde nun offiziell bestätigt, dass die neue Guardians of the Galaxy Attraktion eine Achterbahn wird – die erste in der langen Geschichte des Parks! Epcot war bisher der einzige Disney-Park weltweit ohne Achterbahn, daher sind dies wirklich große Neuigkeiten.
Die neue Achterbahn wird im selben 10-stöckigen Gebäude untergebracht wie Universe of Energy und somit eine Indoor-Achterbahn – so viel ist offiziell. Es wurde jedoch ein Patent für ein Riesenpendel angemeldet, welches angeblich zeigt, wie der neue Ride aussieht. Auch wenn die folgende Abbildung schwer als Rollercoaster zu interpretieren ist, sind wir mehr als gespannt, wie der neue Ride letztendlich aussehen wird – egal was es wird!
Zeigt dieses Design tatsächlich den neuen Guardians of the Galaxy Ride? Oder einen neuen Spiderman Ride (das Schaukeln/Schwingen erinnert uns an Spiderman, wie er sich zwischen Gebäuden hin- und herbewegt)? Oder sogar einen Tarzan Ride? Bleiben Sie auf dem Laufenden mit unserem Blog!
Um die wundervolle Welt von Epcot in Ihrem nächsten Urlaub zu besuchen, buchen Sie Ihre Walt Disney World Tickets am besten schon im Voraus!
Ihnen hat dieser Blog gefallen? Diese könnten Ihnen auch gefallen: