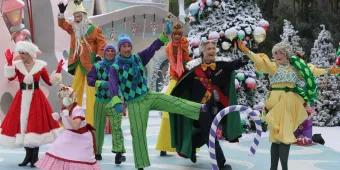 Wussten Sie, dass viele Ihrer Lieblingsfilme in den Universal Studios Hollywood gedreht wurden?
Die Universal Studios Hollywood sind vielen als Themenpark bekannt. Seit über 50 Jahren werden hier allerdings auch Dutzende von Filmen gedreht. Bei der Studiofahrt durch den Park kann man diese kultigen Filmsets bestaunen und sogar durch historische Kulissen laufen. Das AttractionTicket.com Team hat eine kleine Auswahl für Sie zusammen gestellt.
Finden Sie hier unsere Liste der 10 ikonischsten Universal Filmsets für Ihren Besuch der Universal Studios Hollywood:
1. Jurassic Park
Wer kennt nicht dieses unglaubliche Science-Fiction Abenteuer mit seinen Spezialeffekten und lebensgroßen Dino Animationen. Anders als der Titel vermuten lässt, sind Brachiosaurus und Dilophaurus die einzigen Dinosaurier aus der Jurazeit; alle anderen Spezien des Films existierten nicht vor der Kreidezeit. Allerdings wäre "Cretaceous Park" ein weniger erfolgreicher Titel gewesen. Die Studio Tour führt Sie durch die beeindruckende Landschaft der Isla Nublar, aber seien Sie vorsichtig: Ihnen könnte der ein oder andere Dinosaurier über den Weg laufen.
2. Der Weiße Hai
Seit 1976 (kurz nach Veröffentlichung des Films) werden Besucher bei der Studio Tour vom riesigen Weißen Hai überrascht. Obwohl der Film eigentlich in Martha's Vineyard, Massachusetts gedreht wurde, sind Teile des Sets extra für die Studio Tours nachgebaut worden.
3. King Kong
Machen Sie sich bereit auf das preisgekrönte weltweit größte 3D Erlebnis: im Kong Skull Island set werden Sie Zeuge des beeindruckenden Kampfes zwischen King Kong und T-Rex!
4. Transformers
Obwohl Transformers eigentlich von Paramount Pictures veröffentlicht wurde, ist ein wesentlicher Teil der entscheidenden Schlacht in der New York Street der Universal Studios entstanden.
Für zusätzliche Transfomers-Action sollten Sie unbedingt den 3D-Ride "The Greatest Battle You'll Ever Ride" ausprobieren: Starten Sie zu Fuß durch die Korridore der Militärbasis N.E.S.T bevor Sie sich in Mitte eines spektakulären Kampfes zwischen Autobots und den Decipticons wiederfinden.
5. Zurück in die Zukunft
Freunde der 80er dürfen auf keinen Fall den Court House Square verpassen: Hier wurden einige der kultigsten Szenen aus "Zurück in die Zukunft" gedreht. Bei der VIP-Tour können Sie sogar aus dem Bus aussteigen, zu Fuß durch das Set laufen und ein Foto auf den berühmten Gerichtsstufen machen.
6. Psycho
Das Filmset des Bates Motels ist eines der Highlights der Studio Tour. Hinter dem originalen Filmauto können mutige Besucher das unheimliche Psychohaus erkunden.
7. Grinch
Seit der Entstehung dieses beliebten Weihnachts-Klassikers im Jahr 2000 können Besucherinnen das bunteste und verrückteste Filmset der Tour bestaunen. Insbesondere die kleinen Besucher kommen hier auf ihre Kosten: Diese weihnachtliche Location bietet mehr als 1900 Zuckerstangen und Kunstschnee, der gleich neun Football-Felder bedecken könnte. Aber Vorsicht: Halten Sie Ausschau nach dem Grinch – er hat die Angewohnheit, sich anzuschleichen und die Gäste zu erschrecken.
8. Krieg der Welten
Das Set, in dem die Flugzeugabsturzszene des Hollywood-Epos "War of Worlds" gedreht wurde, ist definitv eines der kultigsten der Universal Studios Hollywood. Um diese dramatisch apokalyptische Szenarie zu schaffen, kaufte Universal einen echten 747 Ex-Commercial-Jet für ganze 60.000 Dollar, um ihn dann in Stücke zu zerlegen. Während der VIP-Tour können die Gäste die Straßenbahn verlassen und die verunglückte 747 aus nächster Nähe auf den Spuren von Tom Cruise und Steven Spielberg erkunden.
9. Bruce Allmächtig
Die Universal Studios waren nicht nur Drehort actiongeladener Filme. Hier sind auch viele Szenen von Jim Careys berühmter Komödie "Bruce Allmächtig" aus dem Jahr 2003 entstanden. Beispielsweise in der Brownstone Street, die darauf abgezielt, wie eine ganz gewöhnliche Wohnstraße in den USA auszusehen.
10. Wisteria Lane von Desperate Housewives
Als Teil des Backlot-Sets ist die Wisteria Lane vor allem bekannt aus der Fernseherie Desperate Housewives. Seit dem Ende der Show hat sich die Straße allerdings etwas verändert: Die berühmten weißen Zäune und Glyzinien wurden beispielsweise entfernt, damit die Location auch wieder für andere Filme verwendet werden kann.
Die Straße ist ebenso in Buffy die Vampirjägerin, Beethoven, Sabrina – Total verhext! und in den Musikvideos von The Offspring Why Don't you get a Job und Nelly und Kelly Rowlands Dilemma zu sehen.
Sollten Sie die Universal Studios Hollywood VIP Experience buchen, können Sie sogar die Straße entlang schlendern und nicht nur von der Straßenbahn aus sehen.
Ihnen hat dieser Blog gefallen? Diese Blogs könnten ebenfalls für Sie interessant sein: