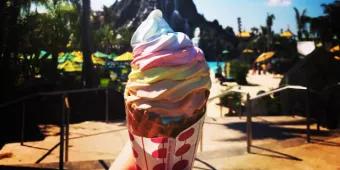 Wie viel können Sie essen?
In Orlando gibt es nicht nur Achterbahnen sondern auch eine fantastische Auswahl an Food Spots.
Orlando und seine fantastischen Themenparks haben einige legendäre Leckerbissen zu bieten, die fast schon zu schade sind, um sie zu vernaschen. Wenn Sie Ihren Instagram-Account mit tollen Food-Shots füttern wollen, haben wir die fototauglichsten und leckersten Naschereien für Sie zusammengefasst.
The Dole Whip
Wir beginnen mit einem Klassiker. Das Pineapple Dole Whip in Disney's Polynesian Resort ist schon lange keine Neuigkeit mehr. Upgraden Sie das Eis mit einer Hei Hei Cone und dem Instagram-ready Chicken-Shaped Raspberry Dole Whip. Was hat Hühnchen mit leckerer Eiscreme zu tun? Die Dekoration des Eis ist an Moana's federreichen Freund angelehnt – das Eis selbst verzaubert Sie mit fruchtigem Himbeergeschmack.
The Big Pink Lard Lad
Drüben in den Universal Studios Florida gibt es den The Big Pink aus dem Lard Lad Donut-Laden in Springfield. Wenn Sie nicht auf der Suche nach einer Herausforderung sind, sollten Sie diesen Snack vielleicht mit der Familie teilen – dieser Donut ist riesig! Der Donut selbst ist nur ein klassischer Ring, bedeckt mit rosa Zuckerguss und Streuseln, schier seine Größe hat ihn zu einer Internet-Sensation und einem der begehrtesten Desserts in Orlando gemacht.
The Toothsome Shake
Das Toothsome Chocolate Emporium & die Savory Feast Kitchen befinden sich am Universal Citywalk. Hier erhalten Sie entweder Dinner-Klassiker (Pasta, Sandwiches, Burger) oder extravagante Desserts – oder beides, wenn denn noch Platz ist. Wenn Sie sich nicht zwischen einem Cupcake, einem Eis oder einem Milchshake entscheiden können, machen Sie sich keine Sorgen – hier gibt es genau das Richtige für Sie: den Red Velvet-Shake. Dezent ist der Shake nicht, aber der erhöhte Zuckerspiegel sollte Ihr Energieniveau aufrechterhalten, um lange Tage in den Themenparks zu überleben.
The Mermaid Cupcake
Ein weiteres Dessert, welches bei große Wellen geschlagen hat, ist der Mermaid-Cupcake. Diesen gibt es mittlerweile an verschiedenen Stellen zu kaufen: Unter anderem auf der Mainstreet USA, bei Epcot und im Art of Animation Resort. Der süße Küchlein besteht aus einem Vanilla Sponge Cake, Rice Crispy Perlen, blauer Buttercreme und einem Meerjungfrauenkeks. Ariel hat zwar mittlerweile Beine, aber sie hätte ihren Cupcake sicherlich auch so gewollt.
Butterbeer
In der Zauberwelt von Harry Potter gibt es sechs verschiedene Möglichkeiten, Butterbier zu trinken – und zu essen. Die beliebteste Wahl ist der gefrorene Drinkversion, die sich am besten für ein sehr britisches "Cheers" und die Herstellung eines cremefarbenen Schnurrbarts eignet. Sie können auch eine warme Version (traditionell zu den originalen Harry-Potter-Büchern), sowie Butterbierfudge und Eis kaufen. Was auch immer Sie wählen, heben Sie Ihre Leckerei, entweder vor dem Schloss von Hogwarts oder vor dem feuerspeienden Drachen in der Winkelgasse, um das klassische Instagramfoto zu sichern.
Der Fizzy Mickey
Ein mädchenhafter Hingucker: Diesen lecker sprudelnden Wein bekommen Sie in Amorette's Patisserie bei Disney Springs. Oben drauf sitzen essbare Minnie-Öhrchen. Das gewisse Etwas für Feiern, Afternoon Tea oder – wie könnte es auch anders sein – Social Media.
Sind Sie bereit Ihren Florida Urlaub zu planen? Klicken Sie hier um und finden Sie unsere Orlando Attraktionen.
Diese Blogs könnte Sie auch interessieren: