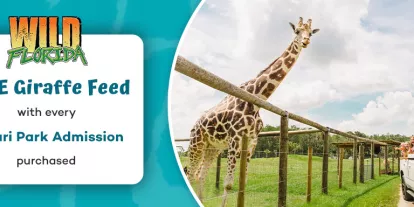 Free Giraffe Feed Included with all Wild Florida Drive Thru Safaris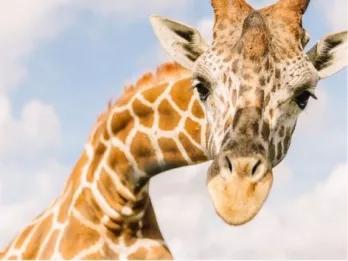 Ticket Deal
Added Happiness! Buy your Wild Florida Drive Thru Safari Tickets in advance and receive FREE Giraffe Feed as an exclusive added value Extra. Offer only available with AttractionTickets.com
Get more from your Wild Florida Drive Thru Safari Tickets with our exclusive Free Giraffe Feed offer! 
Buckle up for your wildest car ride yet! Visit Wild Florida's Drive-thru Safari Park and discover more than 150 native and exotic animals roaming freely. Enjoy identifying species from as far away as the African savanna to others from the deciduous forests of North America, all from the comfort of your own car. See zebras, turkey, watusi, zedonk, deer, water buffalo, emu, wild boar, eland antelope, scimitar oryx, American bison, mouflon sheep, and more! 
But the fun you'll have isn't confined to your car. Take your adventure to new heights and feed giraffes from the elevated giraffe feeding platform with the giraffe feed included free with your Drive Thru Safari Tickets. 
After you've had your "four-wheel-fun", stretch your legs inside the Wild Florida Gator Park. Admission is included in the price of your Drive-thru Safari Park tickets and allows your family to view more than 200 additional animals, as well as enjoy a variety of educational animal shows.
Terms and Conditions:
Receive one free Giraffe Feed pack per party with the purchase of a qualifying Wild Florida Drive Thru Safari Tickets. 
AttractionTickets.com will send you an open-dated Giraffe Feed voucher with your Wild Florida Drive Thru Safari Tickets which can be easily redeemed at the giraffe feeding platform at the park.
Valid for all Wild Florida Drive Thru Safari bookings made after 15 August 2022. 
Offer may be withdrawn at any time without notice and is only valid whilst stocks of our free Wild Florida Giraffe Feed tickets last.
People interested in also viewed...
Back to offers