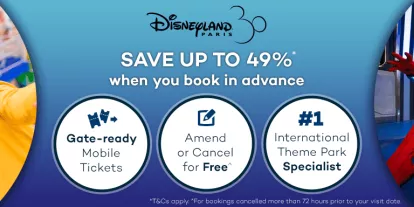 Great Reasons to Book Disneyland Paris Tickets
Added Happiness! Imagine a land where the wonderful world of Disney comes alive. Imagine Disneyland® Park, where make-believe is real and Walt Disney® Studios Park, where the magic of Disney meets the magic of cinema.
Get closer to the magic with your Disneyland Paris Tickets and discover classic Disney characters and five enchanting lands at Disneyland Park, then hop across to Walt Disney Studios Park where the world of cinema and television comes to life. Disneyland Paris is where stars light up the skies in a dazzling galaxy... not so far away. Where new adventures come alive, shining brighter than ever. All in a magic kingdom, celebrating life's most precious and most starry-eyed moments.
Buy your Disneyland Paris Tickets in advance to save time on arrival at Disneyland and Save up to 49%
Our Disney Paris Ticket range offers a variety of options for Disneyland Park and Walt Disney Studios Park. Book one of our popular Disneyland Paris 'Hopper' tickets to experience all the magic of Disneyland Paris theme parks for up to four days. If you are limited on time, our Disneyland Paris 1-Day/1 Park Dated Ticket could be the ideal Disney Paris ticket option for you.
Secure your Disneyland Paris dates in Advance: Most Disneyland Paris Tickets are now date specific to ensure maximum value and include your Disney theme park reservations to avoid any disappointment on arrival. Buy a date Disney Paris ticket in advance and save up 49%
Flexible Amendment and Cancellation Terms: Dated Disneyland Paris Tickets can be amended or cancelled with a full refund up to 3 days before your selected visit date should your holiday dates change
Choice of ticket durations: There is a choice of 1 to 4 day Disneyland Paris Tickets available; Buy tickets for consecutive days and enjoy access to both Disney Parks. You'll also pay less per day!
Open-dated Disney Paris Tickets: For those who are unsure of their plans at the time of booking or wish to purchase their Disneyland Paris tickets as a gift, there is the option of the Disneyland Paris 1-Day Open-Dated Ticket. This ticket cannot be cancelled and a separate theme park reservation will be required before visiting Disney Parks, but this option gives the flexibility to visit Disneyland Paris anytime within 12 months of purchase. 
Such magical moments cannot wait, so purchase your Disneyland Paris Tickets today!
Terms and Conditions:
People interested in also viewed...
Back to offers