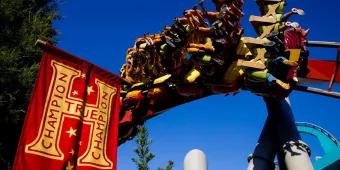 New ride alert!
An exciting new announcement from Universal Orlando Resort!
The Dragon Challenge ride at Universal's Islands of Adventure has been a fan favourite since the park opened in 1999, when it opened in its original incarnation of 'Dueling Dragons'. As one of the first rides to open at the new park, the attraction's two-sided, intertwined and inverted ride experience quickly cemented it as one of the best rides at the park. When the Lost Continent land closed to make way for the Wizarding World of Harry Potter, Universal's creative team reimagined the ride to be included in the new Hogsmeade area.
However, all good things must come to an end and yesterday Universal announced that the ride would be closing for good on the 4th September this year. The move is to make way for a brand-new Harry Potter themed ride which is expected to open in 2019.
"This ride is going to redefine the category and transport you to thrilling places, drawing you into even more exciting adventures within the wizarding world," a post on Universal Orlando's official parks blog, 'Close Up', said.
We don't know a lot about the new ride, only that it will be a thrill ride and a coaster and that it will also be fun for the whole family. The new attraction is expected to be one of the most highly-themed coaster experiences the park has ever created and so, judging from the other incredible rides you'll find within the Wizarding World of Harry Potter, we have big expectations for this new attraction!
Don't want to miss out on one last ride of this iconic Islands of Adventure attraction? Book tickets to Universal Orlando Resort right here.
Liked this post? You may also like…