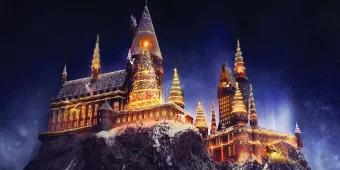 Erleben Sie ein wahres Winterwunderland im Hogwarts Castle, in Universal's Islands of Adventure.
Wer braucht schon Glühwein, wenn er heißes Butterbeer haben kann? Endlich ist Weihnachten in der "Wizarding World of Harry Potter" angekommen! Spazieren Sie durch Universal's Harry Potter Welten und sehen Sie brandneue Shows, festliche Dekoration und weihnachtliche Gerichte…
Jeden Abend, sobald es dunkel wird, wird, ein Zauberspruch gesprochen, der das ganze Schloss in tausenden von kleinen Lichtern erstrahlen lässt. Nehmen Sie sich also ein heißes Butterbeer und schauen Sie, zusammen mit Ihren Liebsten, zu, wie das riesige Schloss erleuchtet.
Doch nicht nur Hogwarts ist ein weihnachtliches Highlight, die ganze "Wizarding World of Harry Potter" und auch "Diagon Alley" erstrahlen zu Weihnachten im Kerzenlicht, sind festlich dekoriert und halten neue Highlights für Sie bereit – die Sie dort nur zur Weihnachtszeit erleben können. Stellen Sie sich einfach Mal vor, wie die Geister von Hogwarts Weihnachtslieder trällern, wie Zauberer durch den Park laufen und Schneemänner bauen und wie Sie durch einen vom "Yule Ball" inspirierten Bereich spazieren – Na, wenn das nicht die perfekte Einstimmung auf das kommende Fest ist?
Wir haben leckeres Essen, heiße Getränke und festliche Deko – Was fehlt? Musik! Denn was wäre Weihnachten ohne Musik? Hören Sie den "Frog Choir" durch den Park singen. Denn extra zu Weihnachten hat der Chor seine Liste etwas überarbeitet und Klassiker, wie "We Wish You A Merry Christmas", mit Eigenkompositionen, wie "Christmas at Hogwarts", verbunden. Und natürlich wartet noch ein ganz besonderes Weihnachtshighlight auf Sie! In Universal's Diagon Alley können Sie Celestina Warbeck sehen, die Ihr neues Weihnachtsalbum "Nothin' Like A Holiday Spell" präsentiert – mit ihrer kraftvollen Stimme und den festlichen Liedern ist Ihnen ein Gänsehautmoment garantiert. 
Doch natürlich gibt es auch im Rest des Universal Orlando Resort viele Überraschungen zum Fest – Schauen Sie sich hier an, was Sie in der Weihnachtszeit noch erleben können.
Und auch alle, die die Universal Studios in Hollywood besuchen, brauchen sich nicht ärgern…
Die "Wizarding World of Harry Potter" dort und auch der gesamte Park, haben sich natürlich auf die kommenden Festtage vorbereitet und Sie können sich dort auf viele Überraschungen und eine festliche Atmosphäre freuen.
Dieser Blog hat Ihnen gefallen? Diese könnten Sie auch interessieren...
Images - ©Universal Orlando Resort