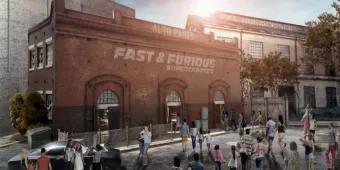 Ab 2. Mai bei Universal Orlando!
Tauchen Sie ein in die zwielichtige Unterwelt mit Universal Orlando's neuem Fast and Furious – Supercharged Ride.
Mit brandneuen Autos, Charakteren, Stories und virtuellem Anstellsystem ist der neue Fast and Furious – Supercharged Ride ohne Zweifel einer der am meisten mit Spannung erwarteten Rides in 2018. Nachdem wir gesehen haben, wie der Ride aussehen wird, freuen wir uns eigentlich sogar am meisten auf ihn und darauf, ihn nächstes Jahr austesten zu können.
Auf dem Ride begegnen Sie der gesamten "Familie", den Helden Dom (Vin Diesel), Letty (Michelle Rodriguez) sowie weiteren Ihrer Lieblingscharaktere aus Fast & Furious. Natürlich sind nicht nur die Guten vertreten – Fans der Serie werden Owen Shaw und sein kriminelles Kartell wiedererkennen, welches genau im falschen Moment auftaucht um Chaos anzurichten.
15 authentische Turbo-Autos wurden für die neue Attraktion mit der Hilfe von Dennis McCarthy erschaffen – dem Mann, der auch hinter den wahnsinnigen Autos aus den Fast & Furious Filmen steckt.  Alle Autos sind Unikate, die extra für diesen Ride erschaffen wurden.
Der Ride startet im brandneuen Operation Headquarter, wo Sie zu einer Race-Afterparty eingeladen werden, zu der Sie natürlich nicht Nein sagen können. Während Sie in speziellen Supercharged-Partybussen auf dem Weg zur Party sind, hat Dom eine dringende Botschaft zu verkünden – Owen Shaw und sein Kartell sind Ihnen auf den Fersen! Es wäre ja schließlich kein Fast & Furious Ride ohne eine Highspeed-Jagd, oder? Werden Sie den Bösewichten entkommen und sich in Sicherheit bringen können?
Fast and Furious – Supercharged ist bereits die zweite Attraktion in den Universal Studios, bei der man sich virtuell anstellen kann (den Anfang hat Jimmy Fallon's Race Through New York gemacht). Gäste können sich am Besuchstag mit der Universal Studios App eine Zeit für die Attraktion reservieren. Während Sie in der "Virtual Line" anstehen, haben Sie Zeit um die anderen Attraktionen im Park zu erkunden.
Die neue Attraktion soll im Frühling 2018 eröffnet werden – noch steht kein genaues Datum fest. Besuchen Sie unseren Blog, um auf dem Laufenden zu bleiben. Klicken Sie hier um Ihre Tickets für Universal Orlando zu buchen.