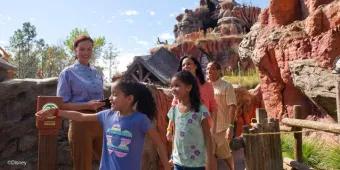 von Oliver Brendon, dem Gründer von ATD...
Genauso wie Sie LIEBEN wir Themenparks, hassen aber langen Schlangen. Keine Angst, es gibt nämlich Wege, die nervigen Wartezeiten zu umgehen.
Eines meiner Kinder nennt mich den "ungeduldigsten Menschen der Welt". Wenn auch leicht übertrieben, muss ich zugeben, dass auch ich das lange Anstehen vor den Attraktionen nicht gerade prickelnd finde. Über Ostern verbrachte ich mit meiner Familie 5 Tage in Orlando, was unglücklicherweise mit dem US-amerikanischen Spring Break (z. Dt. Frühjahrsferien) zusammenfiel.
Hier meine ultimativen Tipps und Tricks, wie Sie diesen Stress vermeiden vermeiden können:
Dinge, die umsonst sind...

1. Seien Sie eine der Ersten! Eigentlich immer der beste Tipp und dennoch immer wieder erstaunlich, wieviele Besucher diese einfache "Regel" ignorieren. Wir sind um 8:30 Uhr beim Blizzard Beach angekommen, der Park öffnete um 9 Uhr und um 10:30 Uhr hatten wir bereits jede einzelne Wasserrutsche einmal ausprobiert. Gegen Mittag, als wir uns schon wieder auf den Heimweg machten, war der Park bereits rappelvoll.
Ähnlich In den Universal Studios: Vor dem Mittagessen war der Park noch verhältnismäßig ruhig, was sich jedoch innerhalb von wenigen Stunden schlagartig änderte. Im Durchschnitt mussten wir für beliebte Attraktion über eine Stunde warten. Aus diesem Grund entschlossen wir uns dazu, in Zukunft stets frühzeitig den Park zu besuchen und uns gegen Mittag/Nachmittag zum einem im Hotel auszuruhen, zum anderen der prallen Hitze Floridas zu entkommen. Gegen frühen Abend sind wir dann meist wieder in den Park zurück, haben noch ein paar Achterbahnen mitgenommen und uns das beeindruckende Feurwerk angesehen.
2. Besuchen Sie die neuesten und beliebtesten Attraktionen als erstes.
3. Gehen Sie zum hinteren Teil des Parks und arbeiten Sie nach vorne.
4. Vermeiden Sie bestmöglichst die US-amerikanischen Schulferien! Die amerikanischen Frühjahrsferien finden in der Regel im März statt und Schulzeiten im Sommer starten meist wieder in der 3. Augustwoche. Es gibt aber durchaus auch andere Feiertage, auf die Sie achten sollten: Das Thanksgiving Weekend ist beispielsweise meist das dritte Wochenende im November. Dementsprechen sind die Parks insbesondere von Donnerstag bis Sonntag regelrecht überfüllt. Wenn Sie also irgendwie die Möglichkeit haben, im September zu reisen, sparen Sie sich nicht nur das lange Anstehen, sondern haben wahrscheinlich auch besonders gutes Wetter.
Dinge, für die Sie zahlen müssen...
 
Übernachten Sie in einem der Hotels vor Ort. Wenn Sie sich in einem der Disney Resorts aufhalten, erhalten Sie die exklusive Möglichkeit, die Parks täglich während der "Magic Hours" zu besuchen. Die Parks sind während dieser Zeit nämlich NICHT für externe Gäste zugänglich und Warteschlangen daher erheblich kürzer.
In allen Universal Orlando Hotels haben Sie Zugang zu den Universal Parks, bevor diese für die Öffentlichkeit zugänglich sind. Drei von ihnen (The Portofino Bay, The Hard Rock und The Royal Pacific) inkludieren den Universal Express Pass.
Mit diesen Tipps sonnige Grüße aus dem schönen Florida,
Oliver Brendon
Gründer, Attraction Tickets Direct

Hier erhalten Sie die besten Angebote für unsere Orlando Themenparktickets.
Ihnen hat dieser Blog gefallen? Das könnte Sie auch interessieren: