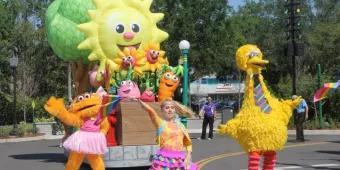 Träume der Kindheit werden wahr...
Stellen Sie sich vor, Sie gehen durch ein Viertel, wo liebenswerte Monster Sie freudig begrüßen, ein riesiger gelber Vogel Geschichten erzählt und jeden Tag eine Parade stattfindet. Das muss nicht mehr nur eine Vorstellung sein, denn die Sesamstraße gibt es jetzt tatsächlich: am 27. März 2019 eröffnete das Areal bei SeaWorld Orlando.
Pelzige Freunde wie Bibo, Grobi, Elmo, das Krümelmonster und Oscar the Grouch unterrichten Kinder seit 1969 mit ihren A-B-Cs und 1-2-3s, und sie sind ebenso Teil der Qualitätsgeschichte des Kinderfernsehens geworden. Bei einem Besuch im Sesame Street Areal bei SeaWorld Orlando haben Sie das Gefühl, Teil der Serie zu sein. Beliebte Symbole wie Mr. Hoopers Store sind lebensgroß und schaffen ein wahres Gefühl, als wären Sie direkt vor Ort. Sie können sogar auf der Treppe der berühmtesten Adresse der Show, 123 Sesame Street, sitzen, wo unzählige Gespräche zwischen Erwachsenen, Vorschulkindern und unscharfen Monstern stattgefunden haben.
Es gibt fünf kinderfreundliche Attraktionen in dem neuen Areal. Besucher, die bereits früher in SeaWorld waren und sich an den ehemaligen Hafen von Shamu erinnern, werden eine deutliche Ähnlichkeit der Fahrgeschäfte feststellen, die jetzt mit Sesamstraße-Motiven neu gestaltet wurden. Eines der wichtigsten Highlights für Kinder ist der Choo Choo Train von Elmo, ein sanfter Rundkurs durch eine Gartenanlage. Auf dem Weg werden Kinder aufgefordert, auf verschiedene Tiere wie Schmetterlinge und Raupen zu achten. Kinder, die sich die Fernsehsendung ansehen, werden auch Elmos kleine Freunde, die Krabbelkäfer erkennen, die sich in der Landschaft verstecken.
Größere Erlebnisse finden Sie auf der Mini-Achterbahn Super Grover's Box Car Derby, der perfekten Einstiegs-Achterbahn für Kinder. Fahrgeschäfte wie Slimy's Sliders Bootfahrt, Fahrt mit dem Bibos Twirl 'N' Whirl-Teetasse, Abby's Flower Tower Drop Tower und der Cookie Drop Spinning Samba Turm runden das Angebot ab. Alles ist darauf ausgelegt, dass sich Vorschulkinder ein wenig herausgefordert und erfolgreich fühlen.
Außerdem haben sie die Möglichkeit, Ihre Lieblingscharaktere zu treffen. Bibo, Graf Zahl, Oscar the Grouch, das Krümelmonster und Elmo freuen sich, Ihre kleinen oder großen Fans zu treffen.
Bibo hält außerdem mehrmals täglich eine Lesestunde. Auch ein Wasserspielbereich von Rubber Ducky, Ernies Quietscheentchen und eine Kletteranlage versprechen, die Kids gut zu unterhalten. Auch einige interaktive Elemente sind vorhanden. So können die Kids zum Beispiel bei Ernie und Bert an der Tür klingeln, ins Two-Headed Monster Pipe Telefon sprechen und sich selbst als Monster hören und noch viele weitere spannende Dinge erleben.
Auch für die Verpflegung ist gesorgt. Von Smoothies über Kekse, Grilled Cheese Sandwiches, Asiatische und Hawaiianische Chicken Tenders und Salat ist hier wirklich für jeden Geschmack etwas dabei, außer: Alkohol. An den Food Trucks im Sesame Street Areal wird kein Alkohol ausgeschenkt.
Auch Souvenirshops sind vorhanden. So können Sie sich auch noch ein Erinnerungsstück von Ihrem Trip mitnehmen – auch wenn das Erlebnis wahrscheinlich schon unvergesslich genug ist! Eins ist klar: Das Sesame Street Areal bei SeaWorld Orlando bietet ein spaßiges Erlebnis für Klein und Groß!
Wenn Sie noch auf der Suche nach den richtigen Tickets sind, schauen Sie hier vorbei.
Ihnen hat dieser Blog gefallen? Das könnte Sie auch interessieren: