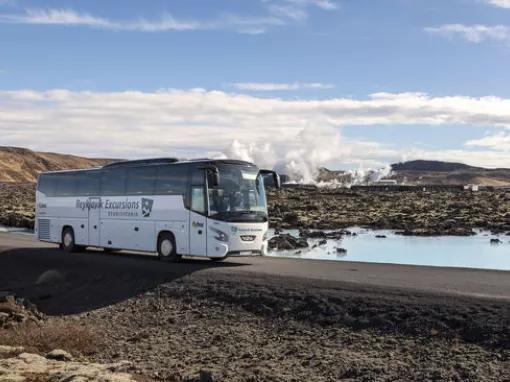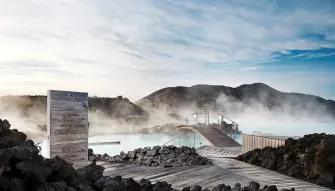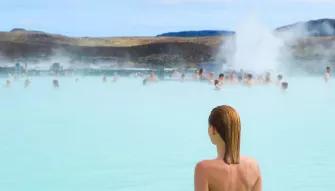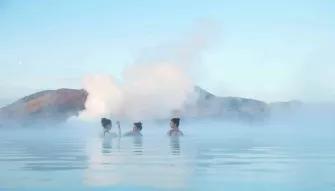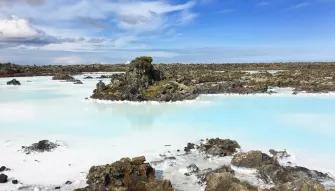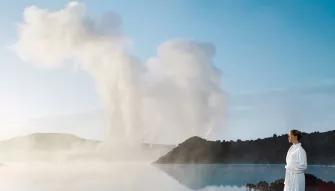 Blue Lagoon Return Transfers
Full details
Set among an amazing natural environment of lava fields and snow-capped mountains, no trip to Iceland would be complete without a visit to the unique Blue Lagoon geothermal spa! If you've already booked your Blue Lagoon admission ticket then these transfers will help you get to and from the majestic pools.
Our guide to Blue Lagoon Return Transfers
Enjoy hassle-free return transportation to the famous Blue Lagoon in an air-conditioned coach and find yourself relaxing in blue water in no time!
Set in a lava field south of Reykjavik and surrounded by snow-capped mountains, Blue Lagoon is an inimitable geothermal spa with water temperatures of 100 to 110 degrees Fahrenheit all year round.
The water contains mineral salts, silica and blue-green algae that help to cleanse and exfoliate the skin, leaving it feeling nourished and revitalized. Bathing in this dreamlike environment is an experience not to be missed and is sure to leave you feeling relaxed and rejuvenated.
Also on site is a geothermal sauna, spa offering a wide range of massages and treatments, shop selling unique skincare products, and an a-la-carte restaurant. You are also free to wander around the whole grounds and absorb the Blue lagoon's spectacular setting.
Please note: These tickets do NOT include the entrance fee to the Blue Lagoon. It is highly recommended to pre-book these as tickets tend to sell out in advance.
Pick-up and drop-off from most hotels and guesthouses in Reykjavik OR from the BSI Bus Terminal
Transfer from Keflavik International Airport to Blue Lagoon and transfer from Blue Lagoon to Keflavik International Airport OR Reykjavik
People who purchased Blue Lagoon Return Transfers also viewed...