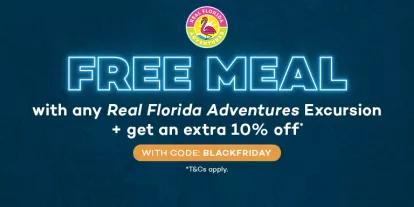 Real Florida Adventures Clearwater Beach Tours
Full details
White sand beaches and photogenic blue waters await at Clearwater...
So, you'd like a day at the beach? Great idea! And we have the perfect offering for providing a blissful day of sun and sand in the heart of Florida's gorgeous Gulf Coast. You can keep things simple and spend most of your visit relaxing at the beach or, if you wish, include an unforgettable speed boat tour, aquarium visit, pirate cruise or deep-sea fishing adventure to your Clearwater Beach Tour!
Our guide to Real Florida Adventures Clearwater Beach Tours
Clearwater Beach continues to offer Florida's premier seaside experience with a seemingly endless expanse of wide, open beachfront to suit every bucket and spade! It is a superb family destination in every sense, with lots to see and do as well as just enjoy all those uncrowded acres of welcoming sugar-white sands. 
This Real Florida Adventures tour whisks you from Orlando to the beautiful Gulf Coast and sets you down in prime beach territory, within easy reach of the gently lapping waves, the many bars and restaurants, the iconic Clearwater Pier and the beautiful Beach Walk - a one-mile stretch of winding promenade that links many of the beach attractions.
The azure Gulf waters can reach a bathwater-warm 84 degrees and the soft sand positively invites you to kick back and dig your toes in. Lunch is provided at a classic beachside restaurant, so you won't miss the view while you refuel with a tasty meal that highlights the local seafood and other tempting dishes.
And you are free to wander this wonderfully eye-catching stretch of beachfront, including the busy Marina (which offers plenty of sea-going delights, including fishing tours and wave-runner rentals), Clearwater Marine Aquarium, and an enticing array of shops and souvenir stores.
Clearwater Beach offers an idyllic day of relaxation away from Orlando's bustling parks and is one of our most popular tours, year-round. And while we may be biased, we don't think you'll find a better beach experience anywhere in Florida. 
Choose the standard Beach and Seaside Lunch Tour and spend a day relaxing and playing or Clearwater Beach or you can upgrade your tour to include one of the following fantastic experiences to make your day even more memorable!
SeaScreamer: Now, the Sea Screamer is not just the world's largest speedboat. It's not even just the most exciting way to feel the sea spray in your face. But it certainly IS the most enchanting all-round experience with the region's bottle-nose dolphins, who LOVE to play in the wake of this eye-catching speedster.
Pirate Cruise: Sailing from the heart of gorgeous Clearwater Beach – within walking distance of many of the attractions and the iconic Pier 60 – Captain Memo's is tailor-made for a genuine family-friendly two-hour excursion aboard the Pirate's Ransom.
Marine Aquarium: When it comes to some of Florida's great, undiscovered gems, the new-look Clearwater Marine Aquarium in Clearwater Beach is right up there with the best of them. And rightly so. It is a fascinating supporter of marine rescue and rehabilitation.
Operates:
Thursday and Saturday.
Pick-up Time & Schedule
Orlando Star Flyer at Icon Park at 7.15am (8265 International Dr, Orlando, FL 32819)
Golden Corral Restaurant Lake Buena Vista at 7.30am (8707 Vineland Ave, Orlando, FL 32821)
Margaritaville Resort at 8.00am (Banquet and Event Entrance, 8000 Fins Up Circle, Kissimmee FL 34747)
Duration: 
Around 12 hours in total.
Real Florida Adventures Clearwater Beach Tours Reviews
Very nice place .. Bus on time ... Driver ok ... Dolphins appeared so boat trip worth it too

Katrina Salter reviewed Clearwater Beach Tour 08 Dec, 2019

Lovely lunch included great day out.

Nicola Williams reviewed Clearwater Beach Tour 21 Nov, 2019

Sea Screamer was great, not much time to do anything else though after it then lunch

Clare Hollywood reviewed Clearwater Beach Tour 16 Oct, 2019

Beautiful resort!!! We were treated to the most amazing dolphin pod on the dolphin experience

Alison Leahy reviewed Clearwater Beach Tour 06 Oct, 2019

Good day out, very hot at the beech. Journey back to Orlando was long though due to traffic but we were told it would be.

Mark Womwell reviewed Clearwater Beach Tour 04 Oct, 2019
People who purchased Real Florida Adventures Clearwater Beach Tours also viewed...