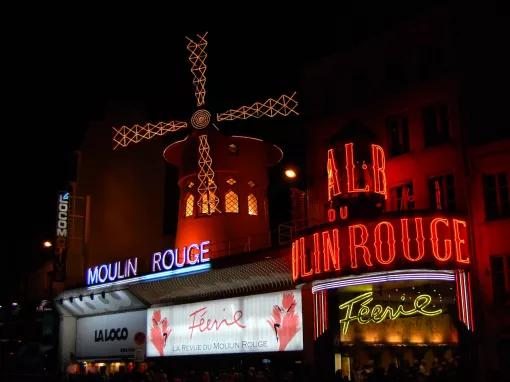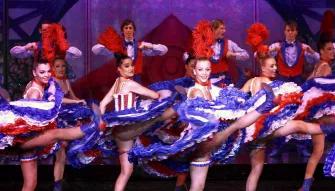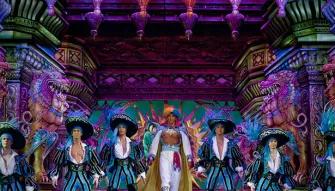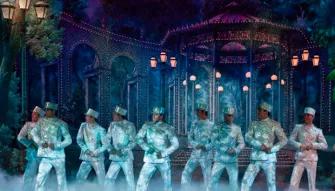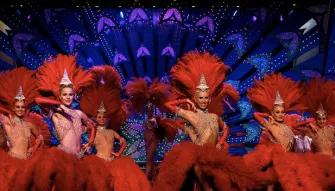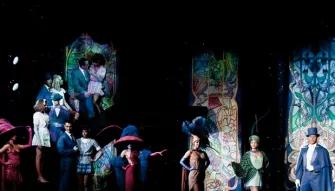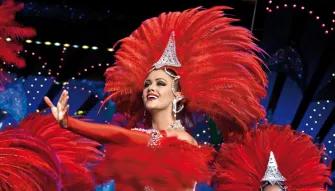 Moulin Rouge Tickets
Full details
The most famous cabaret in the world...
The most famous cabaret in the world presents its show 'Féerie' featuring sumptuous settings with shining colours and unique designs, 1000 costumes of feathers, rhinestones and sequins, the expected return of the giant Aquarium, the famous French Cancan and over 60 Doriss Girls. Book early to avoid missing out!
Our guide to Moulin Rouge Tickets
Experience a magical evening at the home of the French Cancan, the legendary Moulin Rouge.
Entertaining guests for over 100 years, the show combines spectacular dance routines with striking sets and amazing costumes of feathers, Rhinestones and sequins. 
Enjoy a sumptuous three-course dinner and champagne before the Doriss Dancers dazzle you with their beauty and ability. The undoubted highlight of the evening is the magnificent French Cancan. 
There is a choice of tickets for the Moulin Rouge:
Have a memorable evening in Paris, combining an illuminated tour of the city with a show in the legendary Moulin Rouge cabaret.
Dinner Cruise La Marina, Skip the line Eiffel Tower & Moulin Rouge 
Spend a fantastic night tour in Paris with a dinner cruise through the heart of the City of Light, a visit to the 2nd floor of the Eiffel Tower with priority access, and the unique Parisian experience of a show at the Moulin Rouge.
Eiffel Tower Dinner, Seine River Cruise & Moulin Rouge
Spend a fabulous evening in Paris with a classic meal on the Eiffel Tower, a delightful cruise along the Seine River to see the heart of the city lit up, and the fairytale show at the Moulin Rouge with a glass or 1/2 bottle of champagne.
Moulin Rouge Show with Seine River Cruise
Enjoy an enchanting evening in Paris with a visit to the famous Moulin Rouge. Convenient central pickup near the Eiffel Tower offers a stunning view of illuminated landmarks. This ticket also includes a Seine River cruise for a unique perspective of Paris.
Moulin Rouge with Roundtrip Transport and Half Bottle Champagne
An unforgettable evening at the Moulin Rouge with the "FÉERIE" (Fairy) show. 1/2 bottle of Champagne per person included.
Departure Location:
Moulin Rouge is located at 82 boulevard de Clichy, Montmartre 75018 Paris. Nearest metro station is Blanche.
FAQs
Frequently Asked Questions for Moulin Rouge Tickets
General Information
What is Moulin Rouge?

The Moulin Rouge is a world-famous cabaret venue based in Montmartre, Paris which has been around since 1889. It is widely regarded as the birthplace of the can-can dance and is still an iconic and popular venue for visitors to Paris each year, hosting 2 shows a night. 

How many shows do they offer?

There are 2 shows every night at 9pm and 11pm. If you go for the dinner option (choice of menus available), you will be seated at 7pm to watch the 9pm show.

What age do you have to be to attend?

Children from the age of 6 years are allowed into the show if accompanied by an adult.

How many people can fit in the Moulin Rouge?

They can accommodate up to 850 people.
Duration of Visit
How long is the Moulin Rouge Paris show?

The show at Moulin Rouge lasts for around 2 hours. Please arrive 30 minutes prior to being seated.
Clothing & Accessories
Is there a dress code to the Moulin Rouge Paris?

Moulin Rouge have a smart dress code. Shorts, Bermuda shorts, flip-flops, sports clothing and trainers are prohibited.
Location
How do you get to the Moulin Rouge Paris?

The closest metro station is Blanche

What area/district is the Moulin Rouge in?

Moulin Rouge is at 82 Boulevard de Clichy, 75018 Paris which is in the 18th arrondissement.
Ticket Information
Can you buy tickets on the door?

The show at Moulin Rouge sells out quickly and must be pre-booked, so tickets on the door are unavailable.

Can I cancel or amend my booking?

Unfortunately once the tickets are booked they are non-refundable/non-changeable.

Do I need to print my ticket/voucher?

You can show your voucher from your smartphone, although having a printed copy is recommended.

Can I know where I'm sitting prior to the show?

The seating plan is prepared daily by the Moulin Rouge and so they are unable to provide this in advance. When you arrive you will be shown to your seat.
Facilities & Amenities
Is there a cloakroom?

There is a cloakroom available at a charge.
Restrictions
Can I take photos during the show?

Unfortunately due to copyright reasons, photography and filming is prohibited throughout the show. Professional photographers are available to take a souvenir photo of your group though.
Moulin Rouge Tickets Reviews
Exelent very colourfull and magic show

Carl Upton reviewed Moulin Rouge Tickets 05 Apr, 2023

Easy and reliable. Would purchase off here again

Trusted Customer reviewed Moulin Rouge Tickets 20 Mar, 2023

The Moulin Rouge show was AMAZING! An unmissable experience while in Paris!

Catherine R reviewed Moulin Rouge Tickets 15 Mar, 2023

Amazing show and the food was excellent

Trusted Customer reviewed Moulin Rouge Tickets 08 Mar, 2023

Absolutely stunning show. Wasn't sure what to expect but was 5 star. Would definitely recommend a visit. Can't wait to go back again!

Trusted Customer reviewed Moulin Rouge Tickets 04 Jan, 2023
People who purchased Moulin Rouge Tickets also viewed...