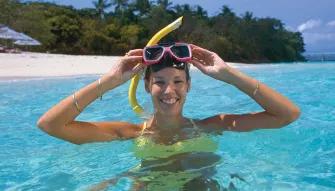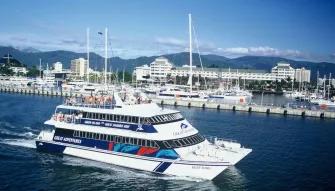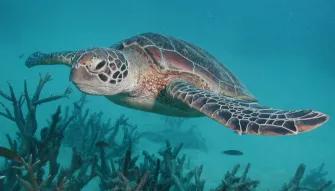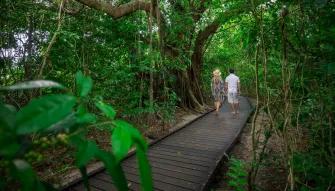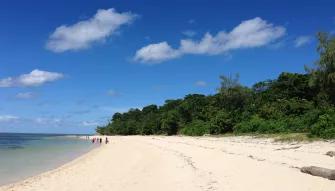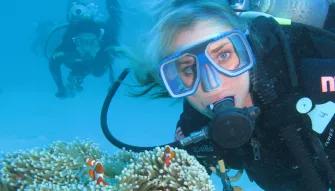 Great Adventures Green Island and Great Barrier Reef Adventure
Not Available
This ticket is currently not available
This could be because:
We have sold out
New seasonal tickets are not yet available
In the meantime:
Call us on 0800 223 0324
Sign up to hear the latest news and offers:
Sign up for our newsletter
no ticket modal
Full details
The complete reef and island experience!
The complete reef and island experience awaits with this exciting tour. Take a fast 45 minute catamaran ride to beautiful Green Island and enjoy two hours on this unique reef and rainforest coral cay. Then, you'll depart Green Island to continue your day of adventure and discovery with 3 hours on board Great Adventures' spacious activity platform moored on the majestic Outer Great Barrier Reef.
Our guide to Great Adventures Green Island and Great Barrier Reef Adventure
Enjoy this reef and island experience which takes you to the tropical Green Island and the spectacular outer reaches of the Great Barrier Reef.  
Firstly, a 45-minute catamaran ride will whisk you to the beautiful Green Island, a 6000-year-old coral cay that is home to a unique reef and rainforest combination, which you will get to explore for a couple of hours.
Next, your day of adventure and discovery continues onto a spacious activity platform moored on the majestic Outer Great Barrier Reef. There, you can snorkel and dive directly off the platform amongst beautiful coral gardens and marine life or just relax on the sundeck and enjoy a delicious buffet lunch while taking in the amazing marine scape.
Your day also includes an informative semi-submersible coral-viewing tour and underwater observatory with eco talk.
Itinerary (subject to change)
From 7.30am: Check-in at Great Adventures Reservations Counter inside the Cairns Reef Fleet Terminal to obtain your boarding pass.
8:00am: Vessel boarding. Complimentary morning tea/coffee served on boarding. For your safety hot drinks are not served once the vessel is underway.
8:30am: Depart Reef Fleet Terminal for Green Island.
9.15am: Arrive at Green Island 2 hours of free time to explore Green Island… Included snorkel gear, (fins mask and snorkel) can be obtained from the Dive Shop on the island. Enjoy a leisurely island walk with the self-guided Eco Island Walk or take a dip in the island swimming pool. On arrival: Pre-booked optional activities including scuba diving, Seawalker helmet diving commence as advised.
11:20am: Re-board vessel for departure to the Great Barrier Reef platform. Cake selection served on the forward journey. During your journey to the reef, a Reef Presentation is shown on the vessel's monitors. Snorkelling demonstration by the crew.
12:30pm: Arrive at the Outer Great Barrier Reef platform Reef activities commence… Semi-submersible coral viewing tour with informative commentary departs every 30 minutes or as advised. Snorkel directly from the platform. Collect your snorkel gear and buoyancy vests once on the platform. The underwater observatory is open throughout the day for coral and fish viewing. Pre-booked optional activities including introductory diving, Scuba-Doo and scenic helicopter flights commence as advised.
1.00-2.30pm: Hot and cold buffet lunch is served. Time for more reef activities or just relax on the sundeck and take in the views! Tea and coffee is available whilst at the platform
3:30pm: A blast on the ship's horn will signal the time when all passengers should return to the vessel ready for departure.
3:40pm: A passenger count is conducted before leaving the Reef. The crew will announce when this commences and we ask all passengers to co-operate during this very important procedure by not moving about the vessel.
3:45pm: Departure to Cairns via Green Island. Complimentary cheese and biscuits served on the homeward journey.
5:30pm: Arrive at Cairns Reef Fleet Terminal.
Departs:
Monday, Tuesday, Wednesday, Friday & Sunday
Start times:
8.30am; check-in 1 hour before your departure time
Duration:
Around 8-9 hours including 2 hours on Green Island and 3 hours at the Outer Barrier Reef
Terms and conditions
Terms and conditions for Great Adventures Green Island and Great Barrier Reef Adventure
Northern Beaches transfers include Palm Cove, Clifton Beach, Kewarra Beach and Trinity Beach.
If you did not select hotel transfer, please make sure to check in at the Great Adventures counters inside the Reef Fleet Terminal (1 Spence Street in Cairns) 1 hour before your departure time.
On very rare occasions, services can be subject to the effect of weather or unforeseen circumstances. Should a cruise not operate for any reason passengers will be offered an alternative day or a refund authorised.
Those wishing to dive will be required to fill out a medical questionnaire on board before diving. Certain medical conditions and medications may preclude some people from diving. It is recommended a wait of 12 hours but preferably 24 hours if doing multiple dives, before ascending to an altitude of 300 metres or greater. Snorkelling can be a strenuous activity. Please use caution and inform the crew of any medical conditions. The minimum age for diving is 12 years.
Bring along a towel, sunscreen, hat, swimwear and camera to capture your memories. Limited underwater digital cameras are available to hire onboard.
An Environmental Management Charge of $8.00 is levied on all adults and children 4 years and over entering the Great Barrier Reef World Heritage area. This charge is included in the above prices.
Surcharge: Due to potential significant volatility in supply & operational costs a surcharge may be applied due to unforeseen circumstances. In such cases, any charge will be collected on departure.
*Cancellation Policy: Free cancellations for bookings cancelled before your holiday departure date. No refunds are given for cancellations made post-departure. 
FAQs
Frequently Asked Questions for Great Adventures Green Island and Great Barrier Reef Adventure
How do I check-in before departure?
Please check-in at the Great Adventures counters inside the Reef Fleet Terminal (1 Spence Street in Cairns) 1 hour before your departure time.
Will I get seasick?
Hopefully not. The large, stable fast catamarans provide very good sea keeping even in rougher ocean conditions. Where there is motion, whether a car, bus, plane or boat, some people will suffer from motion sickness. Motion sickness tablets are available onboard for purchase. There are also ginger tablets as a natural alternative motion sickness medication on a complimentary basis. To be effective, motion sickness medications should be taken immediately on boarding. If you are concerned about potential motion sickness, being closer to the coast, Green Island is a shorter 45 minute journey and is more protected than a cruise to the Outer Reef.
Do you supply life jackets?
Life jackets are onboard for emergency use only. However, flotation/buoyancy vests are available for use whilst swimming or snorkelling. At Green Island, these can be hired from the Dive Shop. For passengers continuing on to the Outer Reef, please help yourself to these from the front of the platform with the rest of your snorkelling equipment.
What is the temperature of the water?
The warm waters of Tropical North Queensland range in temperature from 22-29 Celsius (75-85 Fahrenheit) and make for year round comfort for water activities.
What time does the boat depart Cairns and return?
For the "Green Island and Great Barrier Reef Adventure", your vessel departs Cairns at 8.30am, departs the island at 11.30am, and returns to Cairns at approximately 5.20pm.
If we book a certain return time for a Green Island cruise, can we change to an earlier or later departure once we are over on the Island?
Yes, if there is availability the crew at the Information Counter on Green Island can amend your return times. If it is fully booked however, you will have to return on your originally scheduled departure time.
How long do we spend at the Outer Reef and how long does it take to get there?
You will spend approximately 3 hours at the Outer Reef Platform. Travelling time from Green Island to the Outer Reef is approximately 50 minutes.
Is Green Island still part of the Great Barrier Reef?
Yes, Green Island is situated in the Inner part of the Great Barrier Reef.
Do you have prescription masks available?
Standard masks magnify objects underwater by about 25%. We do have prescription masks up to -8.0 available. If you need a prescription mask, please advise when reconfirming your booking locally as there is a limited supply, especially in the higher prescription strengths.
Do you cater for vegetarians?
Yes, the daily buffet lunch at the Outer Reef provides food options for vegetarians. All menu options are labelled with ingredients lists. On Green Island, the restarant and food outlets provide a wide range of food options suitable for vegetarians. If you have special dietary needs, please advise when reconfirming your booking locally.